An investigative project by various media organizations reveals that Croatia, Romania, and Greece have been using EU funds to push migrants back across their borders, through violent and illegal tactics.
Evidence gathered by Germany's national broadcaster ARD, Der Spiegel news magazine, a Dutch investigative journalism non-profit organization Lighthouse Reports and a German-language Swiss broadcaster SRF (Swiss Radio and Television) for its Rundschau (news magazine) has filmed Croatian, Romanian, and Greek operatives wearing masks and unmarked uniforms beating and even shooting at asylum seekers during so-called pushback operations at EU external borders.
The collective investigation, which also involved other independent journalists and data specialists from across Europe, reveals that the EU countries have even, in some cases, established infrastructure --such as new roads-- to facilitate these pushback operations which are illegal under EU and international law.
The teams analyzed data and satellite images over the course of eight months. Comparing how pictures of the border changed over that time, as well as verifying police officer's social media posts in uniform and with weapons and masks, and infiltrating racist chat forums in order to "reveal what is really happening at Europe's borders," narrates the journalist who presents the SRF report.
Croatia: Riot police conducts pushbacks
Part of the evidence provided by the probe is high-res footage filmed on Croatian soil showing armed men in balaclavas beating asylum-seekers with long batons, known as Tonfa in Croatia, and forcing them into the river that separates Croatia from Bosnia and Herzegovina.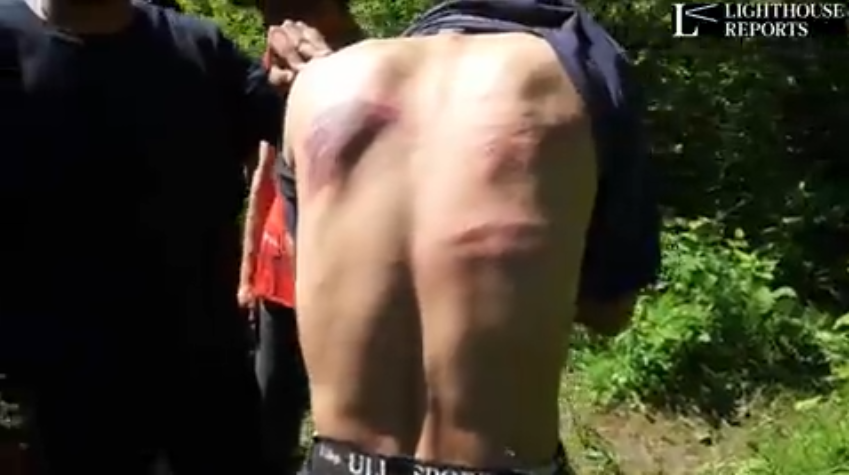 In interviews directly after the incident, migrants revealed marks left by the beatings on their bodies. They told SRF Rundschau that they had been apprehended deep in Croatian territory and brought back to the Bosnian border in a van. Their request to apply for asylum was denied and clothes, money, and mobile phones were taken away from them and never returned they said.
Analysis of the footage indicates that the masked men were equipped with these tonfa batons and had uniforms consistent with the Croatian riot police force (Intervention Police), which receives funding from the EU to bolster border security.
"It seemed very unlikely that they operated without the consent of the Croatian authorities," writes Lighthouse Reports, "given the fact that the border is heavily surveilled."
Whistleblowers told the team of reporters that the masked agents are part of operation "Koridor", a partly EU-financed project, aimed at stopping refugees at the border.
Drone and satellite images show that since 2019, Croatia has built multiple roads to accommodate these pushbacks and make them more efficient. Some of these new roads come to a dead-end at the border with Bosnia and Herzegovina, the report suggests.
A mobile team from the medical charity Doctors without Borders (MSF) met some of the migrants who say they have been subject to pushbacks and also documented their injuries. Severe bruising across the backs of many showed that they had been subject to several and sometimes prolonged assaults.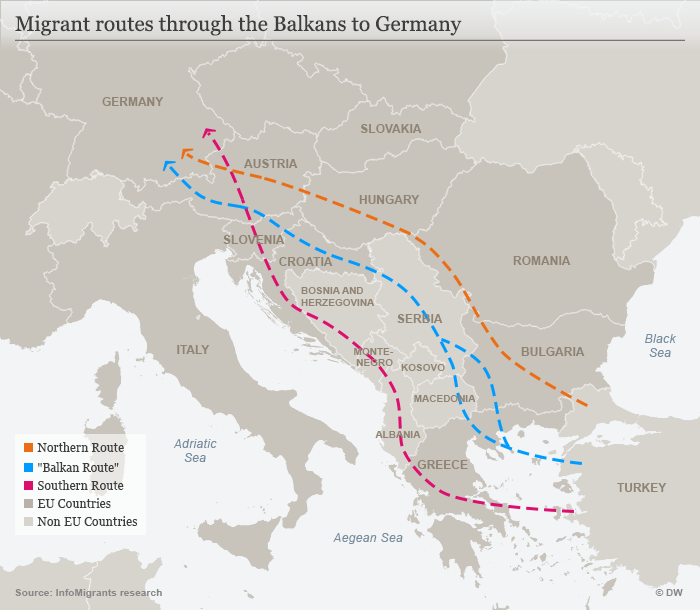 Greece: masked men on the sea
The investigation also collected video footage of hundreds of alleged pushback cases carried out by Greek border officers in the Aegean since March 2020 –in 15 of which masked men were involved.
In one incident, the Greek coast guard pushed back about 25 asylum seekers, on a dinghy to the Turkish waters. They said the Greek coast guard hit them with a stick and shot at the water. Der Spiegel's Greek correspondent Giorgos Christides posted the following tweet on October 6.
Same violent operations in Romania
Other pieces of footage from Romania show border guards undertaking similar pushback operations at the border with Serbia. The team of reporters gathered testimony from men and women who say that they had been violently assaulted during the pushback operation.
The investigation endorses what human rights organizations and journalists have been reporting for several years.
However, it is a charge that Croatian officials for instance continue to deny. "We are carrying out our investigations," Croatian Interior Ministry spokesperson, Marina Mandić, said to ARD.
"If that investigation shows that they are [police] agents, we will of course implement appropriate procedures in accordance with our regulations." Romanian authorities have not yet commented on the report. News agencies reported on October 7 that the Greek Migration Minister Notis Mitarakis "strongly denied" the reports of migrant pushbacks.
On October 7, the Commissioner for Human Rights at the Council of Europe, Europe's largest human rights organization, Dunja Mijatovic tweeted that she found the investigation "shocking."
Mijatovic said that this latest investigation was the last in a long line of reports on the "unacceptable normalisation of pushbacks and violence against asylum seekers and migrants." The commissioner said it was "high time for the Council of Europe and European states to ...take action, hold each other to account and end such serious human rights violations."