An Afghan girl evacuated from Kabul over the summer managed to hold on to her treasured pet, a Mynah bird. But for health reasons the bird was not allowed to fly all the way to France with the girl. That's when the French ambassador to the UAE promised to take care of the bird for her.
"There is a story I have been meaning to tell for a while," begins a series of eight tweets on Xavier Chatel's Twitter Page. Chatel is the French Ambassador to the United Arab Emirates and his posts on October 5 made headlines around the world.
In the middle of the chaos, trauma and sadness of the evacuation operations from Kabul and Afghanistan, and the uncertainty for the thousands left behind who had hoped to board a flight, comes a slightly unusual story of determination and hope.
Chatel's first post explains that "during the Afghan evacuation operation, a girl arrived at Al Dhafra [in Abu Dhabi] airbase, exhausted, with an unusual possession: a bird." It turns out, says Chatel, that she had "fought all the way at Kabul airport, to bring the treasured little thing with her."
The bird, whose name turns out to be Juji, was not allowed to fly onward to France with the little girl, who the ambassador identifies as "Alia," to protect her identity. At that news, says the ambassador, the girl "cried silently," and he felt so moved to do something to help her. Chatel then promised to take care of the bird at the French residence, and feed it.
Chatel said that the girl could visit her pet "anytime and take him back," and he says the little girl looked at him with "desperate gratefulness."
Intense fortnight
And so, the evacuations continued. Chatel describes the operation as a "heavy fortnight" during which he was "sleeping two or three hours a day," because of the intensity of the operation.
During a quick break, he managed to get Juji back to the French residence in Abu Dhabi, but Juji "escaped his box and made a big mess in the car." There is a video of Juji hiding beneath a car seat and pecking at the finger of, presumably Chatel, as he tries to entice him out of the car.
Chatel comments in tweet number four, accompanying the video, that if Juji "survived Kabul airport [then] I was no match [for him]."
Eventually Chatel must have got Juji out of the car, because the next tweet shows Juji sitting in a pretty cage near a window, greenery and a sparkling stretch of water in the background. Chatel says that he began taking Juji out in the "cool mornings so he could see other birds." According to Chatel, the Mynah has "a girlfriend now – a dove that visits him every day."
These new 'friendships,' thinks Chatel, have helped Juji adapt to his new surroundings, and the bird began speaking and saying "mysterious things, in a language we couldn't understand." That's when Chatel decided that they would try to teach the Mynah some French.
Learning French
Chatel tweets that he started off saying "Bonjour" (Hello or Good Day) to the bird, but apparently Juji has an aversion to men, and so the bird "just frowned and looked angry," while he often "giggled at females." Undeterred, Chatel says he went on saying "Bonjour" to him every day, even though he was convinced the bird was not listening to him.
Then one day, one of the female managers in the French residence filmed Juji saying "Bonjour" over and over. The bird's words "went straight to my heart," tweeted Chatel.
The final post in the story says that Juji's owner "Alia" found Chatel on Twitter and is "happy to see her bird thus cared for." She has asked that Juji learns even more French. Meanwhile, says Chatel, the bird has become "the embassy's mascot." One day, though, says Chatel, if he can, he wants to return Juji to his rightful owner and take him "personally to you [Alia] one day."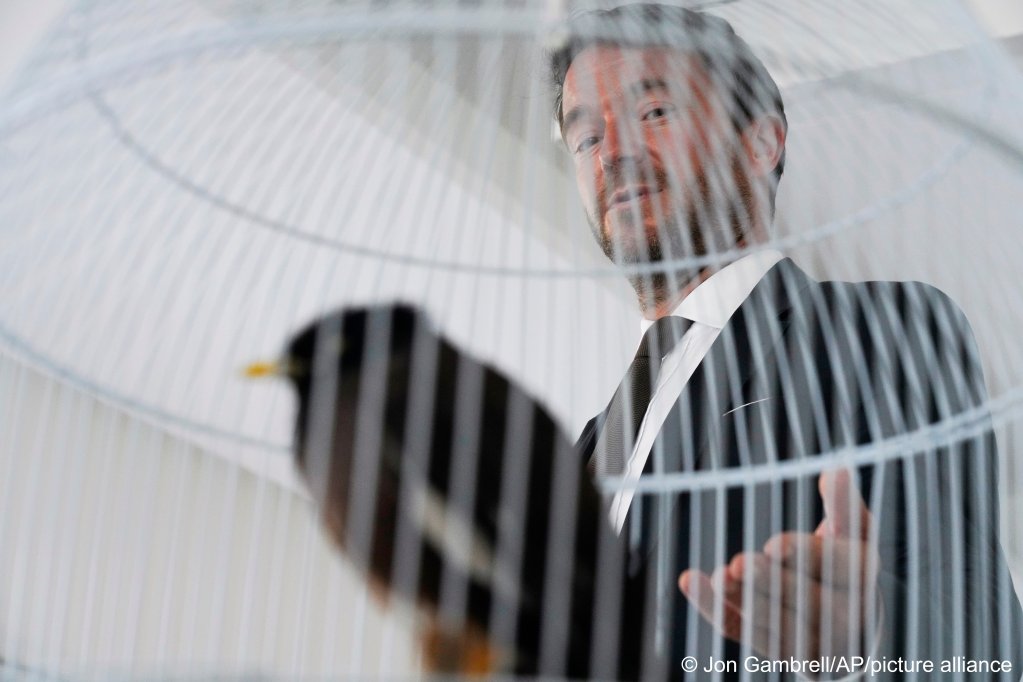 Settling in
Juji's story has made headlines on newspapers around the world and on October 7, Xavier Chatel spoke to BBC Radio 4. There he recounted the story once again, remembering that Alia arrived with her bird in a cardboard box, and inside, Chatel says he could see "the beak of a Mynah...a bird from Afghanistan and there are many also in the UAE."
When Chatel decided to look after the bird, he told the BBC, that he asked Alia "for the diet of the bird," to find out what he liked to eat. Chatel said that Alia gave him precise instructions about how to take care of her bird.
Now, the ambassador says he is "very happy that the bird has a little bit of French in his daily routine." Chatel also said that Alia was safe and well in France and being "well looked after."
Asked by the BBC whether many people remain in Afghanistan who were also hoping for a flight to France, the ambassador answered that France was in a different position from countries like the UK.
'Hope to start again'
The French military left Afghanistan in 2012, Chatel explained. The country had partially anticipated that repatriations might be needed and so had been working hard over the course of the last year to evacuate those who had been working at the embassy or with other French companies and organizations, or anyone who had previously worked alongside the French military before they ended their mission.
In all, Chatel told the BBC, "in 12 days, [in August] we repatriated about 2,800 people," including Alia. It appears only a few hundred might remain in Kabul, some who have dual citizenship, explained the ambassador.
In the chaos of the evacuation, admitted Chatel, he hadn't managed to take Alia's contact details or given his own. But after Alia found him on Twitter, she wrote to say: "I lost everything in this evacuation, I lost my home, I lost my country, I lost my life, but the fact that my bird is still alive and is well-looked after gives me hope to start again."