The St. Ambroeus soccer team in Milan brings together refugees, asylum seekers and local youth. It is a way to reduce their isolation, but also to fight against racism in the country.
Abdoulaye used to play soccer in Dakar, Senegal. When he left his country for Milan a year and a half ago, he left everything behind, including the game he loved. "At first, it was very difficult," he tells InfoMigrants. "I didn't know anyone my age and I didn't speak Italian."
Then Abdoulaye heard about the St. Ambroeus soccer club. Some time later, the 21-year-old joined the team as a defender and made friends with "Gambians, Malians, Burkinabe ... there are many Africans, like me!" Within the group, this Senegalese migrant also rubs shoulders with young people from the neighborhood.
"The exchange of culture, habits and ideas is essential," says Daniele Raduazzo, the club's sports director. That's why we think that it's so important to integrate local Milanese players into the group."
They meet every Wednesday and Friday for training sessions and put on the red and white outfit of the Milanese team on Sundays for the matches. "Fortunately, the market where I work is closed that day. This allows me to participate in the championship all year round," says Abdoulaye.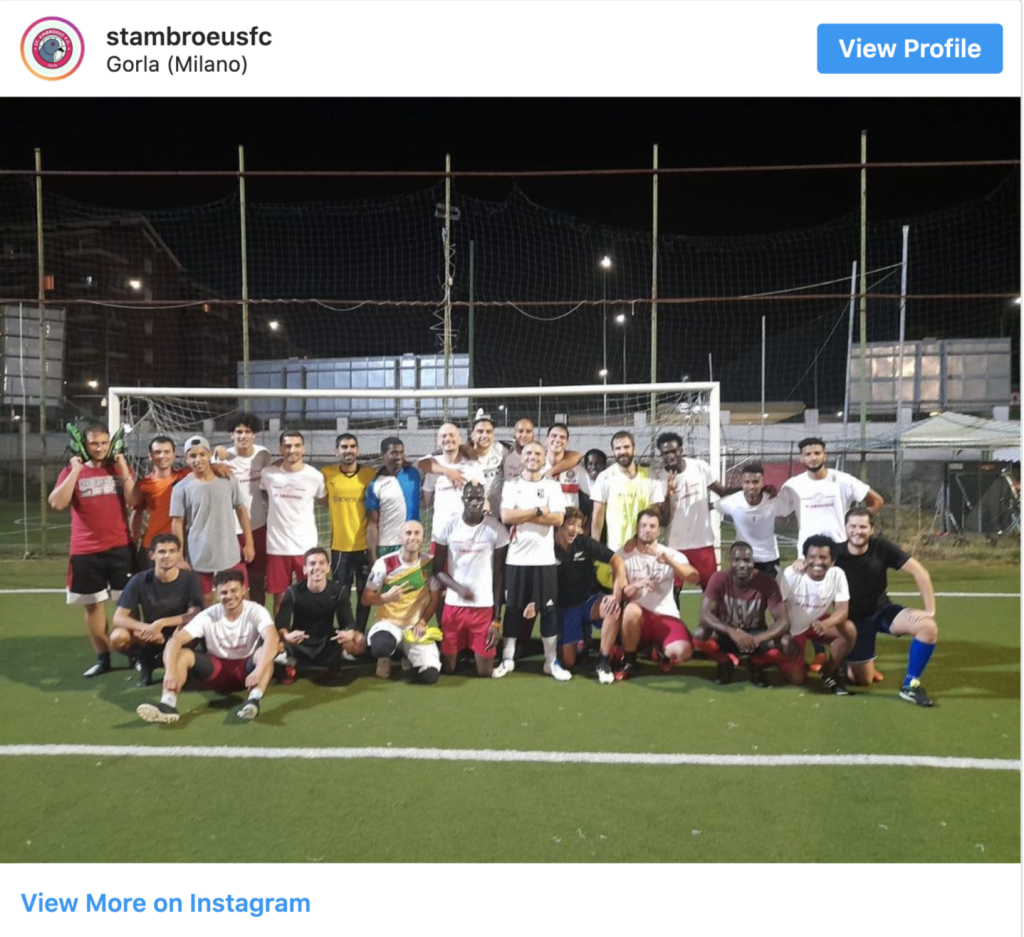 Founded in 2016, St. Ambroeus is the first soccer team including non-EU refugees and migrants to be affiliated with the Italian Football Federation in northern Italy. For its leaders, the goal is simple: to give the players a chance to make friends – from the neighborhood and beyond – in a country they know little about.
The club also provides Italian language classes to help them find employment. Lessons, in addition to those given by other associations, which today allow Abdoulaye to hold a conversation in Italian. "Now I can even speak French," he admits with a laugh.
St. Ambroeus also organizes events to "create solidarity networks." Last July, for example, its leaders organized a large Senegalese dinner, the proceeds of which were donated to "one of our dear friends in need," the club wrote on its Facebook page. Through its actions, St. Ambroeus wants to be a "reference point for new Milanese who come from another country and seek to integrate into the social fabric of the city."
Second-class citizens
Undocumented migrants – about 600,000 by 2020 according to government estimates – are often considered second-class citizens. "In Italy, these exiles have little chance of obtaining documents quickly because of the very strict laws on reception and international protection. This makes it difficult to process legal work and get a job," explains Raduazzo. At the same time, having a job makes it easier to get papers. It's a vicious circle.
It is also "very complicated to access Italian language courses" and "access to health care is much more limited than for someone who was born and raised in Italy," says Raduazzo.
In contrast to the anti-immigration rhetoric of some Italian politicians, the Milanese soccer club has made no secret of its commitment to migrants and refugees. This summer, a St. Ambroeus banner was flown on board the ship of the NGO ResQ, which conducts rescues in the central Mediterranean.
A few days ago, the club also showed its support for the former mayor of Riace, Domenico Lucano, who was sentenced to 13 years in prison for aiding illegal immigration. "In the rest of the world, there is talk of the 'Riace Model' and the work of Mimmo Lucano [the former mayor] is used as an example. In Italy, he is put in prison. We express all our solidarity to Mimmo Lucano."
'Made to feel ashamed to be black'
For the leaders of St. Ambroeus, soccer is one of the "means of social integration, exchange and knowledge" that can change the perception of the population towards migrants. It is also a "weapon against racism," says Raduazzo. "All our players, whatever their origin, if they feel Milanese, for us they are Milanese. With our club we try to build a team disconnected from prejudices of origin, belief, or gender."
In Italy, like elsewhere, racism and prejudice against migrants are common. In soccer, the problems are extreme, even in the best teams in the country. The majority of victims are African players, but also black Italian players. TIn a recent high-profile incident, insults were shouted at Napoli's French-Senegalese defender Kalidou Koulibaly and Nigerian and Cameroonian players Victor Osimhen and Franck Zambo Anguissa during a match against Forientina on October 3.
Sometimes the consequences are dramatic. Last June, former AC Milan hopeful Seid Visin, fed up with the daily racism he faced, committed suicide at the age of 20. Born in Ethiopia, the young man had been adopted at the age of seven by an Italian family. "Wherever I go, wherever I am, I feel the weight of people's skeptical, biased, disgusted and frightened looks," he wrote in a letter explaining his act. "I had been able to find a job [as a waiter] that I had to leave because too many people, especially older ones, refused to let me serve them [...] It's like I'm made to feel ashamed to be a black man."
Read more: Italy: Palermo puts migrant children center stage
Abdoulaye was also a victim of racism once. "A lady insulted me in the street once, it was not a big deal. Apart from that, I never had a problem." The young man prefers to forget this lone incident and focus on the coming months. "This year we have a great team. I'm sure we'll win the championship." In a recent match, St. Ambroeus crushed Real San Donato 6 goals to 1.