In the French city of Rennes, a group of refugees from Syria, Afghanistan and Bangladesh are training to work in restaurants. Most of them have never even held a kitchen knife before they started this program, but they are full of motivation about the opportunity.
When Michael arrived in Calais six years ago, his goal was clear: to reach England. But the unsanitary living conditions in the "jungle", the cold and the insecurity, quickly dissuaded him. "It was so difficult every single day, I told myself I couldn't stay here too long," he says.
In the north of France, the young Eritrean began to learn French and to envisage a new life in France. Today, Michael is building his life in Rennes, Brittany, with his wife and three children, and a new ambition. After having worked for several years collecting cardboard and paper, he now wants to build a career in the kitchens of restaurants in Rennes.
On this October morning, a light drizzle falls on a soulless industrial zone west of the Breton capital. The greyness contrasts with the liveliness that reigns in the large room of the Envergure training center. Michael and eight of his classmates are busy preparing the day's meal: cauliflower "à la syrienne" with a yogurt and cucumber sauce and a salad of lettuce, tomatoes and onions. Souheil and Hassan cut the cauliflower into florets, Kizanet and Michael peel the cucumbers while others chop the parsley and slice the tomatoes.
Read more: Paris: At this school, undocumented minors find their way back to education
Motivation, the main requirement
They are all starting the last week of the Sesame training course for kitchen assistants, a progam which is officially recognized in the industry. Financed by employment agency Pôle Emploi and the French state, in partnership with OFII and professional organizations, it is open to any adult with refugee status. For five and a half months, candidates attend practical cooking classes, where they learn the basics of the restaurant business. French lessons are also given and lead to an A2 level language certification upon graduation.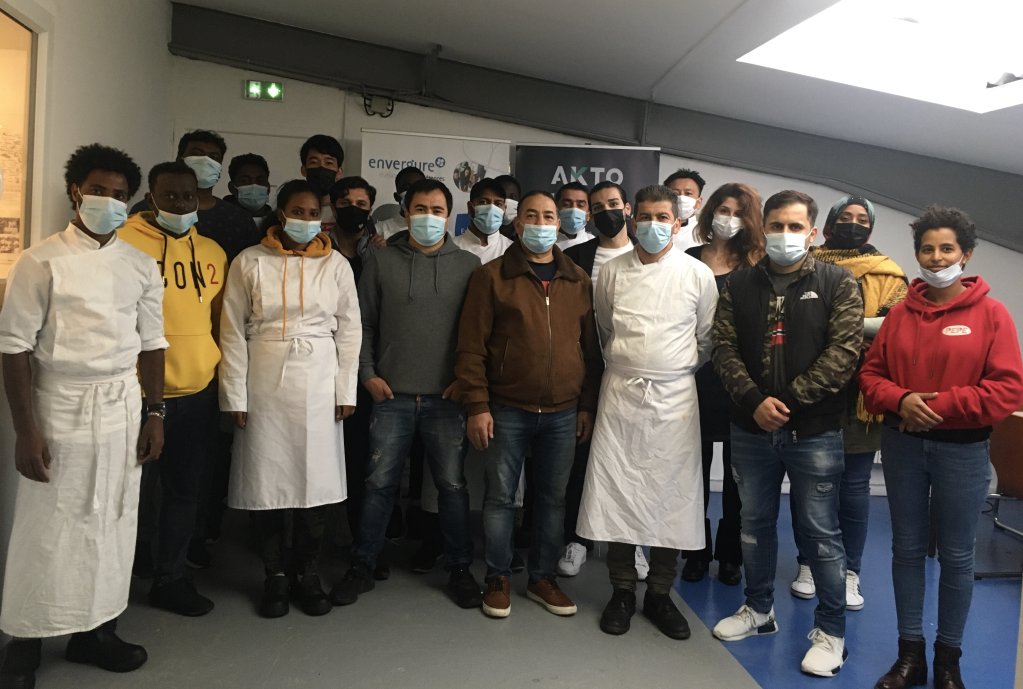 During the training, candidates also complete a two-week "hands-on" internship in a restaurant kitchen. "During these two weeks, the students are not really judged on their technique, because for some, working in the sector is a total new beginning. We make it clear to the employers that they should pay attention to their interpersonal skills and general behavior," says Julien Guezingar, program coordinator for Akto, one of the pilot associations of the program, along with Refugee Food.
"Motivation is the main requirement to apply for the training. It doesn't matter if the candidate has never touched a kitchen knife before. All we ask is that they commit themselves to staying with the course right up until the end and take advantage of the opportunities available to them afterwards," says Guezingar.
To register, each candidate must take several tests: an A1 level language test, a logic as well as a dexterity tests, and they must also undergo a motivational interview with Véronique Quibel, educational assistant at Envergure.
The ten students of the third session of Sesame all passed this evaluation. The most difficult part came next, when they had to learn the techniques of preparing French gastronomy. "The cooking here is complicated, everything is different," Raëd admits. Before his arrival in France in 2018, the 22-year-old cooked a little, in Iraq, with his father, "dishes that have nothing to do with what we learn here." But he has, all the same, made a beautiful discovery: "The foie gras," he says laughing.
Tashi, a former restaurant owner in Tibet, had to "learn to add butter" and "cook without spices." Hassan, a former electrician in Syria, had to start entirely from scratch.
In a few days, their progress will be evaluated in their final exam. With a recipe card and a basket of ingredients, the students will have to prepare a dish and a dessert in a given time. All under the eye of a professional chef.
Read more: France: How apprentice baker Laye Traoré became a symbol for the struggle of young migrants
'Pitting', 'peeling' and 'zesting'
Upstairs, the fourth Sesame class began its training two weeks ago. Before starting the internship, the trainers make sure that the candidates have a good enough command of French "to understand what we ask of them, and to be as efficient as possible in the kitchen," explains Stéphane Kemal, who teaches the classes. In a small white room with walls lined with professional vocabulary, twelve students attentively follow the explanations of the former philosophy teacher. Today's topic: "Preparing fruit".
Coming from Syria, Afghanistan, Sudan, Eritrea and Bangladesh, the future clerks discover words such as "pitting", "peeling" and "zesting". Kemal speaks of a clear distinct manner and each word is accompanied by the corresponding gesture. Here, "we don't do professorial work," he insists. You have to remember that some people haven't been to any kind of school for many years. Some have never even been to school. If they aren't able to participate, we lose them."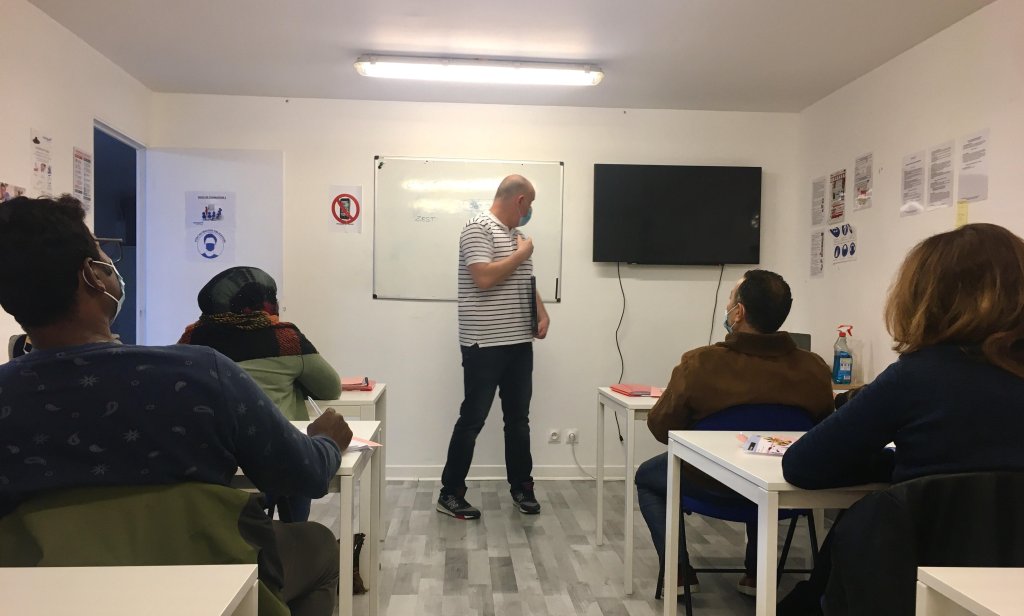 The students' responses echo the trainer's questions. "The peeler is used to remove the skin. Is that how you say 'skin'? I can't pronounce it," admits Nada, 29, who fled Syria. "It's not a big deal, the main thing is that people understand you when you're at the internship. You'll make it," encourages Kemal. "I warn them from the first day. Here, making fun of each other's accents is forbidden," he says. "We don't know how people might react, so when in doubt, we refrain from making jokes like that."
To help them solve their "peripheral problems", the students can count on Quibel, who admits to "going a bit beyond" her job description. The "multi-functional" manager, to whom many come to confide their daily worries, never hesitates before answering the phone. "We really want them to dedicate themselves 100% to training, it's important for the future."
Labor shortage
Once they pass the exam, candidates have an additional two months of support, dedicated to helping them to find a job. "Workshops are organized to help them to write a CV, prepare for a job interview and learn about their rights in the restaurant industry," says Guezingar. This year, after months of crisis due to the pandemic, there is a huge labor shortage in this sector. As of spring 2021, 240,000 positions were still unfilled, according to figures from the Direction de l'animation de la recherche, des études et des statistiques (DARES).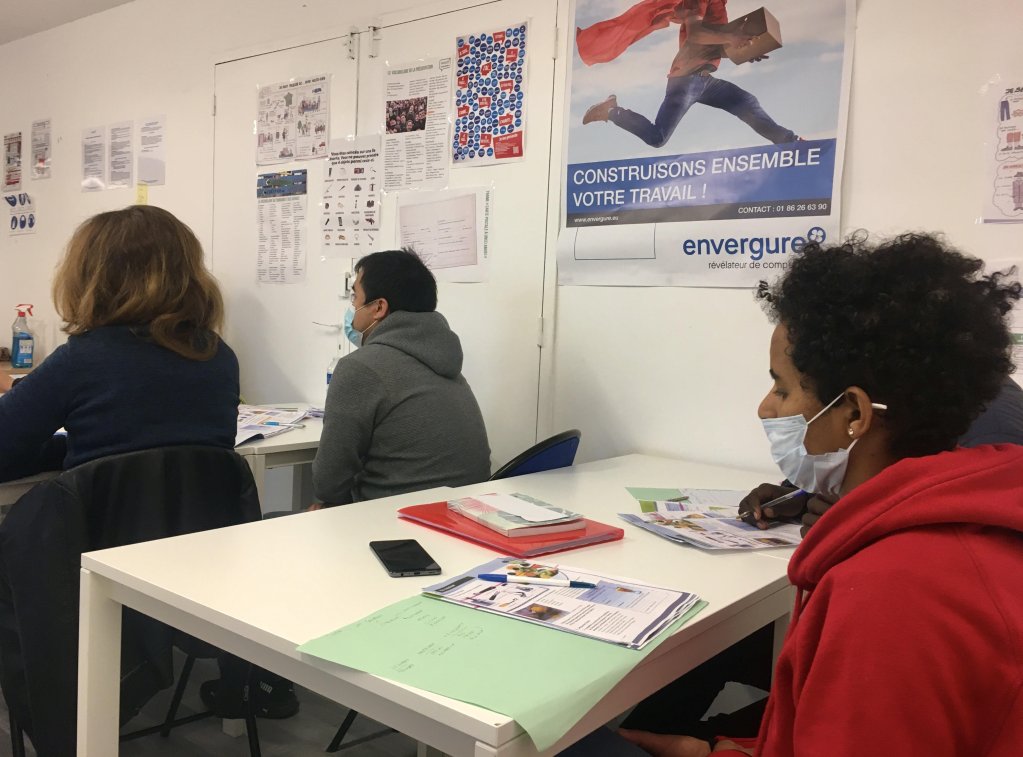 Three of the nine apprentices in the third Sesame class have already secured jobs. Souheil, who had his own restaurant in Damascus, already knows that at the end of the exam, he will work at Le Loup, an establishment in downtown Rennes. "One day, some customers came back into the kitchen to especially congratulate me on my beef tartar. The chef and I were very happy," he says proudly. Since Soueil completed his internship there, Le Loup's menu has grown a bit. This French restaurant's menu now includes hummus.