An Eritrean man accused of running a camp in Libya and subjecting migrants to "severe beatings, kidnapping, rape and or unlawful deprivation of liberty," has been put on a wanted list in the Netherlands. He has already been sentenced to life imprisonment in absentia in Ethiopia for similar crimes.
The Dutch authorities are searching for a 37-year-old Eritrean man, named as Kidane Zekarias Habtemariam, who is wanted in connection with numerous people-smuggling crimes in Libya.
The wanted notice describes the suspect as "one of the world's most notorious and cruellest people smugglers," the French news agency Agence France Presse (AFP) reports.
Prosecutors in a joint Italo-Dutch investigation say Habtemariam has been running a "notorious" camp in Libya which houses thousands of migrants where his organization "extorts, kidnaps and rapes Eritreans" travelling to countries including the Netherlands. The victims are subjected to "severe beatings, kidnapping, rape, and/or unlawful deprivation of liberty."
Went missing in Ethiopia
Earlier this year, Habtemariam was in the middle of court proceedings in Ethiopia when he went missing. He was subsequently sentenced to life imprisonment in absentia, but since then, no one knows where he has gone. In the Ethiopian court he was also accused of starving and torturing African migrants in the warehouses he runs in Libya, reported the news agency Reuters.
The Ethiopian trial, reports Reuters, went on for nearly a year and listed eight counts of human trafficking against Habtemariam. InfoMigrants French reports that he was first arrested in Ethiopia in March 2020 after being recognized by a man he had detained in Libya.
The news magazine Vice said they collected information which suggested that Habtemariam may have benefited from inside help in evading the Ethiopian authorities. They say the policemen charged with watching him may have been bribed, which allowed him to change out of his regulation prison uniform in a toilet at the court house and put on civilian clothes, allowing him to slip out of the court house without anyone being able to trace him.
Appeal for information
The Dutch authorities say they are appealing to anyone for information as to his whereabouts, including Eritreans living in the Netherlands. Investigators say Habtemariam's gang makes "as much money off the backs of migrants as possible."
They added that although many migrants do not survive the journey to Europe, even if they do make it as far as the Netherlands, the gangs will then extort those who arrived to pay for family members who hope to follow them.
Sometimes the gang "blackmails" relatives of those held in the camps who are already in the Netherlands, reports Reuters.
As well as extortion and people-smuggling, Habtemariam, reports AFP, is suspected of laundering the group's profits from the various operations they oversee.
InfoMigrants French reports that Habtemariam, along with another Eritrean man sentenced to 18 years in prison for people smuggling in Ethiopia, known as Tewelde Goitom or "Walid," are responsible for the torture, detention and sometimes deaths of thousands of migrants in a warehouse about 180 kilometers south-east of the Libyan capital Tripoli. Their camps were situated in the town of Bani Walid.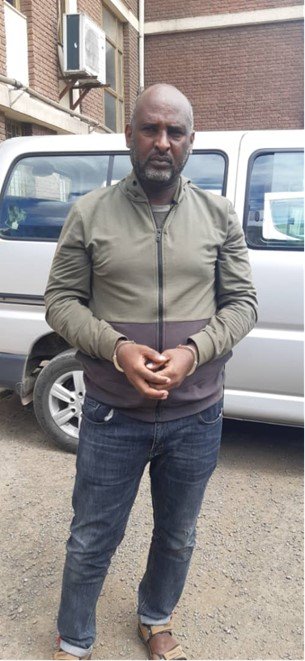 Most wanted
The Dutch police's wanted notice is also available in English and they have made a short film about him in the Tigrinya language. If you have a tip, you can contact the Dutch police confidentially and for free via a WhatsApp or Viber messaging service.
The press release says that the information should be shared freely to make sure that as many Eritreans as possible know that they can contact the Dutch police if they have any information about his whereabouts. Messages can be left in Dutch, English or Tigrinya, via text message, voice message or email.
Pictures of him on the Dutch police website show a man casually dressed in jeans, sandals and a zip-up training top. In the picture, he has a slightly graying goatee and a balding shaved head.