An Indian asylum seeker who is fighting for his right to stay in Ireland has been hospitalized on day nine of his hunger strike. Nadim Hussain is pleading to be granted permission to remain in Ireland; he says he will be killed if he returns to India.
*Update note: This article was written and published on Friday afternoon, October 22. Later that day, Nadim Hussain received assurances from his legal team after discussions with the justice department that he will not be deported from Ireland. He ended his hunger strike after nine days and is currently (October 25) receiving medical treatment at Cork University Hospital.
"I am in a lot of pain in my stomach, I feel incredibly weak. I have nothing inside me," says 34-year-old Nadim Hussain, speaking with InfoMigrants from his hospital bed in the city of Cork, in the south of Ireland. He has been diagnosed with pancreatitis and the doctors are investigating complications with his kidneys as a direct result of his hunger strike.
Hussain has been living in direct provision in Cork since 2019. [Direct provision is a system of accommodation used for asylum seekers in Ireland.] In September, Hussain received a letter from the International Protection Appeal Tribunal (IPat), stating that he should not be declared a refugee and should not be granted protection status.
Hussain quickly contacted local politicians and then senior Irish ministers to appeal this decision. He also directly wrote to the Irish Prime Minister, Micheal Martin, to apply to remain in Ireland.
The prime minister's office replied to his application on September 22. "The Taoiseach [official title of the Prime Minister in Ireland] is pursuing the issue on your behalf with the Irish Naturalisation and Immigration Service (INIS) at the Department of Justice. He will be in touch with you on the matter as soon as he has some further news," they said in an email to Hussain.
Hunger protest
A month later, Hussain had not heard anything and, terrified he would be deported, he decided to take matters into his own hands and began his hunger strike protest on October 13.
"Nadim's situation highlights how little the government of Ireland cares about asylum seekers and their lack commitment to the Geneva Convention," said Abolish Direct Provision Campaign, an aid organization in Ireland supporting Hussain, speaking with InfoMigrants.
Cork TD Mick Barry raised Hussain's case with Minister of State at the Department of Justice James Browne on October 19. [TD is the Irish equivalent of MP for Member of Parliament].
"As you know, physical and mental impairment can begin within two to three days of the commencement of a hunger strike. Nadim's GP has already expressed his concerns in this regard," Barry said. Barry demanded a solution needed to be found as soon as possible to protect Hussain's ailing health.
While he cannot comment on any individual cases, Browne said each application for international protection is examined in detail and all factors must be taken into account.
"My objective is to have decisions made on international protection applications and permission to remain considerations as soon as possible," he said.
Browne also explained that a negative decision on an appeal from IPat is not the final stage in the international protection process.
"In these circumstances, an applicant will have their permission to remain consideration reviewed by the international protection office."
'Recognition of contribution to society'
The Irish Refugee Council (IRC) has called on the Government to address Hussain's situation urgently and before his health further deteriorates.
"We have repeatedly called for people who worked in the healthcare sector during the pandemic to be offered permission to remain as an exceptional recognition of their contribution to Irish society," said the IRC in the Irish Examiner newspaper.
The Chief Imam at the Islamic Centre Ireland, Umar Al-Qadri, tweeted in support of Hussain. "I have written to Ministers Humphreys & O' Gorman asking them to reconsider the decision to reject Nadim Hussain's application for Leave To Remain. Whilst unaware of the details of his case, his service as a frontline worker during the pandemic should be taken into consideration."
In India, Hussain worked as a businessman and a politician, before he was forced to flee in January 2019. "My father and mother were both killed on the same day in Kolkata. My father was also a politician like me, we were in the same party, and that was why he was killed. I myself was attacked and threatened. I know I will be killed if I go back."
Hussain's parents were killed in anti-Muslim riots in West Bengal on March 27, 2018.
'Cork is my family, my home'
He arrived in Cork on January 3, 2019, and worked in security in a hospital during the pandemic. Hussain kept going to work when the country went into full lockdown.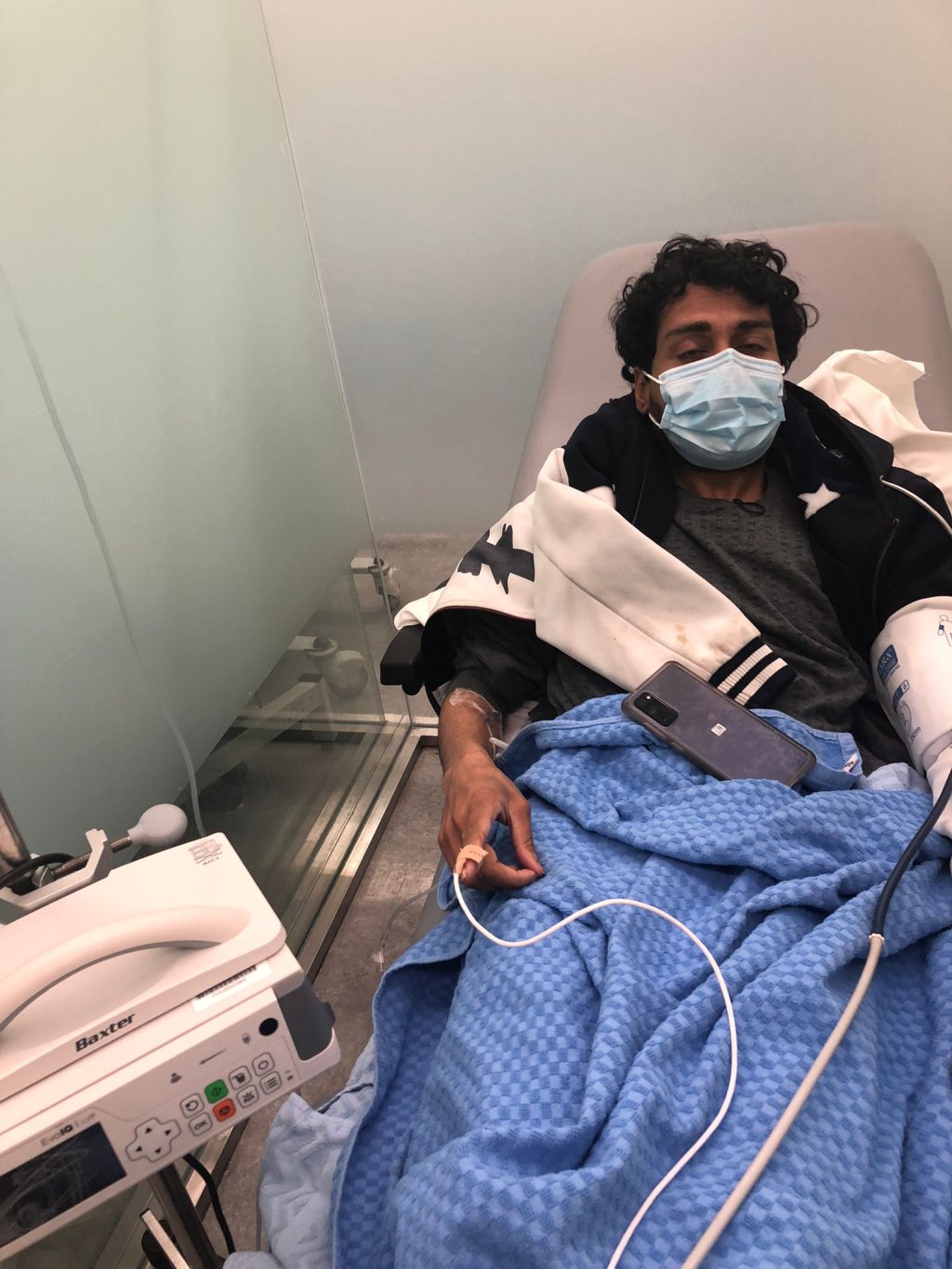 "I still went to work every day when everyone else stayed at home to be safe. I would do anything for Ireland. I worked in KFC [Kentucky Fried Chicken] and also as a security man in hospitals. I kept working. I provided security to hospitals and also the courthouse, but now there is no one to provide security to me."
An only child, Hussain has no close family in India. "I have no one to go back to and I know that I will be killed if I go back to India."
Hussain has been living in the city of Cork for almost two years and has become very connected to it and its people. A rally was held in both Cork and the Irish capital Dublin on Friday afternoon in solidarity with him and to raise awareness of his case.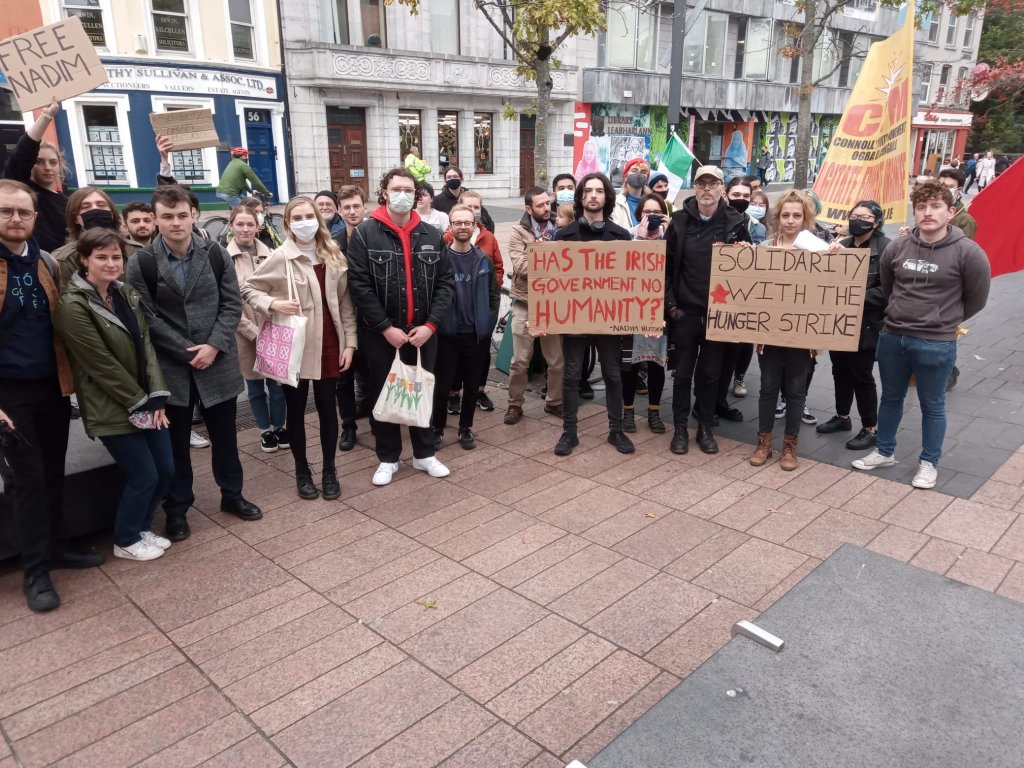 "Cork is my family, it is my home. And there are a lot of people who know me here and they support me. But do the politicians not care about people? I wrote to the minister of justice before I took this step, but there has been no reply, nothing," says Hussain weeping. "I am going to keep going with my hunger strike until I have some answers, I just want answers."