Can music change perceptions about migrants and refugees? The Citizens of the World Choir in London is trying to do precisely that. Its members welcomed Little Amal to London -- at a very special venue.
She has traveled 8,000 kilometers from the southeast Turkish border town of Gaziantep all the way to London in the UK, touching the hearts of large audiences along the way. Little Amal shares the story of millions of displaced children around the world, and in doing so, has journeyed across Europe, stopping in Greece, Italy, France, Switzerland, Germany, Belgium and all the way to Britain -- even making friends with Pope Francis along the way.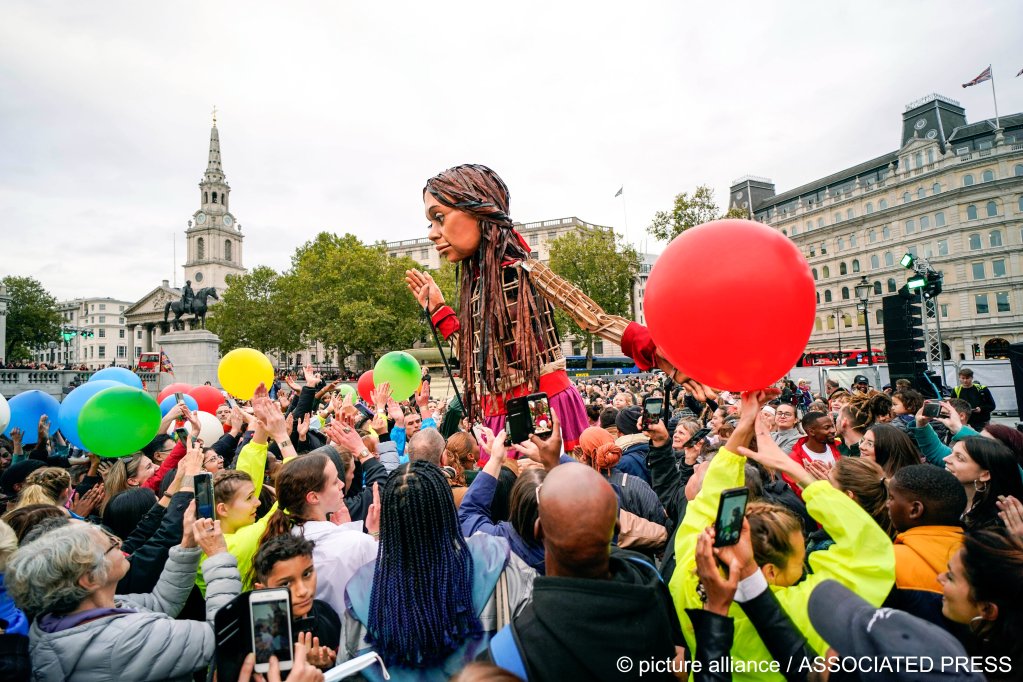 Arriving at the British capital, the larger-than-life sized doll of Little Amal received a special welcome at the Royal Opera House, a world-class opera institution located in the city's West End theater district.
Jillian Barker, Director of Learning and Participation at the Royal Opera House, said that "(a)s London falls still, our singers and dancers will pay tribute both to her journey and to those of the many displaced children across the world -- drawing attention to one of the defining issues of our times." Among those also welcoming Little Amal to London was Mayor Sadiq Khan.
Under the title "A Bed for the Night," Little Amal -- whose name in Arabic actually means "hope" -- was introduced to London audiences by a series of performances at the venue. Following various dance and theater performances, the puppet was serenaded by the Citizens of the World Choir, a London vocal group comprised of migrants, refugees, asylum seekers, displaced people as well as their allies, alongside the Royal Opera Chorus.
Co-founder and Musical Director of the Citizens of the World Choir Becky Dell said that from the inception of the project, she was passionate about the prospect of conducting the concert and having her international choir perform for Amal. She told InfoMigrants that after four months of rehearsals, it was "exciting and so lovely for everyone to have a brand-new experience at such a really, really high-level project."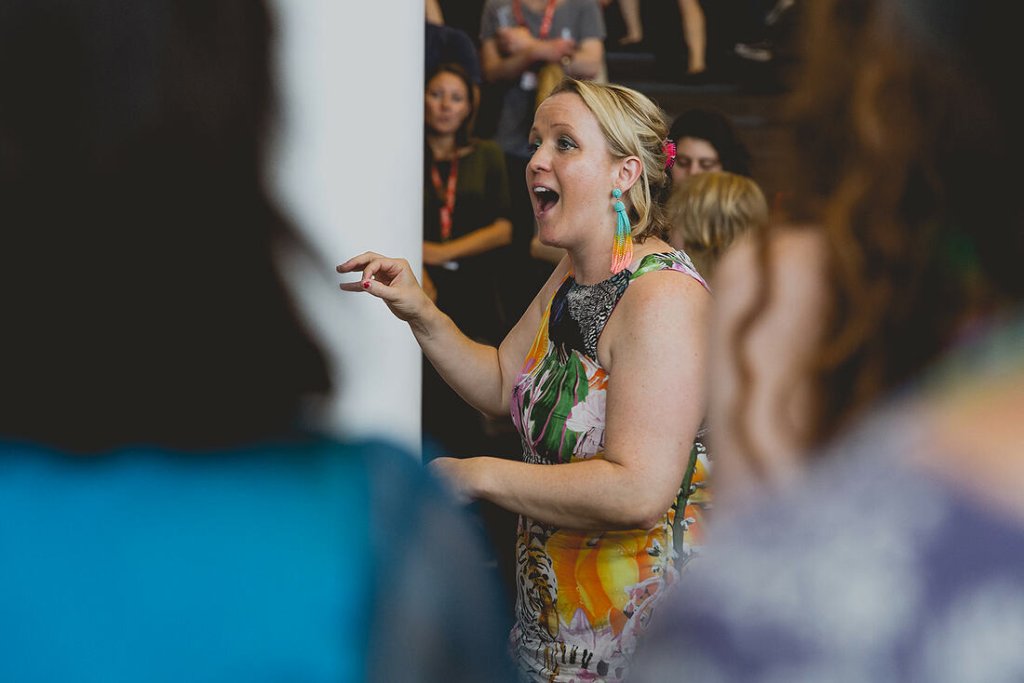 A journey of joy
Founded in 2017, the choir has about 50 members from 30 different countries of origin. About half its voices are made up of refugees and migrants, while the other half are non-displaced people, showing their support in song. Half the members of the choir have worked with music and sung before, while the other half haven't. 
"Some of the members of of our choir come from countries where they are not allowed to sing. I didn't even know that was a thing," Dell says, adding that working with the choir has been "the greatest joy and journey of my life."
"Our choir members have enriched our lives in a way that we never knew was possible. We never knew what we were missing. It is just a wonderful cultural exchange, where we will perform everything from Arabic rap to Welsh songs and Zulu folk tunes."
Read more: Afghan influencers living in fear — even in exile
Changing hearts and minds
Despite coming from such different walks of life, the Citizens of the World Choir performs to rave reviews about 15 times a year at various events -- but singing at the Royal Opera House for the reception of Little Amal was a nerve-wrecking first for everyone involved. After all, the group had to perform a piece of music that was specifically written for this occasion by famed English composer, singer, songwriter Ayanna Witter-Johnson.
Still, the choir's mission is not only to perform on stage but to change hearts and minds about displaced populations: "We hope to get people to observe the displaced people's movement through a more compassionate lens. But we never want to preach at people. We just show them what we do as a choir, and if you like it, that's great," Dell explains.
Music: the ultimate blessing
Naomi from Kenya was one of the first people to join the Citizens of the World Choir nearly five years ago. "From the beginning, we were welcomed here, and we sing together -- even those who cannot sing. This is such an exciting experience, especially for people who are refugees and immigrants. Most of us have never done any singing outside church before. Now we go and sing before a big audience. This is such a blessing."
Dell, who also runs a music academy in southeast London, says that the choir originally started with three aims in mind for people like Naomi: "to help healing through the power of music, to help community integration, and to show the important contributions that refugees and migrants make to our society."
"Singing is a beautiful way of being human, of sharing our connectivity and understanding."
Read more: 'Walk with me': Music video connects displaced people with host communities around the world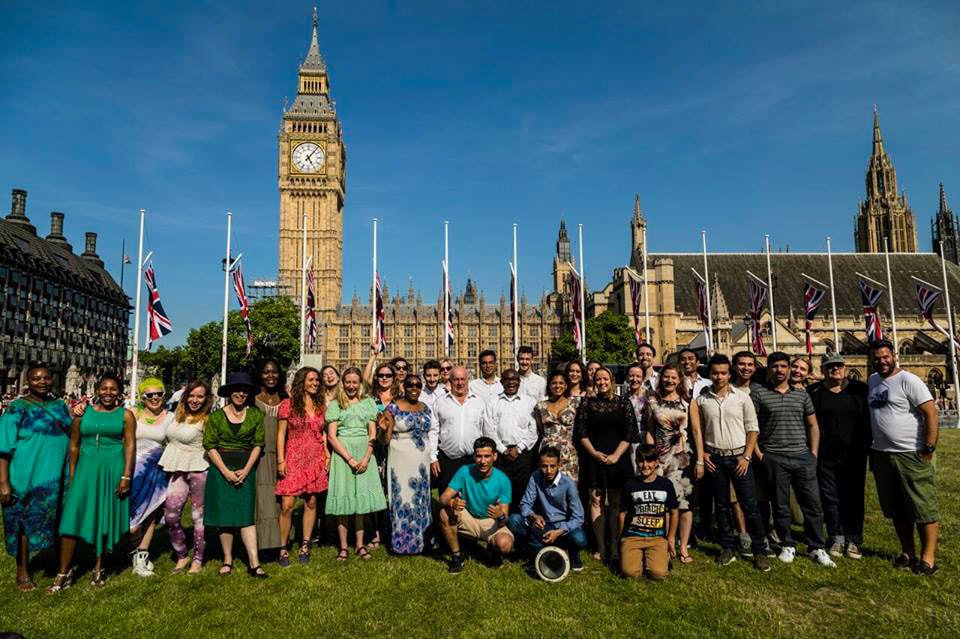 A family of song
Naomi sings in English and Kiswahili, but is surrounded in the choir by migrants and refugees from other cultures and with other languages. "It is so nice to learn their songs and hear them sing. It is like listening to a bird on a tree when I hear a new song from someone else in choir," she tells InfoMigrants, adding that she especially loves music in Little Amal's language, Arabic.
But her favorite tune sung by the choir is the popular Zulu South African cyclical hymn of hope called "Siyahamba" -- with its lyrics translating as "we are marching in the light of the world." Becky Dell feels that the message of the song reflects the spirit of the Citizens of the World Choir itself:
"They say that the world is a book and that if you stay in your country, you're only ever reading one page. And we've all now had the great experience of reading 30 more pages of the world through this wonderful project that is based in compassion, dignity and understanding."
And Naomi agrees: "These people, they are not only my friends. They're my family, honestly. I feel that I once was lost. But now I'm found."