Germany and Poland are among the European countries that want greater efforts to stop migrants from crossing the EU's eastern borders. But Brussels has made it clear that it will not pay for "barbed wire and walls" with EU funds.
The number of migrants crossing the European Union's eastern borders has continued to rise amid increasing calls to erect walls and barriers to keep them out. More migrants from the Middle East and Africa crossed the border into Poland from Belarus at the weekend, while German police said Monday that since the start of October, 4,246 people had entered Germany irregularly from Poland.
On Saturday, German police stopped a van not far from the Polish border in which 31 Iraqi nationals, including 10 children, were travelling. Some of the migrants were wearing damp, worn shoes, according to local police authorities. Others had sore feet, after they had been wrapped in aluminium foil. The migrants -- two women, 19 men, and 10 children -- were taken to the police station in the city of Pasewalk.
Polish border guards also said on Friday that they had arrested 14 suspected people smugglers within the previous 24 hours for allegedly helping migrants to cross the border from Belarus. Among those arrested were two Germans who had been transporting a group of Iraqis in a van, the Polish news agency PAP reported. The other alleged smugglers came from Poland, Syria, Uzbekistan, Italy, Romania, Georgia and Iran. In total, more than 160 "couriers" carrying migrants have been arrested in the border region of Podlachia (Podlaskie), according to the dpa news agency.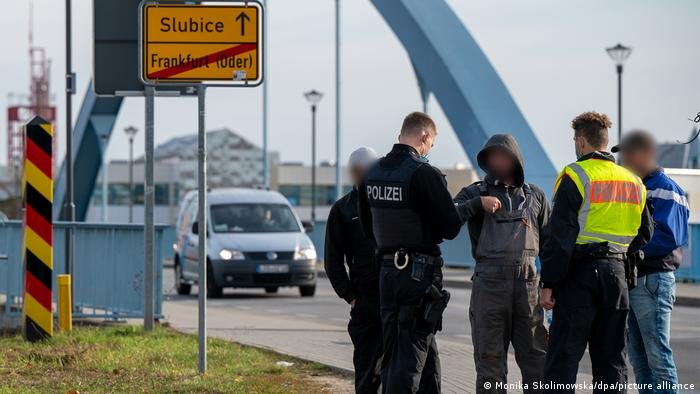 New migration routes
The new migration routes are the result of a move by the Belarusian leader Alexander Lukashenko to encourage migrants to come to Belarus as a transit country through which to enter the European Union. Polish border authorities say that this month alone more than 12,000 attempts have been made to cross the border from Belarus. Last week, a group of migrants who have remained stuck for months at the border near the town of Usnarz Gorny tried to break through the razor wire border fence. Border guards reportedly responded with tear gas.
Germany and other EU countries are becoming increasingly concerned about the situation, which has led to the deaths of eight people in recent months and left many others stranded in nearby forests. A German foreign office spokesperson said in Berlin on Friday that they are watching very closely "which alternative routes are now being chosen." The German interior minister, Horst Seehofer, says Belarus has now lifted its visa requirement for nationals from Egypt, Jordan, Iran, Pakistan and South Africa, as it aims to push more people towards the borders of the EU.
Seehofer said on Sunday that Germany plans to increase controls on the border with Poland. He told the newspaper Bild that 800 police had already been deployed on the German-Polish border to help deal with the increase in migrant crossings. "If necessary, I am ready to reinforce this even more," he added. He has said that Germany has no plans to close the border with Poland, however, as such a move would be "legally questionable."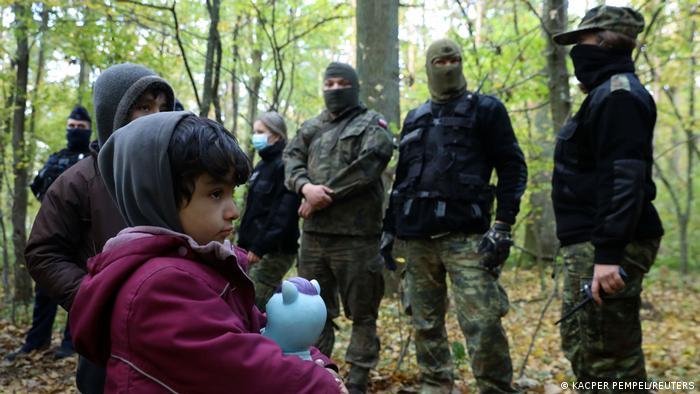 No EU funds for barbed wire and walls
Poland has already erected a razor wire fence but it now wants to build a 350 million euro anti-migrant wall on its border with Belarus. Asked whether such walls were necessary, Seehofer told Bild: "It is legitimate for us to protect the external border in such a way that undetected border crossings are prevented."
However the European Commission President, Ursula von der Leyen, has insisted that if any new walls are to be built at the external borders, they will not be paid for with EU money. "There will be no funding of barbed wire and walls," she said at a summit in Brussels on Friday.
Austria had called during the meeting for border fences and drones to be at least partly paid for with EU shared funds. Alexander Schallenberg, Austria's chancellor, proposed building a wall on the Lithuanian border with Belarus as a way of defending the EU against Lukashenko's policies. Earlier this month, Poland, Lithuania and Greece had also argued for barriers on the bloc's borders which would stop countries such as Turkey and Belarus from "weaponizing" migration.
While the European executive rejected the funding of physical barriers, EU leaders at the summit agreed to spend billions in funds for actions on migratory routes as well as coming up with new rules dealing with "state-sponsored smuggling."