More and more human rights groups, NGOs and international bodies are joining calls to free three migrants who convinced the captain of a merchant ship to not return more than 100 migrants to Libya two years ago. Meanwhile, a new report Malta and the EU's treatment of migrants overall.
The story of three young asylum seekers known as the ElHiblu3 has been making headlines in Malta and beyond for more than two years now. The three face charges of hijacking the merchant vessel El Hiblu, which had been instructed to take more 100 people on board back to Libya, which is widely considered to be a dangerous country for migrants with a track record of serious abuse of migrants.
Instead on March 28, 2019, the boat entered Maltese waters, where the Armed Forces of Malta boarded the ship after receiving reports that migrants had seized control of the ship, forcing it to head to Europe. Three young men, aged 15, 16 and 19 at the time, were arrested immediately and charged with hijacking the vessel.
Under Maltese law, that indictment carries the same weight and meaning as terrorist activity, punishable by up to 30 years in prison. The three men, two of whom come from Guinea and one from the Ivory Coast, are currently awaiting trial, and have submitted "not guilty" pleas before court, saying they merely acted as translators on behalf of all 108 people on board, convincing the crew of the vessel to head to Malta -- rather than actively commandeering the ship themselves.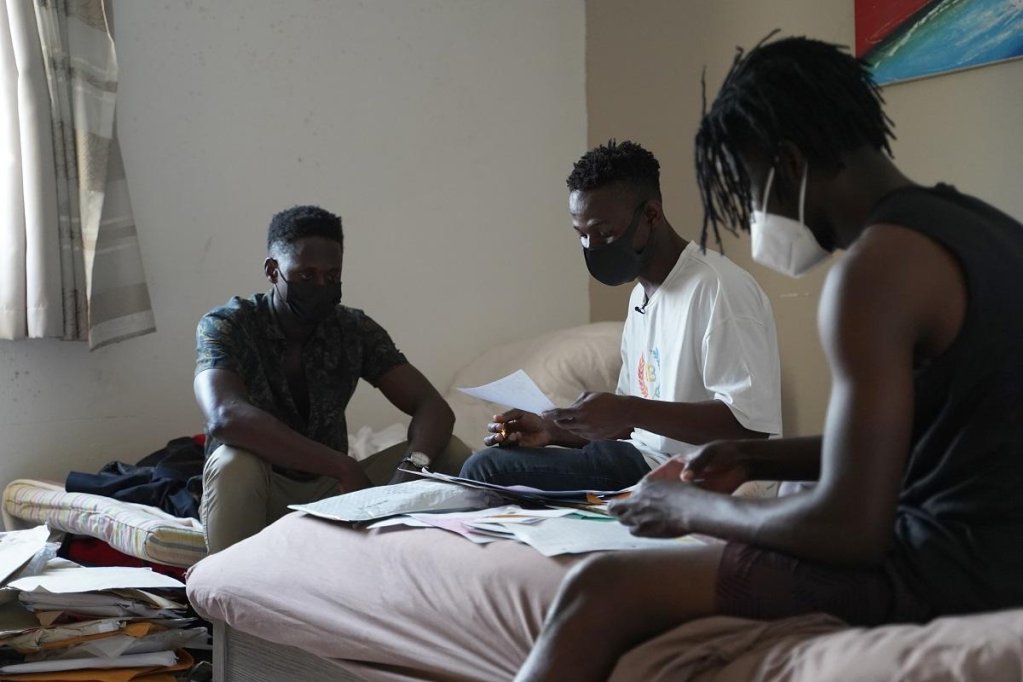 Hearings in the case are set to continue in November. Legal advisors from the Association of European Democratic Lawyers (AED) have stressed among other things that "[i]nternational agreements, which includes the EU, state Libya, very clearly, is not a place of safety for the disembarkation of refugees and migrants rescued at sea."
Read more: Around 500 migrants returned by Libya's coast guard in 24 hours
NGOs call for case to be dropped
Human rights groups such as Amnesty International have called for the charges against the three young men to be dropped, as a magisterial inquiry is yet to make its findings in the case public. 
Three local civil society organizations that work with asylum seekers have meanwhile also asked for the charges to be dropped. The Migrants Commission, Jesuit Refugee Services Malta and Justice and Peace Commission say they believe that it is "a travesty of justice to prosecute anyone who is resisting return to a country where there is a real risk that they will be locked up in life-threatening conditions."
Amnesty and the local civil society organizations are being joined by some 30 similar groups in the call to drop the charges against the ElHiblu3. They are all working as part of an alliance trying to get the three men freed. Among the 30 NGOs involved are well-known organizations like Alarm Phone, Sea-Eye, Sea-Watch, Pro Asyl and Leave NoOne Behind.
They claim that Malta is trying to make an example of the accused in order to deter others from protesting the practise of pushbacks at sea to Libya. The Times of Malta newspaper quotes the group as saying that the criminalization of the ElHiblu3 "is yet another piece in the puzzle of a systematic attempt to oppress acts of solidarity and dissent at Europe's borders."
"Instead of being prosecuted, the ElHiblu3 should be celebrated for their actions in preventing the return of 108 precarious lives to Libya. Their imprisonment and prosecution constitute a deep injustice," the alliance said in a statement.
Even the UN has released a statement in the case, citing security concerns in Libya and calling "on the authorities in Malta to reconsider the terrorism charges laid against three teenagers."
The Maltese Interior Minister meanwhile has continued to stress the need to strengthen cooperation with Libyan authorities, despite the country being notorious for serious human rights violations.
Read more: Migrants tortured and killed in Libya by Russian mercenaries among others - UN
Global pressure on Malta mounting
An international commission has now joined those calls, arguing that Malta has denied the three young men a fair trial and therefore breached their basic human rights.
The commission includes Cameroonian academic Achille Mbembe and Nils Muižnieks, former Council of Europe Commissioner for Human Rights and now the director of Amnesty International Europe Regional Office as well as Régine Psaila, director of the African Media Association Malta.
"When someone like Achille Mbembe gives a statement, it has a huge impact. The case will be taken to a different level," she told The Times of Malta. "The commission is the voice of the voiceless, it is a strong fifth estate committed to speak on behalf of the oppressed."
A highly politicized trial
The youngest of the three men, who now is 17 years old, told The Sunday Times of Malta newspaper that he had never imagined that he would find himself in such a situation:
"All I used to dream of was to find freedom, but now I'm scared that I will be jailed for the rest of my life. Right now, neither my body, nor my mind are free."
"The last moment I felt some kind of joy was when my feet touched ground, after being rescued out at sea… but I had no idea what was awaiting me on that land," he said, adding that he felt like he was being used as a political "weapon" in an unfair battle.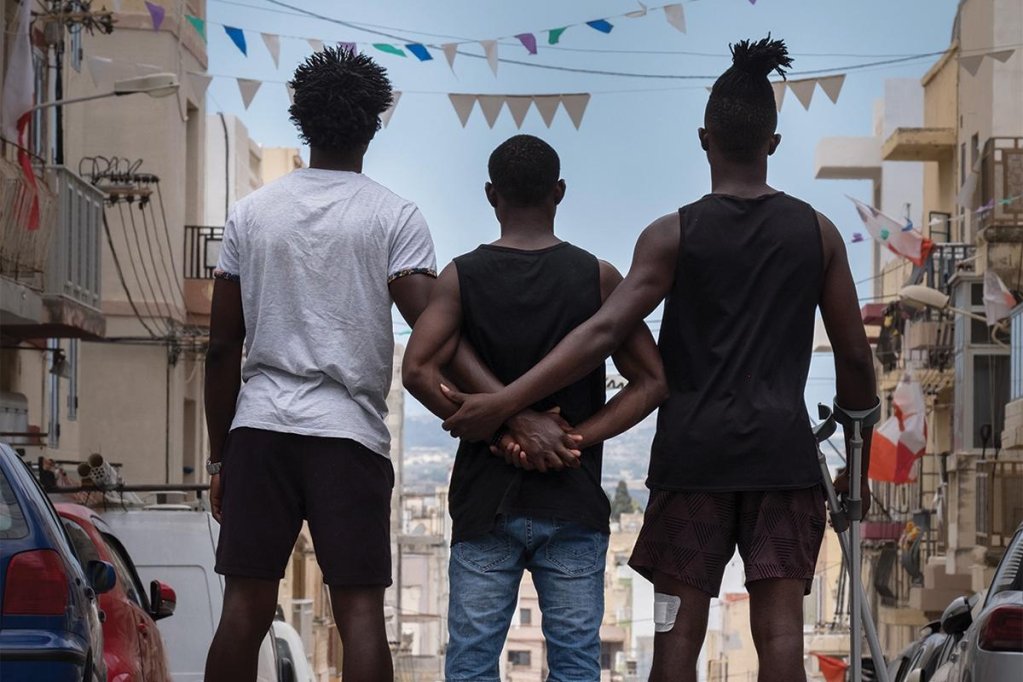 The three accused are also worried that they might face an unfair trial: Until recently, none of the people rescued by the boat were heard by the court. Two years into the trial, a few witnesses have been called-in to testify -- including the wife of one of the three accused.
"While the police and the crew of the ship were heard promptly after the ship arrived, it remains intransparent why it took the prosecution two years to invite a rescued person that had escaped torture, rape and slavery in Libya to testify," the alliance said. 
Heavy-handed methods across the EU
Human rights groups say that these methods are being repeated in other countries across the EU too. They point out instances where migrants have been held accountable for acts that human rights groups say should be forgiven or treated as exceptional circumstance. They are also asking for better legal processes and representation to ensure fair hearings.
In Italy, the alliance says, several human rights groups and NGOs face charges of "aiding and abetting illegal immigration" for rescuing people in distress at sea.
"While we witness how EU member states and institutions continue to break international law through violent pushbacks as well as forms of non-assis­tance and abandonment, migrants trying to escape from inhumane conditions and those in solidarity with them become criminalized."
Italy even handed down a 13-year prison sentence last month against Domenico "Mimmo" Lucano, the former mayor of Riace in southern Italy, who had made global headlines for welcoming migrants to the village in a bid to boost jobs and development. Instead, he was found guilty for a series of crimes, including charges of conspiracy, abuse of office, fraud, extortion and embezzlement. Lucano remains out of prison for now, pending the outcome of final appeals in the trial.
Meanwhile in Greece, two minors were sentenced to spend five years in prison on grounds of arson, following what the alliance of human rights groups call "a deeply unfair" trial lasting only one day, and during which, reportedly, no credible evidence was brought to light.
And there's another case in Greece even more reminiscent of the ordeal experienced by the ElHiblu3: In December 2020, a Somalian migrant reportedly grabbed the wheel of a migrant boat off the Aegean island of Lesbos in a desperate bid to save himself and 33 people on board the vessel. Two migrants, however, died at sea.
He is now in prison, having received a 142-year sentence for human smuggling, of which he is expected to serve 20 years. The court refused to accept the defense's argument that the migrant steering the boat and thus saving lives did not profit in any form from doing so, which should disqualify him from smuggling charges.
François Crépeau, an expert on international law and a former top United Nations official on the rights of migrants, told the New York Times newspaper that "(t)he criminalization of migrants as a means of deterrence has been a strategy for a long time."
"The latest step is what we've seen in Greece recently, which is obscene numbers of years in prison for people who are basically trying to save their lives and protect their families."
Read more: Greek migration minister insists EU pact on migration not enough
Malta on the dock
Meanwhile back in Malta, accusations against the heavy-handed methods of the government are mounting, as observers have started to file complaints in instances other than the ElHiblu3. The European Council on Refugees and Exiles (ECRE) has published a report saying that migrants were held in "undignified" conditions at various reception centers in Malta.
"Council of Europe Commissioner for Human Rights Dunja Mijatović strongly urges Maltese authorities to take immediate action to improve detention conditions and avoid endangering people in distress at sea," the document read.
Read more: Malta: 32 asylum seekers file rights complaint against government
The paper also named Malta as "a country where illegal detention of asylum seekers has long been the norm" and said that in relation to the issue of people in distress at sea, "the Human Rights Commissioner stressed that their rights 'should never be put at risk' and urged Maltese authorities to 'ensure that their actions do not lead, either directly or indirectly, to returns to Libya, which is not a safe place for disembarkation.'"
The report went as far as saying that "authorities including the Armed Forces of Malta have a history of sabotage, delays and non-assistance in the Maltese SAR (search and rescue) zone. Recent examples include failures to respond promptly to alerts of 34 people in distress in Maltese waters on 18 October, 49 people in distress on 4 October, and 70 people in distress on 27 September."
ECRE also made scathing remarks against Maltese officials, including top-rank politicians such as the country's prime minister, the home affairs minister and the state advocate, saying that many detained migrants were routinely "never informed about their right to seek asylum, they were never given a Detention Order, and no one ever explained their rights to seek redress."
The accusations against Malta, however, are of little consolation for the ElHiblu3 who continue to await the outcome of their trial. Until then, they have to present themselves at a local police station each day to prove they're not trying to escape Maltese justice.
Read more: IOM and UNHCR condemn the return of migrants and refugees to Libya