Migrants from Sierra Leone who are living in the German state of Bavaria are being made to attend identity 'hearings'. Fearing that the objective is to have them deported, they have been staging a protest in Munich.
In Sierra Leone it's known as "Temple Run" – that's the name for the risky journey that Sierra Leoneans, mostly young people, make to try to reach Europe via Libya and the Mediterranean Sea. And just like in the popular mobile phone game, the obstacles and challenges never seem to stop.
That's why, despite having made it to Germany and having a secure job as a mechanical engineer, Victor Kamara has had to sleep on the street, outside no. 51 Hofmannstraße in Munich to be exact, for over a week. He's been camped out in front of the immigration office along with more than a hundred other Sierra Leonean migrants who are demanding that the authorities drop plans to deport them.
What's the protest about?
Since last week, officials from the Sierra Leone embassy have been carrying out identity checks in Munich to see whether migrants without documents who claim to be from Sierra Leone are actually from there. Sierra Leoneans in Bavaria – many of whom have been living in Germany for years – are worried that this could lead to their being sent back to the West African nation.
"We fundamentally reject this degrading practice which leads to deportation," said Kamara, who is the chair of the Sierra Leone Association in Munich.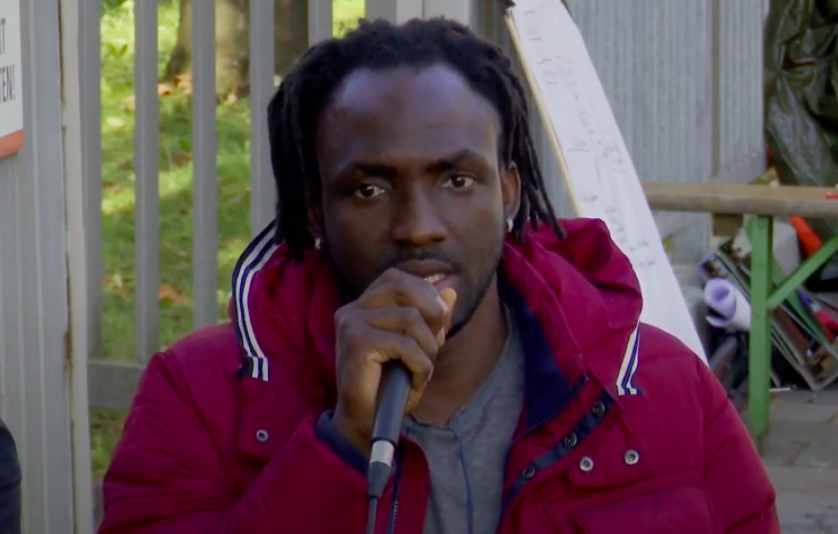 More than 200 people have been sent letters asking them to attend interviews where the Bavarian Refugee Council says they are questioned to find out whether they speak and look like Sierra Leoneans. Hamado Dipama, a former refugee from Burkina Faso and spokesperson for the Migration Advisory Board of the City of Munich, said it was a "racist practice based on arbitrary criteria."
The Refugee Council says the interviews are being conducted "in order to find out if they come from Sierra Leone, based on language ability, pronunciation, dialect, appearance, traditional tattoos etc." This is not aimed at checking whether people are falsely claiming to be from Sierra Leone – although this does happen, according to the embassy – but is intended to find out who is from Sierra Leone, and then to issue them with a travel document that would allow them to be deported.
Also read: Germany: Identification interviews for undocumented migrants – an opaque and controversial procedure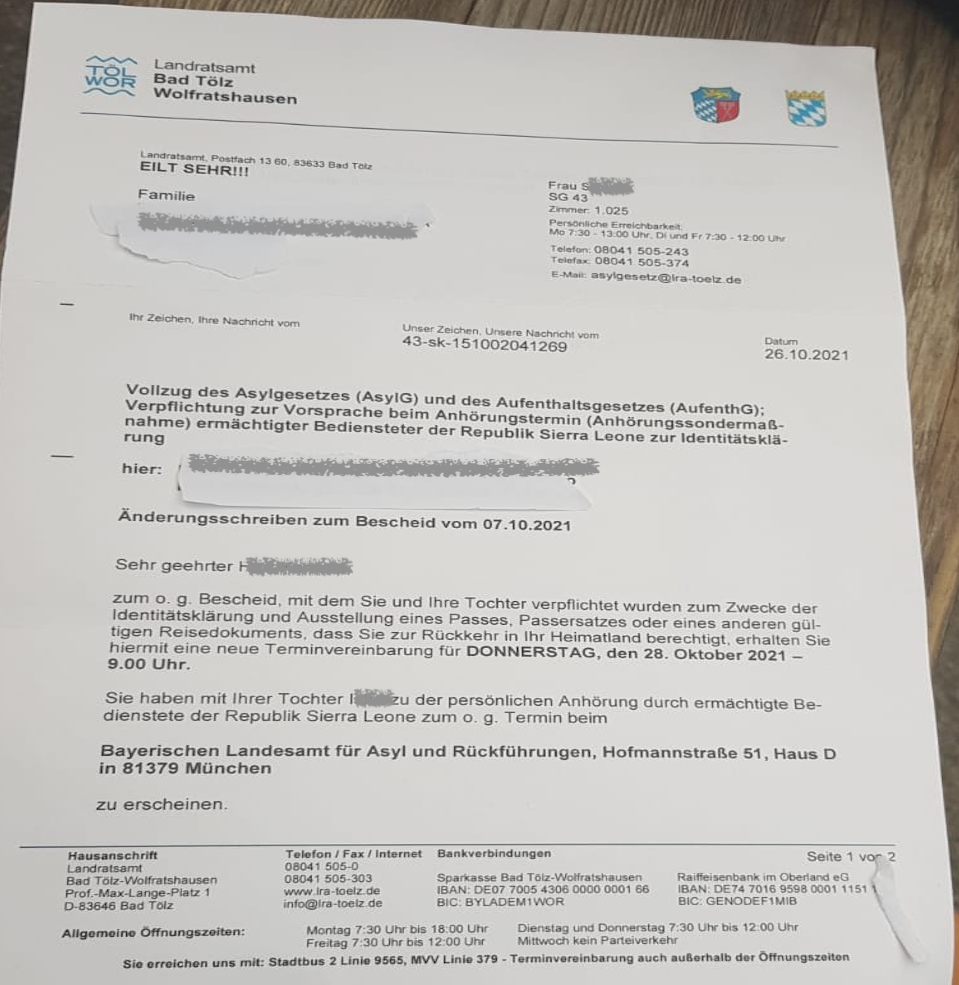 "It's traumatic for many Sierra Leoneans who have received those letters," Kamara said. "Many of them have been working, many of them have done their "Ausbildung" (professional training or apprenticeship). Many of them have kids here, and now you're trying to separate them from their kids and their families to send them back (to Sierra Leone)."
People who have received a letter but don't turn up to their hearing risk being charged with an offence, as the law says that anyone seeking protection in Germany has to "cooperate in obtaining an identity document" and "undergo the required identification measures." They can even be forcibly taken by police to attend a hearing or issued with a status known as a "Duldung", which means a temporary suspension of deportation. Following the introduction in April last year of a new law specifically aimed at boosting forced returns of unidentified asylum seekers, Duldung status does not give them the right to work.
Also read: Greens target German law aimed at rejected asylum seekers who fail to prove identity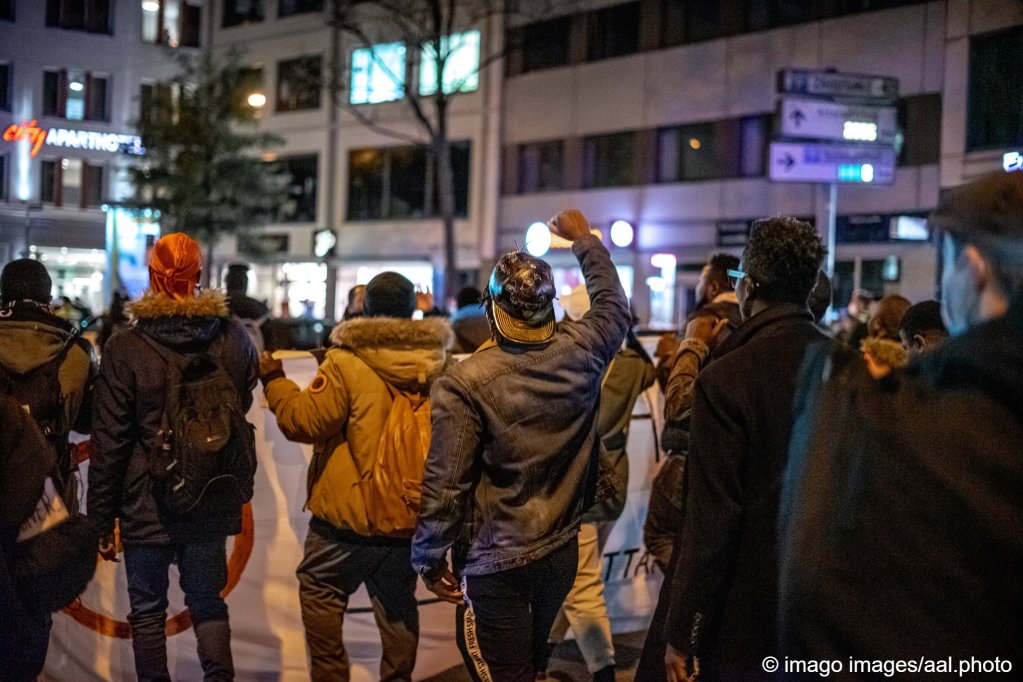 'No future'
There were officially more than 540 Sierra Leoneans living in Munich at the end of 2020, according to the Süddeutsche Zeitung newspaper. "Most of us came here to have a better life. And we are contributing to society," said Kamara. "When you turn around and look, these are nearly all young guys," he said, gesturing towards the Sierra Leoneans gathered at the street protest on a cold autumn afternoon. "I think the oldest would be around 35. They are healthy and they want to go to work, and they want to learn.
"If they are deported back home, these guys will start roaming on the streets. There is no future for them there," Kamara said. 
While they are the ones who are sleeping on wooden pallets, not all those at risk are men. Women and girls in Sierra Leone are routinely subjected to sexual violence, rape and traditional practices like female genital mutilation, said 25-year-old Fatmata, who fled Sierra Leone five years ago. "I want Germany to protect the Sierra Leoneans. I want them to stop the deportations."
Reaction from authorities
After this article was first published on October 28, a spokesperson from the LfAR (Landesamt für Asyl und Rückführungen, the Bavarian Regional Office of Asylum and Returns) told InfoMigrants that one of the aims of what they call the identification "mission" is "to explain to the foreign delegations [the visiting Sierra Leone officials] as well as the interviewees the prospect of voluntary return and thus to achieve a better understanding of the possibilities and opportunities associated with it.
"The LfAR promotes the voluntary departure of foreign nationals, in particular those who are obliged to leave the country, to their country of origin or to a third country that is willing to accept them. Through (...) return counselling, support for return and reintegration projects, the aim is to motivate these individuals to make the decision to return to the respective country of origin voluntarily.
"The survey obviously also serves to create the conditions for repatriation. There is no immediate repatriation in the context of the interview," the LfAR wrote. So far, on 11 days, 254 people in total turned up for their hearing, LfAR said. On each day of hearings, the office invites between 30 and 45 people.