Twenty-four migrants trying to reach England in a small boat were rescued off the Belgian coast on Wednesday. An elderly woman was among those rescued. They had been at sea for two days.
On Wednesday October 27, about 40 kilometers from the Belgian coastal village of Zeebrugge, emergency services rescued 24 people who were trying to cross the English Channel. They had set off in a small boat two days earlier, and several were suffering from hypothermia, the AFP news agency reported. Four people, two men and two women, had to be airlifted to hospital in Knokke.
According to police, the migrants had put out a distress call on Wednesday. Two boats and a helicopter were deployed in the rescue operation, which required a wind farm to be shut down temporarily, the governor of West Flanders, Carl Decaluwe, told the Belga news agency.
The 20 people who were checked by police on Wednesday were mostly from the Middle East, according to AFP. Eleven were Iraqi nationals, while the rest were from Iran (3), Kuwait (3), Afghanistan (1), Egypt (1) and Algeria (1). Police said that some would be deported to another EU country where an asylum application had already been registered.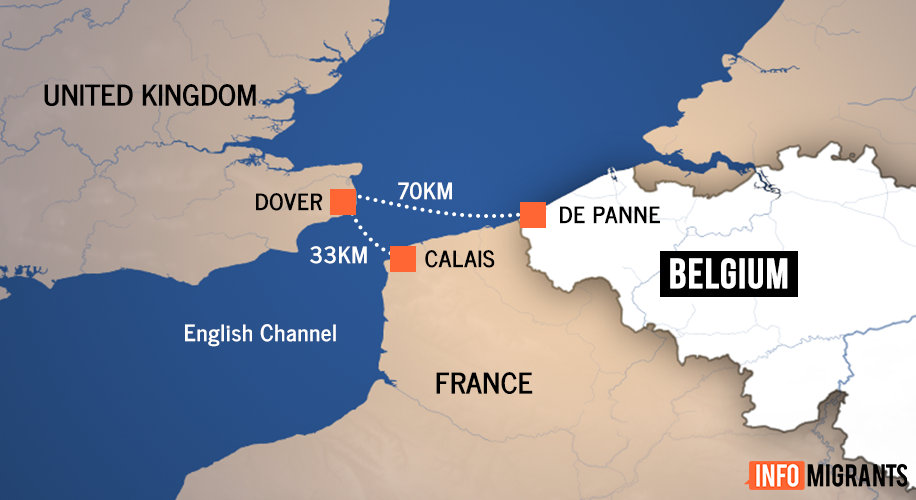 More attempts from France
The number of people trying to cross the English Channel continues to rise. According to the regional authority of Pas-de-Calais, 29,360 migrants, possibly counted multiple times, had attempted the crossing between January 1 and September 30, 2021. Of those, 13,807 people remained stranded in France, AFP reports.
In 2020, around 9,500 people crossed or tried to cross the Channel, compared with 2,300 in 2019 and 600 in 2018.
Smugglers organizing Channel crossings sometimes operate from Belgium, though they are more active in the French towns of Calais and Dunkirk, which are closer to the English coast.
Last week, a 25-year-old Iraqi was arrested in La Panne in Belgium with more than 100 life jackets in the boot of his car. Bruges prosecutor Frank Demeester said that the material used by the traffickers, such as inflatable boats, life jackets, engines and jerry cans, often passed through Belgium "to be used in France."
With AFP