The InfoMigrants podcast Tales from the Border starts in Senegal. Looking out over thousands of kilometers of Atlantic Ocean, towards the Canary Islands, many still dream of a better life in Europe. Meet those who tried to cross, those who failed, and those who made it.
This article is part of a series complementing our podcast "Tales from the Border". The audio feature format consists of eight episodes to be launched November 11, 2021 on Spotify, Apple Podcasts and other platforms.
"I have many friends who have died at sea because of this difficult life," says Senegalese tailor Mohammed Faye as he busies himself with his sewing machine. The whirring inside his workshop blends in with the crash of the waves not far away at the beach.
"It's about frustation!" comments a young Senegalese woman when asked why people dream of migrating. A young man says simply that those who migrate are "not scared of the sea any longer" and more importantly perhaps, even if they were, "they are not afraid of dying."
The first episode of InfoMigrants' new podcast series Tales from the Border begins in the West African country, talking to people in a small fishing village not far from the Senegalese capital Dakar.
Migration to the Canary Islands
It is villages like these whose inhabitants, perhaps frustrated by a lack of opportunity for employment or study, are dreaming of a better life, far out across the Atlantic Ocean on the Canary Islands and ultimately Europe.
In the last few years the Canary Islands, the Spanish archipelago in the Atlantic Ocean, off the north-west coast of Africa has been experiencing an increase in the number of migrants traveling from countries like Senegal, the Gambia, Mali, Mauritania and Morocco in small fishing pirogues, hundreds of kilometers across the Atlantic Ocean to their shores.
Between January 1 and October 24, 2021 over 16,000 migrants already made the crossing and arrived on the Canary Islands, according to data from the UN Refugee Agency (UNHCR). For the whole of 2020, over 23,000 migrants traveled the same route from the coasts of Africa to the Canary Islands. In 2019, by comparison, the UNHCR registered 2,700 arrivals on the Canary Islands, so numbers increased dramatically in the space of a year.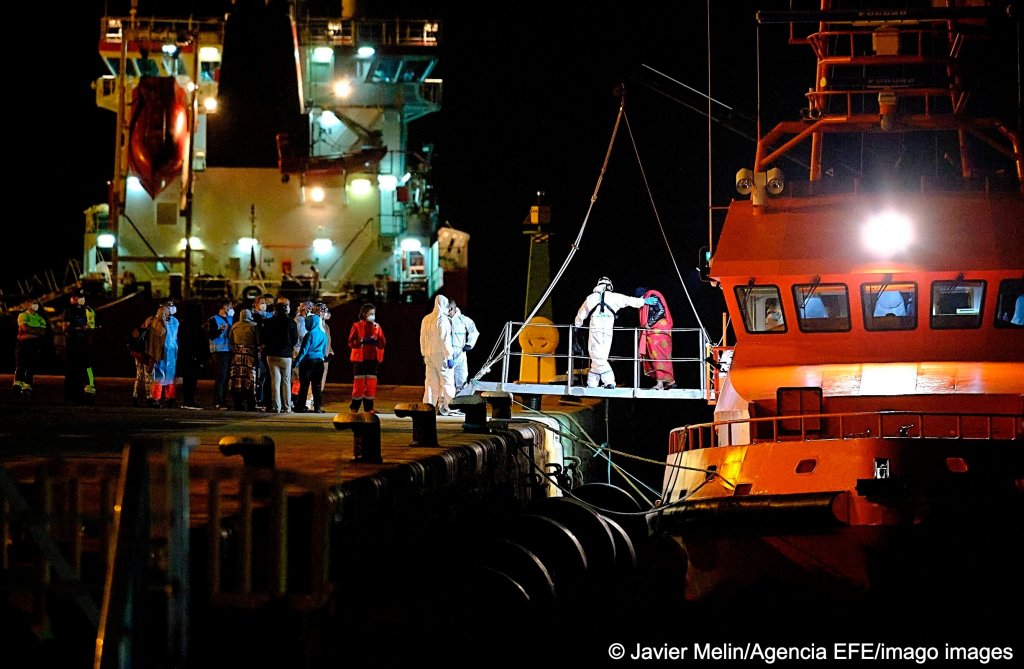 Risks and dangers
Those who do travel the Atlantic route risk death. Days without food and water as well as the prospect of either trying to pay off huge debts for their journey if they do reach Spain, or being deported back to their country of origin if they are found not to qualify for asylum.
According to the UN Migration Agency IOM's Missing Migrants project, in 2021, at least 2,192 migrants have already died en route to the Canary Islands. Possibly thousands more though have disappeared without trace, because no one knows how many people have actually lost their lives. The Spanish NGO Caminando Fronteras estimates the numbers of deaths to be even higher. It has published numerous figures this year to demonstrate that the numbers of those dying on the Canary route has increased in 2021 compared to figures in 2020.
Many people who leave don't tell their friends or family they are going. Boats might leave at night, and travel to pick up people in several countries before turning west towards the Canary Islands at a shorter crossing point, say from Morocco. So the authorities are often just not aware if a boat carrying tens, if not hundreds of migrants disappears beneath the waves, because it wasn't registered by anyone in the first place.
History repeating?
Back in the early years of the 21st century, many people hoped to leave the sub-Saharan African region in order to migrate towards the Canary Islands. In 2006, at the height of the migration, more than 30,0000 crossed within a year. In response, Spain toughened its stance on immigration and, along with the rest of Europe, extended the cordon around its shores with international patrols.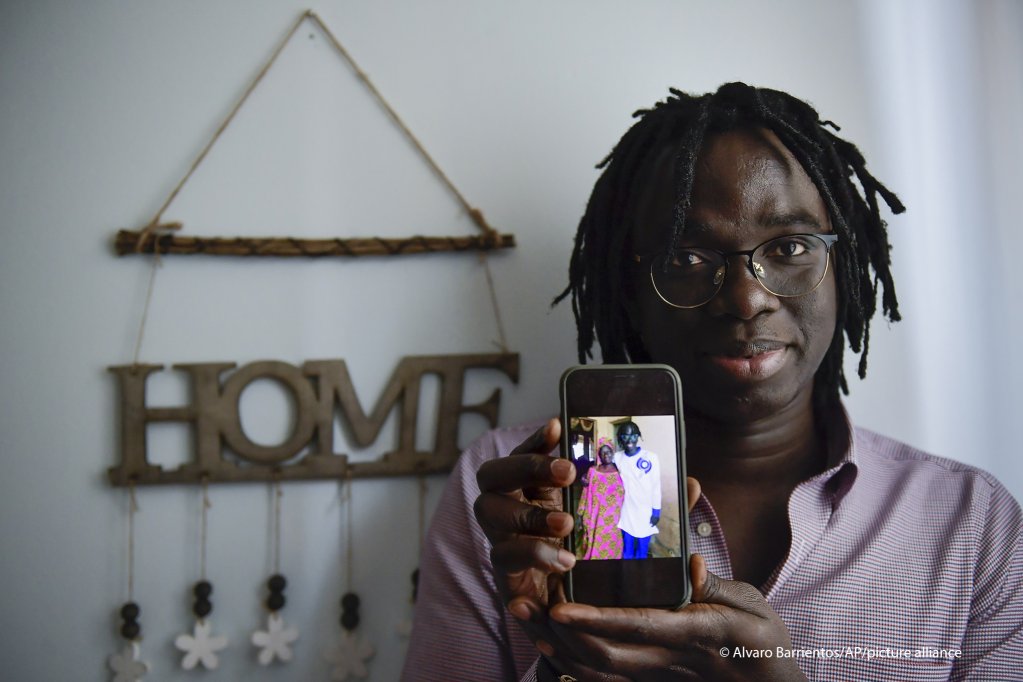 Mbaye Babacar Diouf was one of those who crossed just before that big exodus, in 2003. In the podcast, Mbaye looks back over his ten-day odyssey to the Canary Islands. He recalls the horror and fear generated when the boat he was on passed a drifting ship about eight days into their journey, full of dead bodies. These were the unlucky ones. At that time, Mbaye thought they too would die, but he turned out to be among those who made land in Tenerife.
Years later, he is one who can finally say he has achieved his dreams, of becoming a nurse, of studying and the Spanish citizenship he has obtained has allowed him to travel several times back to Senegal to see family, friends and even set up an NGO.
But all that was at a huge cost, cautions Mbaye. He spent years living in poverty, on the street, and wants to prevent other young people living through the same hardships.
'Migration is growing exponentially again'
For fellow Senegalese Boubacar Seye, the director of the NGO Horizon sans frontiéres (Horizon without borders), who also travels between Spain and Senegal, the situation at the beginning of the 21st century and today has not changed significantly.
"Sadly there just hasn't been a change," says Seye in a booming voice. "You only have to look at the last few months, how migration is growing exponentially again." He thinks the numbers of deaths alone should make us "sit up and take notice of what is going on. It should really make us reflect and think about how we might change how we tackle and think about this phenomenon."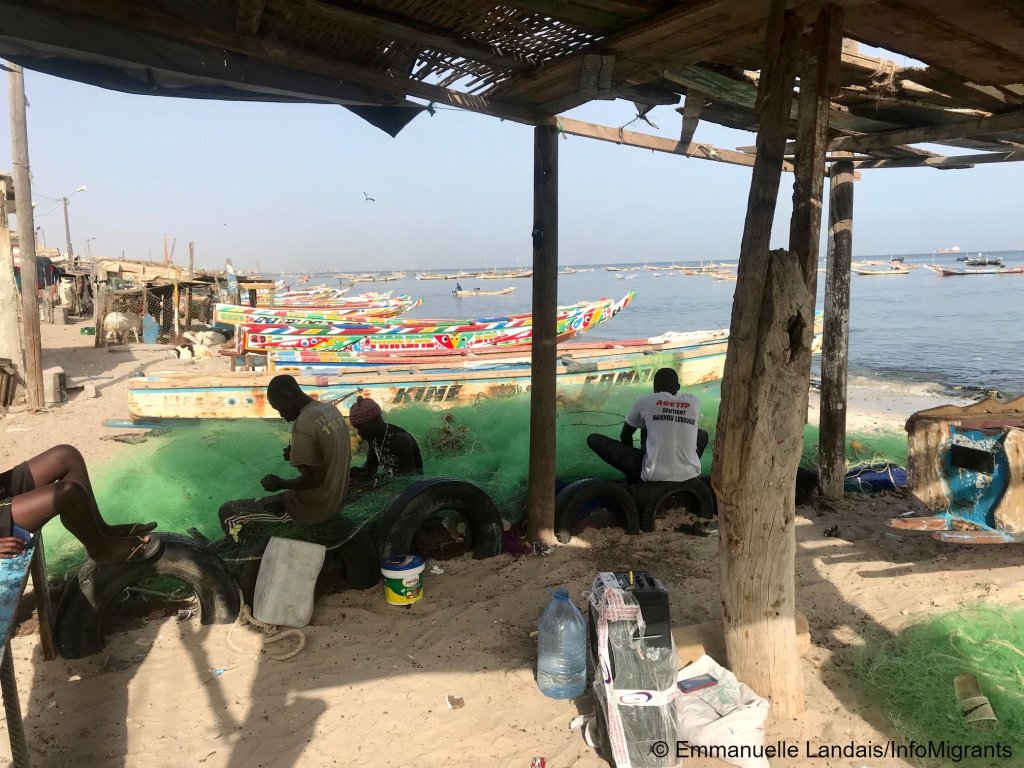 Seye says that what is going on in Africa is a "total failure, the policies for young people in Africa on offer in African countries are just not working." Migrants from Senegal and other West African countries, trying to find a better future keep risking their lives on wooden boats loaded with people beyond capacity, he says.
'The village that lost its men'
Back in 2006, Thiaroye-sur-Mer, in Senegal, a fishing village outside the capital Dakar, earned the unfortunate reputation as the 'village that lost its men' when hundreds of male residents of the village made the perilous journey to Europe by sea. Some arrived in Spain, only to be repatriated back to their home country -- and hundreds more perished. 
Fifteen years later, reporter Emmanuelle Landais visited the village to record the podcast and find out more about the lives of the current inhabitants.
One difference she found in 2021 is that migrants from Thiaroye-sur-Mer aren't leaving in the droves they once did.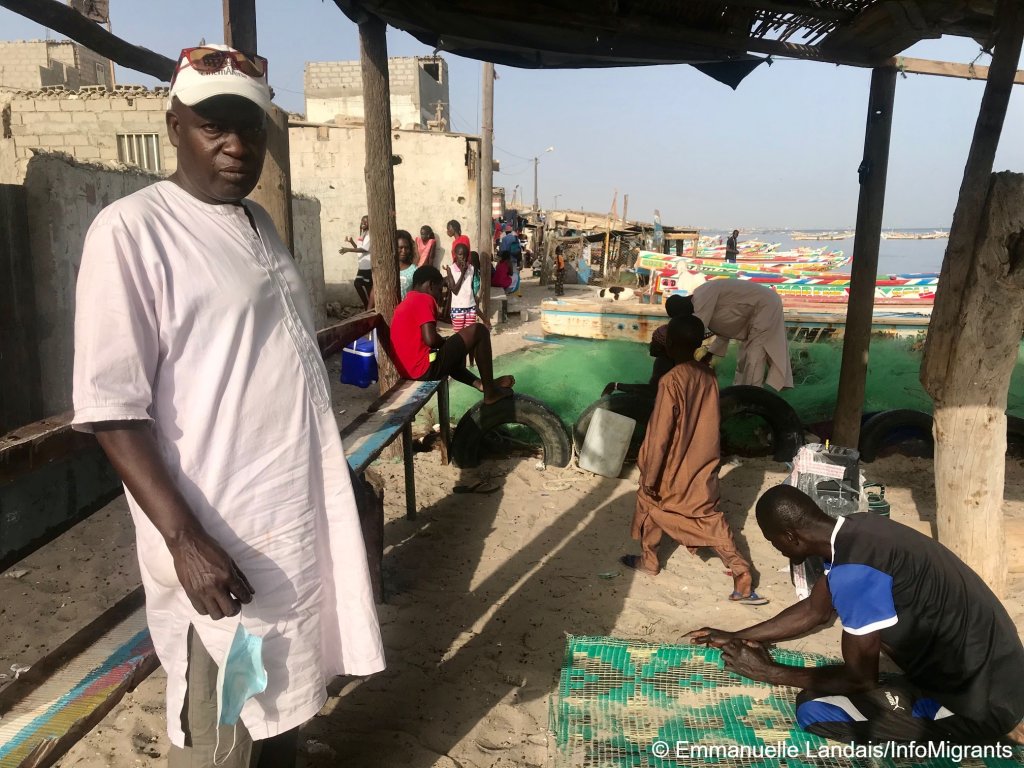 That's partly because of people like Moustapha Diouf, president of an association of repatriated migrants. He has been working relentlessly to warn and deter anyone thinking of risking their lives, not to do it -- since he too boarded a fishing boat in the 2000s, only to be sent back to Senegal.
Beyond giving people in Thiaroye-sur-Mer the hope that they can turn their lives around in Senegal, he works with organization's (like the Catholic charity Caritas) to train young people to sew, or become mechanics, or work in fiber optics. 
Raising awareness
In 2006, him and others who had returned to Senegal created the association "to raise awareness, orientate, train and inform." Today there are almost 1000 members, says Moustapha Diouf. 
Although fewer youths are trying to leave Senegal nowadays, the COVID-19 pandemic has been a hard blow to the population, he sas. Many work informal jobs which were difficult to maintain during the lockdowns and curfews.
That's why Moustapha now fears a third wave of the virus could trigger a repeat of what happened in 2006, with more and more young people dying as they try to make it to Europe to earn a living. 
'I have many friends who have died at sea'
Someone who has managed to find work is Mohammed Faye, a tailor in Thiaroye-sur-Mer. He never tried to migrate. "...I was able to find work here, my parents told me to stay here, and work for my future," he added. "I have many friends who have died at sea," continues Faye. "Because of this difficult life, we live in poverty, I spoke with them about staying here but they told me that they cannot stay without finding a job or earning a living, salaries are inadequate," says Faye.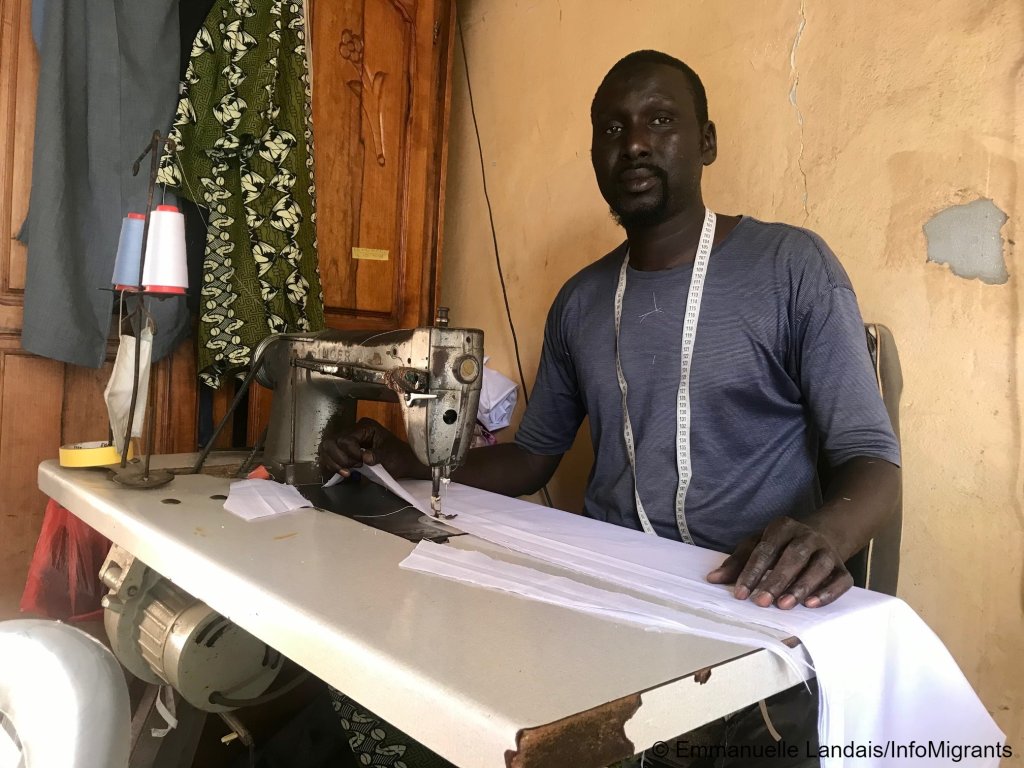 Mohammed says that the friends he's lost never told him they were leaving. They just upped and left one day. "You can stay 2, 3, or 4 days or a month without hearing from them, so it's a bit difficult, there are people who tell you, but there are people who don't tell you they're going to leave," he said. 
Salam Ba's story
Salam Ba is 24 years old. She also wanted to go to Europe but never succeeded in getting the money together to buy her passage. "At that time I thought it was free," she remembers, "but I had nothing in my pocket at that time."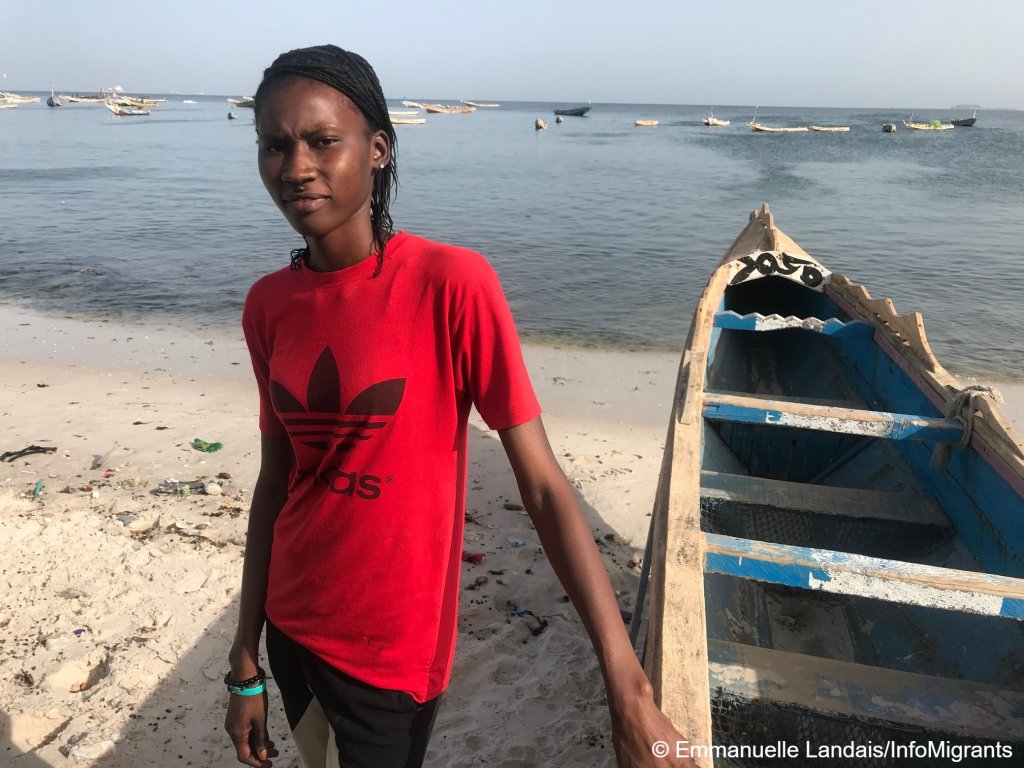 Today, Salam Ba, like many others, is hoping that the various training programs she has attended will help her find a job. But as she told InfoMigrants, despite learning several different trades, she is sill without work.
In November 2020, after a spate of shipwrecks, young people in Senegal held a national day of mourning for 140 migrants killed in one ship as they headed to Europe.
The deaths sparked debate about unemployment and migration in the West African country. Young people believe the authorities ignored the disaster and have generally failed to deter migration by creating enough jobs at home. But as the year turned, those who are desperate still hope that by boarding a pirogue they too can have a better life far, far away in Europe.
As one woman in Dakar explains, "it is often the eldest children [who migrate]. They will hear people saying, 'you are the man of the family,' or 'it is not normal that your friends in the neighborhood, they are already married, they are earning a living and making good money." To her, pride and frustration which people are made to feel "pushes them to cross the ocean. That is the essence of it."