In the second episode of InfoMigrants' podcast Tales from the Border, we climb on board the Ocean Viking, the private rescue ship run by SOS Mediterranée. What is life like on board the 'big boat'? Migrants and crew members recount the moments before, during and after a rescue operation.
This article is part of a series complementing our podcast "Tales from the Border". The audio feature format consists of eight episodes to be launched November 11, 2021 on Spotify, Apple Podcasts and other platforms.  
"Ocean Viking, Ocean Viking," the boat's call sign crackles over the radio as the crew on deck communicate with search and rescue coordinators in Rome and Malta.
As the boat sales from its home port of Marseilles in southern France towards the central Mediterranean, the crew prepares and trains for the search and rescues they expect to carry out as soon as they reach international waters off the Libyan coast.
Once there, hours are spent with binoculars scanning the seas in the Central Mediterranean, on the look out for small migrant boats in distress. Each crew member, like Julia, the communications officer, are equipped with radios so they can be ready in moments when the time comes.
'High level of adrenaline'
"As soon as we hear ... 'all teams prepare for rescue', it is just like flipping a switch," says Julia. "Everyone gets into gear, everyone prepares their respective stations. That is ... a high level of adrenlaine," she smiles.
Adrenaline is high too for those who are about to be rescued. Two French-speaking African migrants say they were "so so happy" when they saw the "big boat" [the Ocean Viking] come to rescue them. "Because we knew, at least we are no longer in Libya. We were just so so happy to have made it," one of the women recalls.
On board "everything is heightened," confides Hannah, a midwife from Australia who has worked on missions on board the Ocean Viking alongside Julia. Many of the people who are rescued, says Hannah, "can be in a really critical state. Either from the journey from their origin country, or through Libya [from being] in detention centers."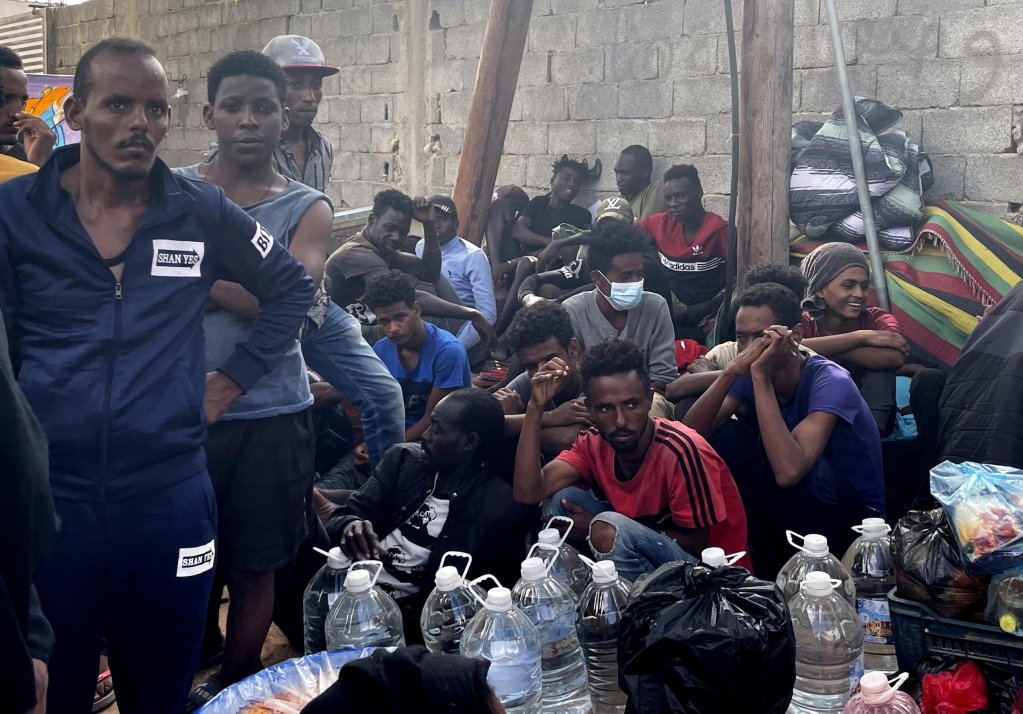 'They raped us there in prison'
Michael, a migrant from Ghana who was rescued by the Ocean Viking and spoke to DW whilst on board, said the boat he was in "almost sank. Our boat was very very small. And the moment we try to pull the water from the boat, it started sinking." Michael and the others in the boat say they "thanked god," when they saw the "Ocean Vikings."
Another Francophone woman, rescued from another small boat, remembers that she had got petrol on her foot and it had become itchy and she was scratching it. She says they had been praying and praying that a rescue ship would find them. The woman recalls her time in Libya. She, like many others, was imprisoned and her parents extorted to pay for her release.
"They raped us there in prison," the woman confides in the podcast. "They hit us there. It was awful. So when we saw that big boat, we were so happy, we sung, some of us cried, we thanked god and we were just so so happy."
A second survivor explains in the podcast that when she got imprisoned in Libya, her mother "tried to scrape together enough money from various people," to get her out. In the end, says the woman, "she borrowed from my cousins to get me out. But if I had died in the Mediterranean, I don't know how she would have found the money to pay them back. So that is why we were so so happy when we saw the big boat come towards us, as we knew we were saved."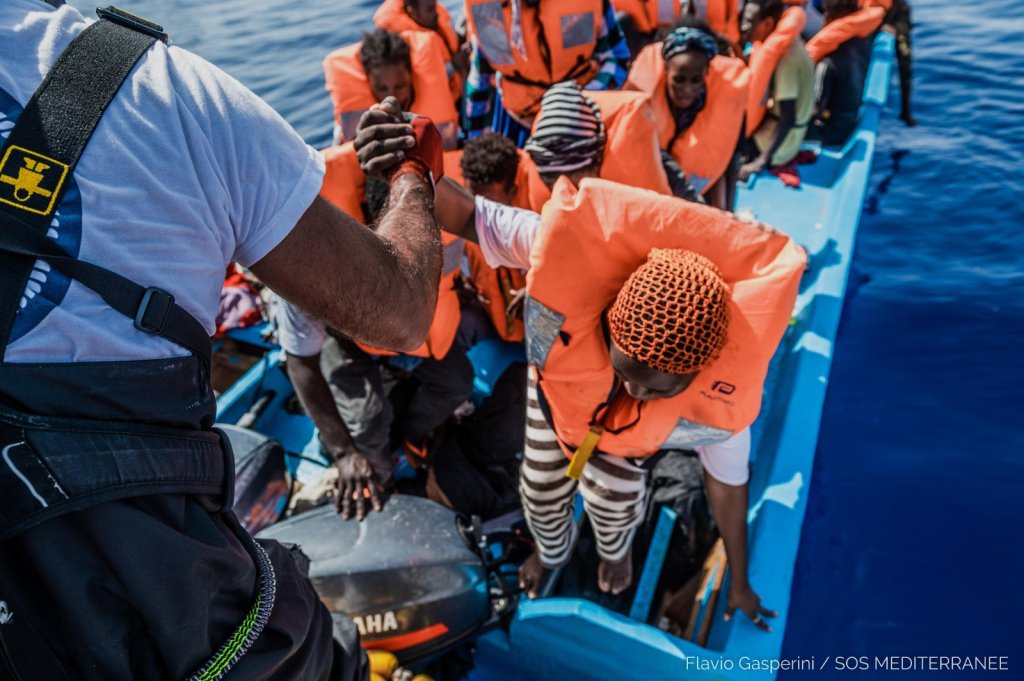 Constant noise
The noise on board the mother ship is constant, remarks Julia. Wind, waves, radios and people. The sounds are happy and sad but always loud. Apart from noise, Julia explains, one of the first things you smell during a rescue is the fuel in the boats in distress. "Because fuel containers tip over and spill in boats in distress," Julia says.
The smell from the fuel "causes headaches, nausea," and in some people it can cause disorientation and confusion. This can result in migrants on board the small boats being even more scared as the Ocean Viking crew arrive. That's why just one person will be designated to communicate, to keep the situation calm, says Julia.
"We don't all go and wave and scream at them." At the scene of a rescue, the designated crew member will call out "We are a humanitarian rescue organization...we are here to help," and then continue to make it clear that they will not be returning the migrants to Libya. This is one of the biggest fears of those on board the small boat, says Julia.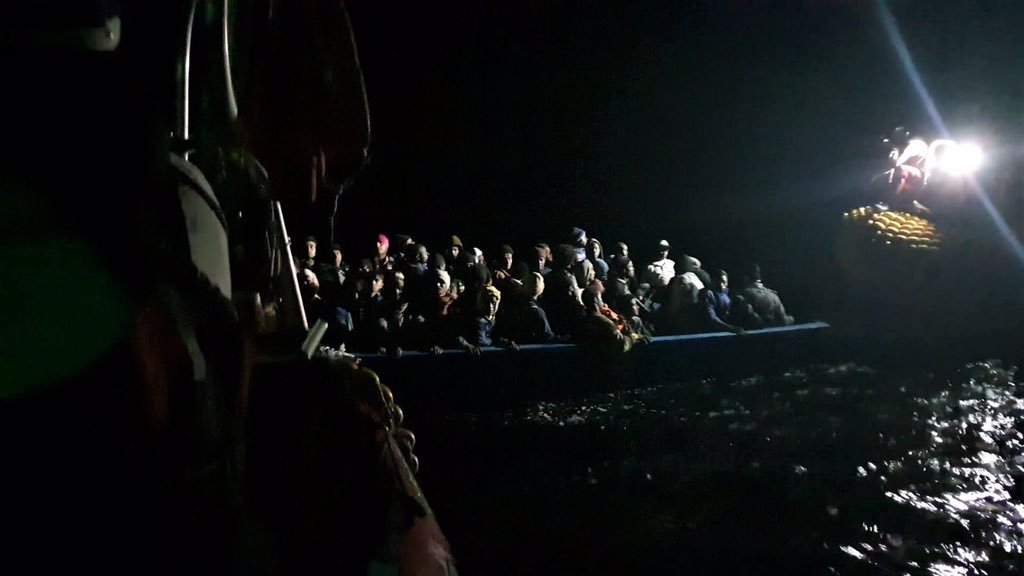 A nighttime rescue
"The first rescue I was ever on a fast rescue boat for, it was actually a nighttime rescue, recalls Julia. "It was about 100 kilometers, or 60 nautical miles, off the Libyan shore in international waters."
In that location, explains Julia, there are oil platforms. "A lot of the times… people are almost incited to navigate towards these platforms because they have bright lights," says Julia. Some smugglers have convinced migrants that they can see the lights of Europe when they set off, so a lot of migrant boats end up beneath the hellish fires shooting up into the sky from these oil platforms.
Julia says she will never forget realizing "what it must have been like for them in the middle of this just complete darkness." Julia remembers the boat appeared to loom up before her eyes and shocked her to the core.
'The Abyss'
On board the Ocean Viking, Hannah and Julia hear the stories from women, men and sometimes children. Many of whom have survived sexual and other forms of violence in Libya or on their journey towards the Mediterranean coast.
The UN and other organizations have documented numerous testimonies of gang rape, abuse and atrocities. One Eritrean asylum seeker reported being held captive three times in 2017 and enduring gang rape, beatings and starvation until her family paid a ransom of 1000 dollars to secure her freedom.
Women from Somalia, Ivory Coast and Nigeria have repeated similar experiences in the years since. One woman from Somalia said that in her prison "every day someone died. Many came hoping for a better life, but instead they saw pain, and many lost their virginity to rape."
Another woman from Ivory Coast said the rape was indiscriminate and being pregnant or breastfeeding did not spare women from this kind of treatment. Some women, forced into prostitution in so-called connection houses in Libya had to endure being raped by "up to 20 men a day," details a UN report.
The women were not given any contraception and many subsequently got pregnant and were then forced to pay for dangerous abortions carried out in the same connection house. Girls at least as young as 15 have regularly been subjected to this treatment. Any men protesting about this could be beaten, or killed.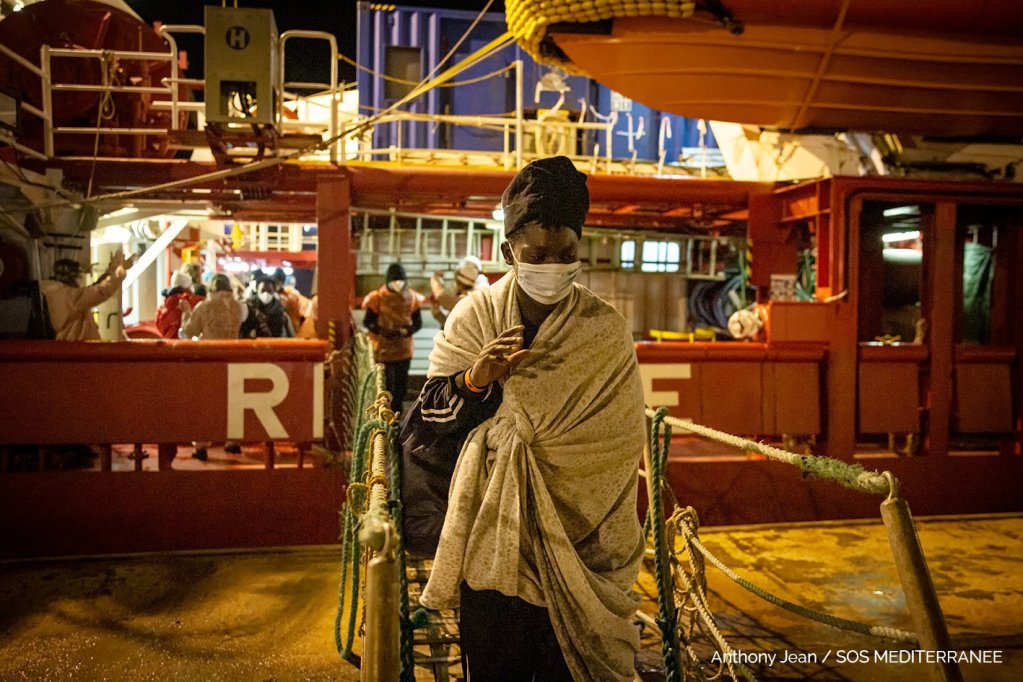 Singing and tears of joy
Despite the horrors that many have suffered, once on board the Ocean Viking, there is singing and joy as well. Julia thinks the call and response songs the women often sing is a form of collective therapy.
One song, she remembers, details each of the abuses they suffered, and the response would be "it's over." Another song praises the Ocean Viking for coming to their rescue.
When the day of disembarkation finally comes, there are cheers, and Julia says she is moved. The singing and cheers start up once again. "It felt like such an empowered way of saying, this is what happened, we are here, we are alive!" smiles Julia.
Sounds and interviews for the podcast episode were provided by the Information Officers and journalists on board the Ocean Viking, including Sandy McKee, Flavio Gasperini and the French photographer Hippolyte.