In light of dozens of flights with mainly Middle Eastern migrants reportedly arriving in Belarus each week, the German government says thousands of migrants will cross into Germany from Poland in the coming weeks. So far, however, experts say the situation is under control.
Michael Stuebgen, interior minister of Germany's eastern state of Brandenburg, said he expects migrants who had already reached Latvia, Lithuania and Poland via Belarus would probably seek to travel onward to Germany.
"We must assume that most of these people will come to Germany in the months ahead," he told told the state parliament in Potsdam in a meeting on October 3. The state of Brandenburg which borders on Poland has already seen a record number of unauthorized border crossings in recent months.
Morever, migrants in countries in the Middle East and Africa appear to continue to make their way to Belarus with the intention of entering the European Union, he said, adding he could not point to reliable figures.
Migration expert Steffen Angenendt from the German Institute for International and Security Affairs on the other hand doubts that large numbers of migrants will continue to arrive in Germany. "Not too many people in Iraq or Lebanon can afford it," Angenendt said during an online event of Mediendienst Integration on Thursday (November 4). Illegal pushbacks at the hands of Polish border guards and the construction of a border wall at the Polish-Belarusian borders have limited the number of arrivals.
According to Angenendt, German police have registered 6,600 border crossings with Belarus connection so far, the vast majority of them having arrived in October.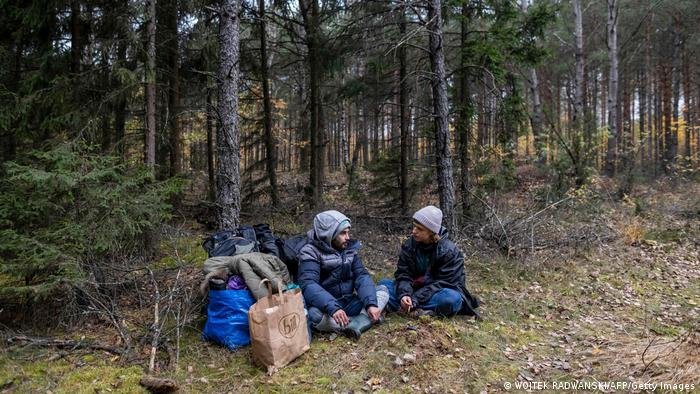 Uptick in arrivals via the Belarus route
Although Andreas Rosskopf, chairman of the GdP police union, called the current number of arrivals "serious," it was "far removed from the situation that we saw during the mass migration in 2015," he said. According to Rosskopf, between 120 to 280 irregular border crossings are currently registered daily along Germany's entire border with Poland.
However, news agency dpa reported that Germany's federal police, which is responsible for the country's external borders, said they had detected 597 illegal entries last week, most of them by nationals from Iraq, Syria, Iran or Afghanistan.
However, no additional border controls were planned, Rosskopf said, referring to consultations he had with Interior Minister Horst Seehofer.
Over the past few months, thousands of mainly Middle Eastern migrants have been trying to reach the European Union via Belarus. They chose paths to EU member states Lithuania, Latvia and Poland. Thousands of those who have successfully crossed into Poland from Belarus have traveled overland to Germany, where unauthorized border crossings have risen sharply starting in late September. 
Still, migration expert Angenendt thinks the "situation is under control" now that the capacity at initial reception centers like the one in Eisenhüttenstadt on the German-Polish border has been increased, he said during the online event.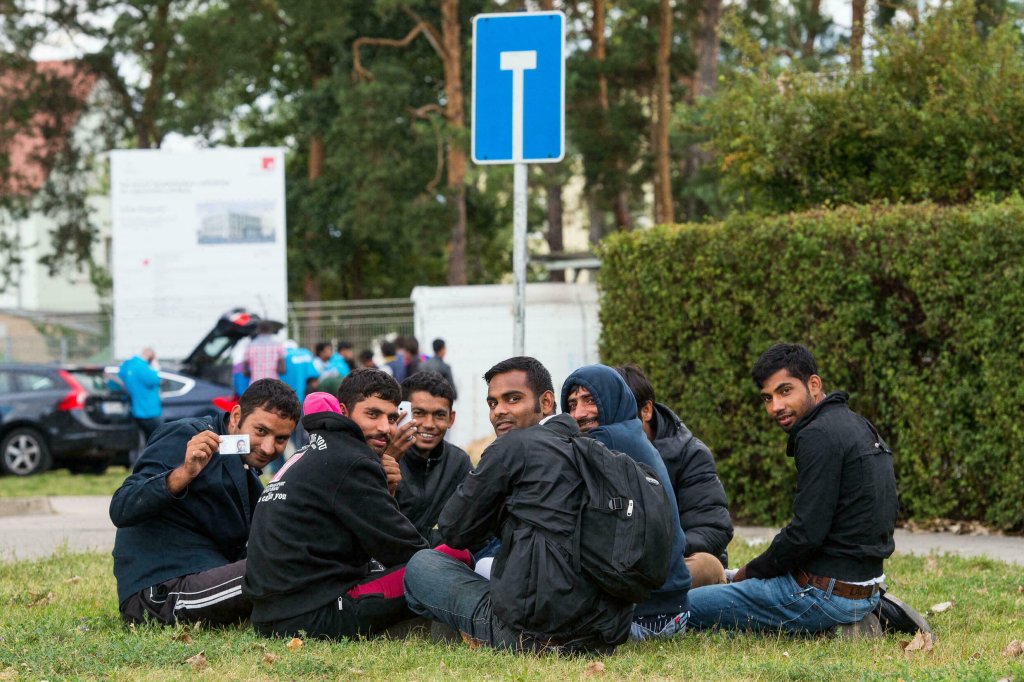 Geopolitical conflict
Underlying the recent spike in irregular migrant arrivals to the EU via Belarus is a complicated geopolitical conflict. In May, Lukashenko's security forces diverted a Ryanair plane with a Belarusian activist on board flying from Greece to Lithuania. As a result, the EU imposed sanctions on Belarus.
In return, Lukashenko indicated that Belarus could retaliate by loosening border controls for irregular, western-bound migrants as well as drug trafficking.
Since then, EU institutions and the governments of EU countries have repeatedly accused Lukashenko of allowing and encouraging people from countries like Iraq and Lebanon to travel toward the bloc's external borders via Belarus to put pressure on the EU and sow division. Late last month, Germany's interior minister, Horst Seehofer, accused Belarus of organizing human trafficking, calling it a form of "hybrid threat by weaponizing migrants."
Even though the journey to the European Union via Belarus is fraught with dangers and even death -- at least ten migrants have died in the Polish-Belarusian border region since the summer --, scores of migrants are choosing to put their destinies in the hands of local smugglers in Iraq to get into the EU via Belarus.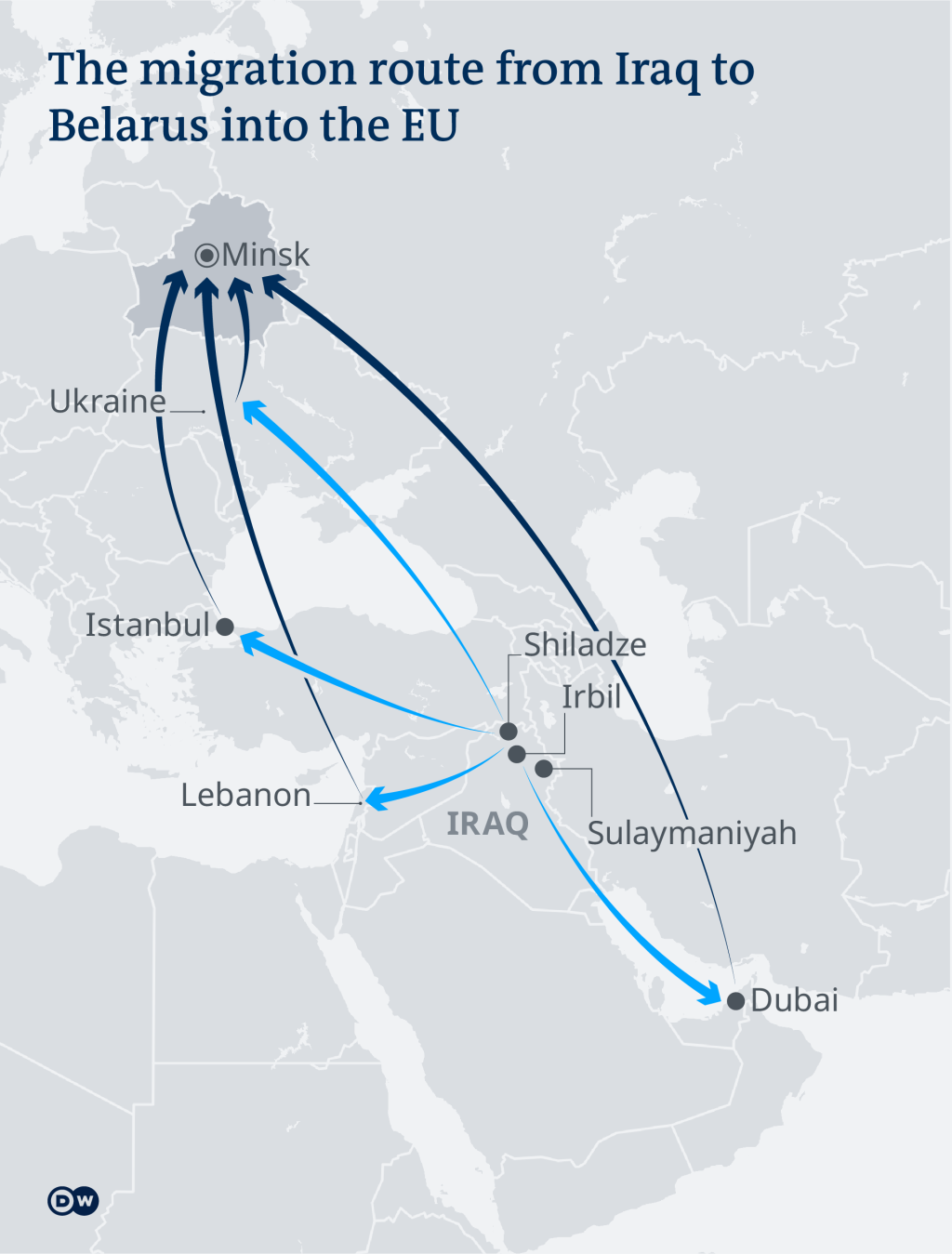 Last week, German news magazine Der Spiegel reported that one charter flight per day of the private Syrian airline Cham Wings arrives in Damascus from Syria. This amounts to roughly 1,100 passengers per week; the tickets are being sold including visas for Belarus. According to Der Spiegel, which cites findings by Germany's intelligence agencies, Lukashenko also brings people to Belarus from Jordan, Belarus, Morocco, Azerbaijan and Pakistan; the jets are allegedly full when they arrive and empty when they return.
The German government last week campaigned for sanctions against airlines involved in this practice, which also include Belavia, Belarus' national airline, Turkish Airlines, Flydubai and Aeroflot.
According to reports, the trips can cost between €12,000 to €15,000, including visas, flights and being smuggled overland once in Europe.
With dpa