In light of worsening conditions for migrants at the border area between Poland and Belarus, German activists have sent a bus with relief items including warm clothes to the border. Thousands of migrants have been stranded in the area for weeks.
On Tuesday (November 9), a bus loaded with warm winter clothes, socks, rescue blankets and head lamps arrived at the Polish-Belarusian border region. The bus had left Berlin a day earlier.
The organizers of the initiative -- a new coalition that calls itself 'MauerfallJetzt' ('down with the wall now') -- have said that in addition to providing aid, they want to offer 50 seats on board the bus to migrants and refugees and take them to Germany.
"On the anniversary of the Fall of the Berlin Wall, we cannot accept another wall in Europe," organizer Ruben Neugebauer told InfoMigrants from aboard the bus. "We expect the new government to make it very clear they don't tolerate human rights violations. We also cannot leave members of the Polish civil society in the border region, who are doing a lot, alone in this situation."
Late last month, official center-left coalition talks for a new government got underway following Germany's federal election in late September.
Read more: 'The conditions are very cold. We're not wearing shoes'
No permission from the government
According to the activists, bringing back migrants seeking protection requires the approval of Germany's interior ministry. A corresponding request had been sent to the ministry last Thursday but hasn't been answered yet, they told news agency dpa.
A speaker for the Interior Ministry told dpa on Friday that "an unauthorized transport and a possible unauthorized entry" to Germany could lead to criminal consequences. Neugebauer, meanwhile, told InfoMigrants they won't move anybody "without clearance from the German government."
The ministry spokesperson also said there were no considerations for a reception program for migrants in Belarus.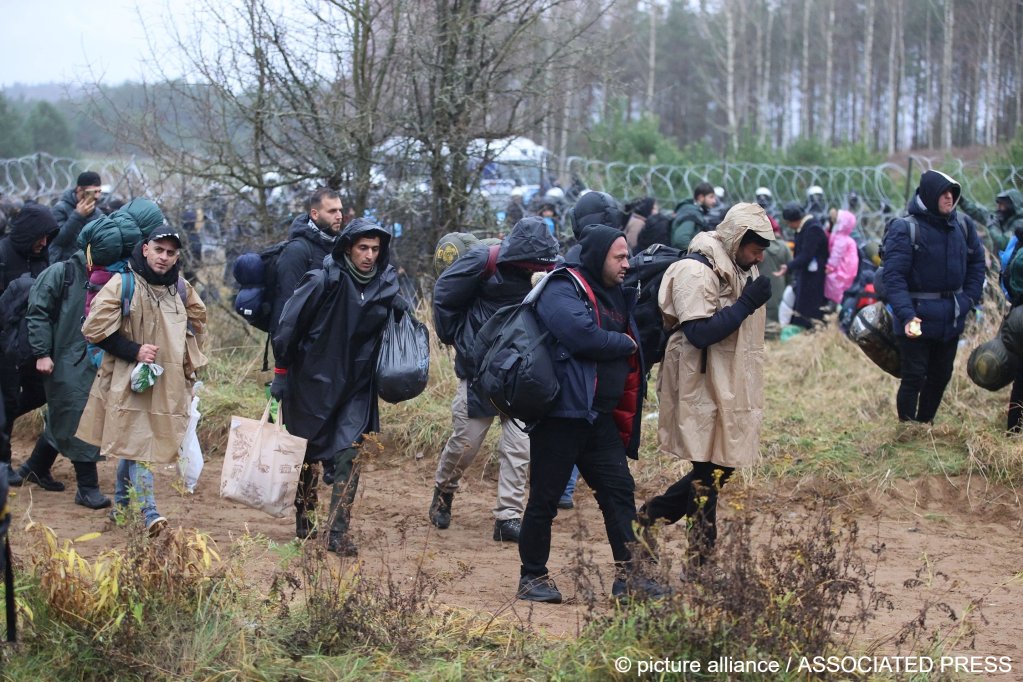 MauerfallJetzt is a joint initiative by activists from Seebrücke Deutschland ('sea bridge Germany'), the '#LeaveNoOneBehind' campaign as well as the German nonprofits Cadus, 'wir packen's an' ('we embark on it') and Solibus e.V.
Seebrücke is a political movement in Germany which says it shows solidarity with everyone who has been forced to flee their country. #LeaveNoOneBehind started out as an online petition last year and has since become a network to support grassroots organizations at the European Union's external borders to show solidarity with migrants and refugees.
Among the ten activists on board the bus, according to Neugebauer, is Tareq Alaows, a Syrian refugee who withdrew his bid for German Parliament in March after facing racism and threats.
Geopolitical conflict
Over the past few months, thousands of mainly Middle Eastern migrants have been trying to reach the European Union via Belarus. They chose paths to EU member states Lithuania, Latvia and Poland.
Underlying the recent spike in irregular migrant arrivals from Belarus is a complicated geopolitical conflict. In May, Lukashenko's security forces diverted a Ryanair plane with a Belarusian activist on board flying from Greece to Lithuania. As a result, the EU imposed sanctions on Belarus.
In return, Lukashenko indicated that Belarus could retaliate by loosening border controls for irregular, western-bound migrants as well as drug trafficking.
Since then, EU institutions and the governments of EU countries have repeatedly accused Lukashenko of organizing human trafficking by allowing and encouraging people from countries like Iraq and Lebanon to travel toward the EU's external borders via Belarus to put pressure on the bloc and sow division.
"We call it a hybrid threat, where people are abused to destabilize the EU," an interior ministry spokesperson on Tuesday quoted interior minister Horst Seehofer on Twitter. "One needs to stop this really nasty method," the spokesperson added.
Even though the journey to the European Union via Belarus is fraught with dangers and even death -- at least ten migrants have died in the Polish-Belarusian border region since the summer --, scores of migrants continue put their destinies in the hands of smugglers to reach the EU.
Read more: Poland says Belarus 'fully' controls migrants after attempted breach
With dpa