EU is ramping up efforts to stem the flow of irregular migrants attempting to enter the bloc from Belarus. Flight companies that connect Minsk to destinations in the Middle East could be a target of the EU's punitive measures.
The EU is considering blacklisting airlines that are involved in bringing in migrants to Belarus, EU Commission President Ursula von der Leyen said on Monday after the tensions at the Polish-Belarusian border intensified.
On Monday, several hundred migrants stormed the Polish border, trying to break through a razor-wire fence near the Kuźnica crossing-point on the Belarus-Polish border and enter EU territory. In response, EU authorities are stepping up measures to prevent migrants from arriving in Minsk.
"The EU will ... explore how to sanction, including through blacklisting, third-country airlines that are active in human trafficking," Ursula von der Leyen said in a statement on Monday.
Two top EU representatives, Josep Borrell and Margaritis Schinas are set to travel to countries of origin and transit of migrants -- Armenia, Egypt, Iraq, Jordan, Lebanon, Turkey, and the United Arab Emirates. The goal is to "ensure that they act to prevent their own nationals from falling into the trap set by the Belarusian authorities," von der Leyen said.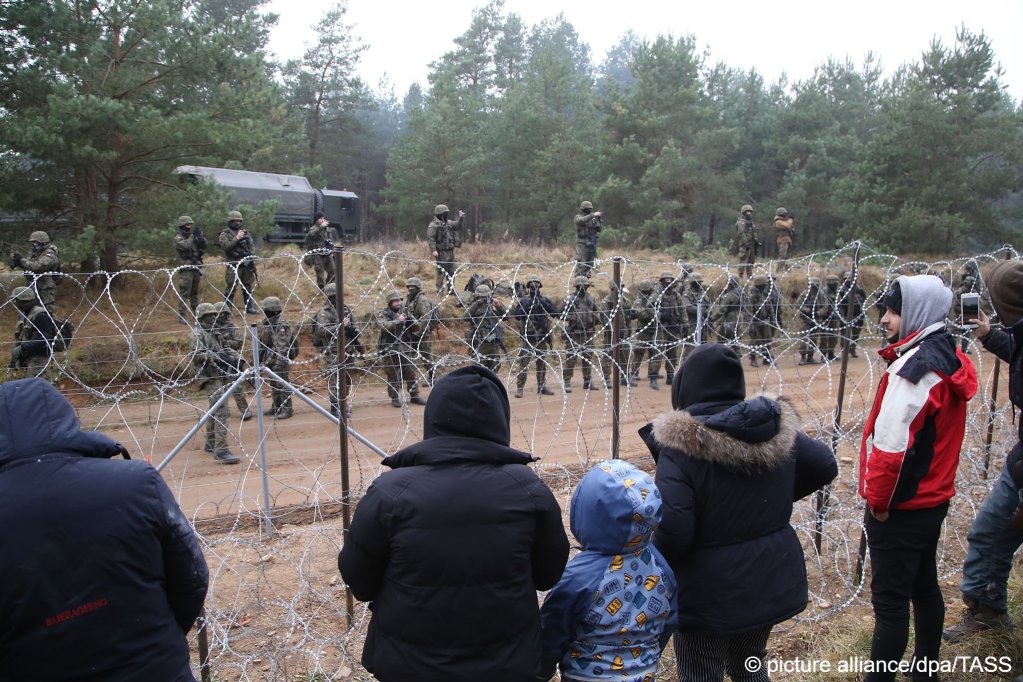 EU's efforts to throttle traffic
In August, the EU pressured Iraq to halt its direct flights to Minsk, which were in high demand for months.
As the traffic of migrants trying to cross the border between Poland and Belarus was increasing throughout the summer, Iraqi Airways, one of Iraq's national flight companies, expanded its schedule of flights to Belarus. Fly Baghdad, another statal company had started trips to Minsk in May.
On August 5 however, Iraq's Ministry of Transport announced, in a statement published by national media, that Iraq had suspended its passenger flights to Minsk as of the same day.
It did not, however, effectively curtail migrants' arrivals in Belarus, and access to Minsk remained possible through two or more flights.
Read more:  Belarus migrant crisis: Germany calls for new EU sanctions
Minsk remains accessible through connecting flight
Several EU officials, including Ylva Johansson, the Home Affairs Commissioner, have accused Belarusian airline Belavia, which is already banned in the EU. According to the testimonies of some travel agencies, people who manage to travel to neighboring countries, such as Turkey and the United Arab Emirates, can travel to Minsk via Belavia.
EU plans to widen its sanctions on a number of Belarusian officials and Belavia airlines, von der Leyen said on Wednesday, according to Reuters. Further sanction might effectively curtail Belavia's operation since it leases most of its aircraft from a number of companies based in EU member states including Romania, Denmark, and Ireland, according to ch-aviation, a Swiss company that monitors Europe's air industry.
Other airlines continue to connect with destinations in the Middle East.
Minsk airport data, available on its website, shows that Turkey's national flag-carrier, Turkish Airlines, lands in Minsk airport twice a day despite the border crisis.
Pegasus, another Turkish company, FlyDubai, an Emirati budget airline, and Syria's Cham Wings also appear on the arrival board of Minsk airport.
In recent days, a video has been circling on social media showing a group of Kurdish people lining up in the airport of the Syrian capital Damascus, waiting for a flight to Minsk.
Syria's Cham Wings has been under EU sanctions since 2012.
Read more: How will EU react to Poland-Belarus border crisis?
Merkel asks Putin to act on Poland-Belarus standoff
In a phone call on Wednesday, German Chancellor Angela Merkel told Russian President Vladimir Putin that the "use of migrants by the Belarusian regime was inhuman and unacceptable and asked [Putin] to influence the regime in Minsk," according to the chancellor's spokesperson, Steffen Seibert, who described the situation as "state-sanctioned human trafficking".
On Twitter, The Polish Defense Minister Mariusz Blaszczak said there were now 15,000 soldiers deployed at the border, up from 10,000 from before the standoff.
"The situation is not calm," Blaszczak told Polish radio on Wednesday. "Now we are dealing with smaller groups, although numerous, which are simultaneously attacking the Polish border in several places," he said.
With AP, Reuters
Read more: Belarus, Poland must 'ensure humane treatment of migrants and refugees: UN