The Norwegian Refugee Council says some 300,000 Afghans have sought shelter in Iran since the Taliban took power in August. Meanwhile, the UN Migration Agency IOM reports show over a million Afghans have already been sent back from Iran.
Aid agencies say that thousands of Afghans are fleeing Taliban rule and heading into neighboring Iran every day. But just as thousands arrive, Iran is busy sending many of them back to Afghanistan, according to the news agency Associated Press (AP).
Between 4,000 and 5,000 Afghans are fleeing to Iran each day through informal border crossings, according to the Norwegian Refugee Council (NRC). Jan Egeland, secretary-general of NRC, visited refugees this week around Kerman province in eastern Iran close to the Afghanistan border. He warned that Europe could be affected if the influx into Iran continues.
"Many Afghan refugees called their relatives telling them they are on their way to Iran and many want to go on to Europe," he said to AP.
In a statement to the press released by NRC on November 11, Egeland compared the situation in Iran with the situation in Europe. "It is shocking to witness Europe's inability to properly handle such a low number of migrants stranded at the Poland-Belarus border, especially as I have just flown out of Iran which is receiving up to 5,000 Afghans a day. A few thousand people at Europe's Polish border, many of whom have fled some of the worst crises in the world, is a drop in the ocean compared to the number of people displaced to countries that are much poorer elsewhere."
"More people came today to Iran than are now on that border," Egeland added. He urged wealthy countries to immediately scale up their aid contributions, both inside Afghanistan and in neighboring countries such as Iran, before the deadly cold of winter sets in.
Read more: 'What else can we do?': Increasing numbers engage smugglers to flee Afghanistan
Iran: Shelters millions of Afghans
Iran shares a 900-kilometer border with Afghanistan and hosts one of the largest refugee populations in the world, made up mostly of Afghans who have fled a shattered economy and periodical civil war and invasion by foreign troops over the past 40 years.
According to data published by the UN Refugee Agency UNHCR, Iran sheltered more than 3.4 million Afghans, including nearly two million undocumented migrants and 800,000 refugees in 2020.
NRC reports Iran has supported those Afghans, in addition to hosting hundreds of thousands of others who have been sheltering in the country for decades. 
But according to the the UN Migration Agency (IOM), about a million afghans have been deported to Afghanistan this year.
"More than one million Afghans have returned from Iran and Pakistan this year," said IOM director general Antonio Vitorino, in a statement on November 4. "The majority were deported, returning to Afghanistan often broke and broken, in need of health support, food and rest." 
Accusations of mistreatment
Returning Afghans, who spoke to the French news agency Agence France Presse (AFP), however reported being held in crowded, filthy detention camps where some were beaten before being transported to the border crossing.
"They did not see us as humans," said 19-year-old Abdul Samad, who was working in construction in Iran before he was deported.
Abdul Samad said he was beaten by Iranian authorities in a migrant detention camp because he had no money to pay for his deportation.
"They tied our hands and blindfolded our eyes with pieces of cloth, and insulted us," he said.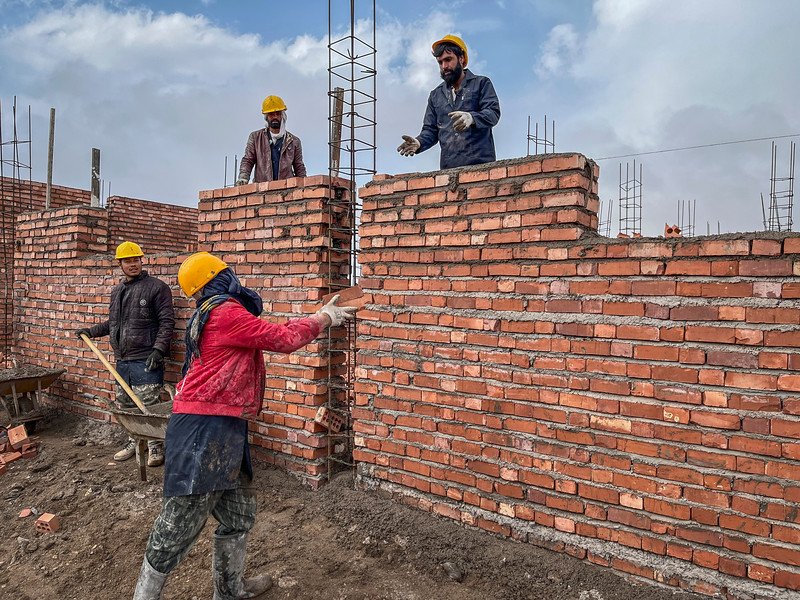 Evidence and testimonies are abundant on social media when it comes to Afghan nationals facing discrimination and abuse in Iran, and videos showing Iranian police mistreating undocumented Afghans occasionally go viral, often prompting public uproar.
Afghans who manage to stay in the country have had to face dire economic hardship, as Iran's economy has steadily plummeted due to the COVID-19 pandemic and US sanctions.
Iran maintains it welcomes Afghan refugees, provides the necessary assistance, and has sent aid shipments to its neighbor in recent weeks.
Denials and blocks
Tehran's ambassador to the United Nations, Majid Takht Ravanchi, was quoted by Iran's official news agency IRNA in late October saying "we are hosting our Afghan brothers almost without receiving any new resources from the international community."
The ambassador added that "in addition to food, shelter, medicine, and education, we now provide COVID-19 vaccines to refugees [all] while we are under severe and illegal US sanctions."
But last month, Iran's interior minister, Ahmad Vahidi called on Afghans not to come to the country because "our capacities are limited," according to the IRNA news agency. 
In late October, the UN declared that Afghanistan was on the brink of one of the world's worst humanitarian crises, with more than half of the country facing acute food shortages.
With AP, AFP