Some Middle Eastern passengers will no longer be able to purchase tickets for, or board Belavia flights from Turkey to Belarus. In Poland far-right nationalists march in Warsaw, protesting the build-up of migrants on the border; and Finland reports 30 migrant arrivals from Belarus.
Belarusian state airline Belavia said on Friday, November 12, that it would no longer fly Syrians, Iraqis, and Yemenis from Turkey to Minsk amid continuing tensions between Belarus, Poland and the wider EU, over the numbers of migrants arriving via Belarus and hoping to cross into various EU countries, including Poland and the Baltic states.
In a statement posted on its website, Belavia said that as of November 12, citizens of the three countries would not be allowed on flights from Turkey to Belarus as of Friday "in accordance with the decision of competent authorities in Turkey."
Turkey's Civil Aviation Authority (SHGM) also announced on Friday that the country had banned airline ticket sales to Iraqi, Syrian, and Yemeni citizens wanting to travel to Belarus. Those citizens "will not be allowed on planes," and the restrictions will remain in force "until further notice," Turkey's Civil Aviation General Directorate wrote in a Tweet on Friday.
The ban comes into effect a day after the Turkish ministry of foreign affairs issued a press statement rejecting efforts to "portray Turkey as part of the problem," and emphasized Turkey is "ready to give all necessary support in order to overcome this issue."
Top European Union officials have repeatedly said that the Belarusian Government is abusing thousands fleeing war-torn countries of the world by bringing them to Belarus and encouraging them to try to cross its borders. Describing the migrants as a "hybrid attack," the bloc is mulling new sanctions against Belavia and other airlines ferrying the migrants, according to a statement by Ursula von der Leyen, head of the European Commission.
Belavia is already barred from flying over the European Union. According to its website, the airline flies to about a dozen destinations in counties like Turkey, Egypt, Jordan, UAE, Armenia, Georgia, Azerbaijan, Uzbekistan, and Kazakhstan. 
Read more: Belarus: Western nations, Russia debate migration conflict at UN
Far-right nationalists march in Poland, demand strict border control
At the Polish border, the situation remains tense as several thousand migrants remain stranded, setting up makeshift camps as Polish security forces watch them from behind a razor-wire fence and try to prevent them from entering the country.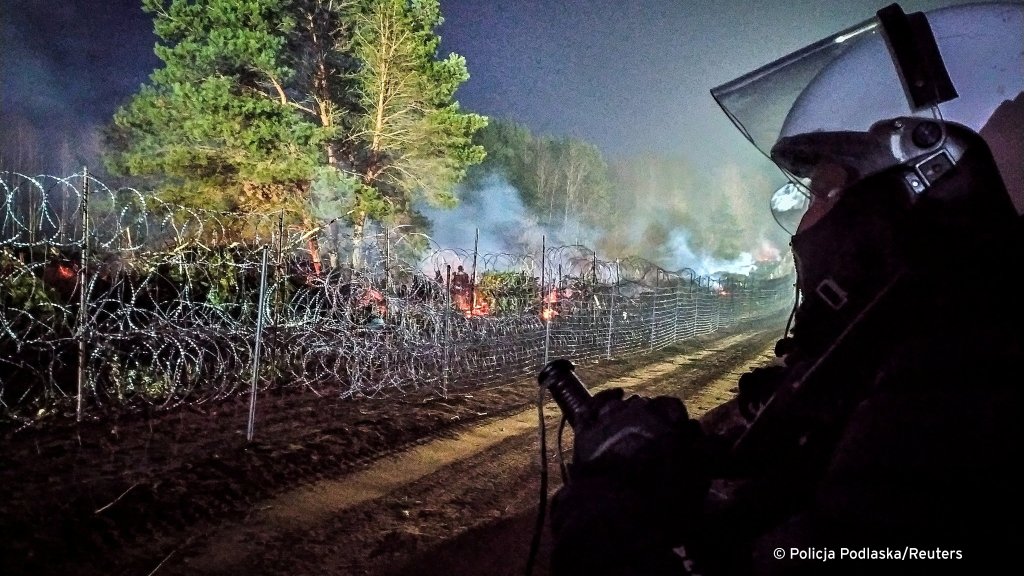 Meanwhile, in Warsaw, thousands marched on Thursday, November 11 to mark Poland's Independence Day, led by far-right groups calling for stronger borders, according to the news agency Associated Press (AP).
Security forces patrolled the capital and other cities to ensure peaceful holiday parades. In recent years, some of these marches have descended into violence perpetrated by extremists.
"We Thank the Defenders of Poland's Borders," said one banner displayed in Warsaw, AP news agency reported.
Read more: German police: Vigilante border patrols 'unacceptable'
Migrants arrive in Finland
Although Belarus and Finland do not share a landborder, the Helsinki Times, an English-language online newspaper in Finland reported that "about 30 migrants have recently arrived in Finland through Belarus." The newspaper quoted the Finish Minister of the Interior, Maria Ohisalo who spoke on Thursday, in a talk show broadcasted by YLE, the Finnish public broadcaster.
"What Belarus is now doing is completely condemnable," she said.
Also, present on the talk show was Petteri Orpo, Finland's Minister of Interior in 2015 when more than one million migrants entered the EU. He said that Finland needs to revamp its legislation with regards to asylum seekers in order to be prepared to thwart Belarus's hybrid attacks.
"We must send a clear message to the world that operations like these won't influence Finland. That we can shut down our borders if necessary, that we won't accept asylum applications. It's a message to people that it isn't worthwhile giving in to the temptations of human smugglers," he said.
With AP, Reuters