The body of a young Syrian migrant who drowned in a river was buried on Monday in a small Muslim cemetery in Poland. An Iraqi Kurdish man, who died last month at the border, was also buried after being flown home to Erbil. Meanwhile, despair and tension continue at the border among migrants hoping to cross into the EU.
Dust appears to float briefly in the autumn sunshine as the body of Gaylan Diler Ismail is buried in Erbil in a stoney cemetery, surrounded by friends and family. Gaylan died at the Polish-Belarus border towards the end of October. His body was then flown home to his family.
"He hadn't eaten in five days," commented his cousin Aso Akib Aziz in a France 24 video. "He was a diabetic but didn't have his medicine." With tears in his eyes, Aso Akib Aziz accuses the border guards of knowing he was sick and doing nothing.
Some reports say that Gaylan died in Belarus, but his family say that the Polish border guards "refused to help" and "sent Gaylan's lifeless body back to the Belarusian side of the border," reports France 24.
"Everything was so brutal," comments Gaylan's brother, Goran Dler Ismail, in the video. "They did it in such a dictatorial and unethical way. He died on Polish soil, but they took him and sent him back across the border."
Seeking treatment and opportunity
According to the news agency Associated Press (AP), Gaylan hoped to seek treatment in Germany for his chronic illnesses as well as continue the studies he had had to halt in Kurdistan because of ill-health.
AP reports that Gaylan's father, "who works in real estate," paid for Gaylan, two of his brothers, his sister, her husband and their five-year-old child to fly to Minsk. The total costs "amounted to $35,000 (€30,700).
On October 28, their group reportedly made it into Poland but Gaylan was already weakened by the cold and lack of food. After an alleged confrontation between Polish guards and the migrants, Gaylan's sister ended up in hospital after breaking her leg and passing out. Gaylan and his brothers were deported back to the Polish side. AP says reportedly "despite his deteriorating condition."
Gaylan died in his brother's arms, writes AP, while the other brother looked on "in shock."
Ahmad Al Hasan
Less is known about another migrant who was also buried on Monday. In a much smaller ceremony, livestreamed to friends and family in Syria and Jordan, the body of 19-year-old Ahmad Al Hasan was laid to rest in a Muslim cemetery in the forest outside the small village of Bohoniki in eastern Poland.
According to the news agency Agence France Presse (AFP), local Muslim leader Maciej Szczesnowicz held a prayer outside the wooden mosque. Szczesnowicz said, "it's a human being, so we have to give him a proper burial. You feel for them all."
Al Hasan came originally from Homs in Syria. According to AFP, he had first fled to Jordan where he had begun studying at a refugee center there. He wanted to continue those studies in Europe, said a Syrian doctor, Kasim Shady, who livestreamed the burial for Al Hasan's family members.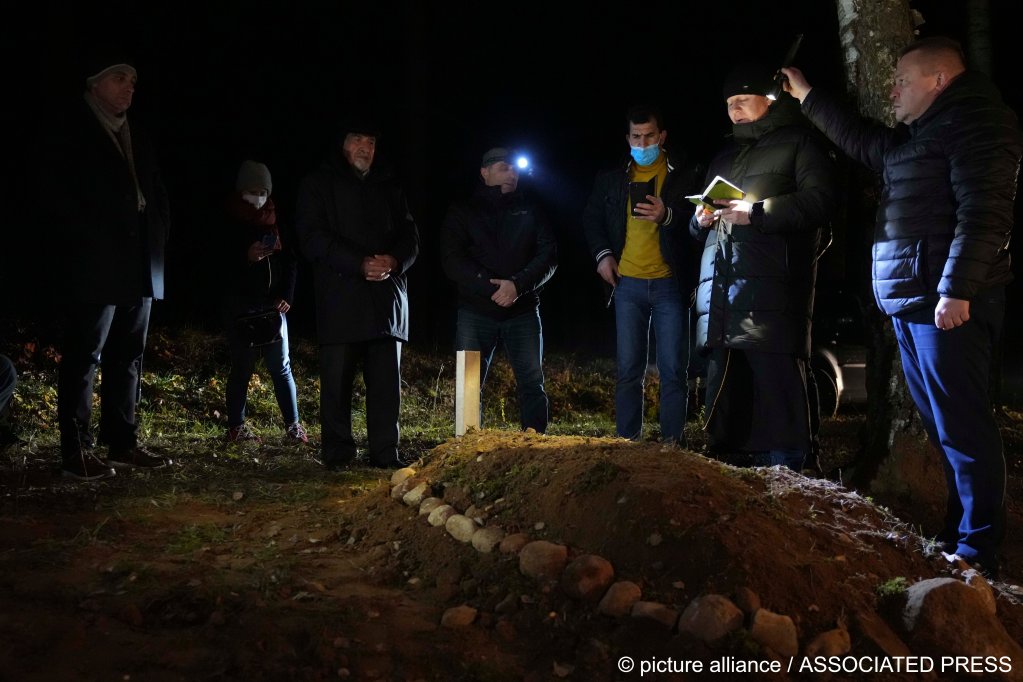 "He was seeking the same thing as every young man with dreams, but it didn't work out. Death was too quick for him," Shady told AFP. The two deaths are just some of at least 12 migrants who have died in the border region since tensions began this summer.
Muslim Tatars in Poland
Szczesnowicz is a descendant of Muslim Tatars who have been in Poland since the 14th century. His group have been trying to help those migrants at the border, collecting clothes, food and raising money, reports AFP. They also provide soup for the troops who have been sent to strengthen the border forces at the frontier. "We help both. No matter their faith or skin color or nationality, we help everyone," stated Szczesnowicz. "If they are on Polish territory, we have to help."
Many of the thousands of migrants already at the border say they are now stuck. They say the Belarusian guards are refusing to let them return to Minsk and fly home. Poland and the EU say they will not bend to Minsk's "provocations" and open the border.
On Tuesday, AFP reported that Polish authorities claimed that migrants were attempting to attack their operatives and the barbed wire fences with stones. In a tweet, the Polish Ministry of Defense claimed that the migrants were being "very aggressive." They said they not only threw stones but had also been "equipped with stun grenades by the Belarusian services," and they then "threw them at Polish soldiers and officers."
Tear gas deployed at border
In another tweet, the Polish MOD account on Twitter put up a video purporting to show Belarusian operatives "under cover of night destroy[ing] the fence to allow migrants to cross the border illegally."
The Polish authorities said they had been forced to use tear gas "to end the migrant aggression."
On Monday, the Polish embassy in the UK, implored people to be attentive to the "fake news narratives" coming from the border region and to rely on reliable news sources. They said that "lies, disinformation" were just two of the ways that Belarusian leader Alexander Lukashenko was "taking advantage of the dramatic situation of people from the Middle East region." They called Lukashenko's tactics a "cruel and cynical political game."
Also on Monday, November 15, foreign ministers from across the EU met to discuss the issue in Brussels. Germany's Foreign Minister Heiko Maas was also present. He said that the bloc was united in refusing to bow to pressure from Belarus, and would strengthen sanctions against anyone found to be participating in the smuggling of migrants towards the EU.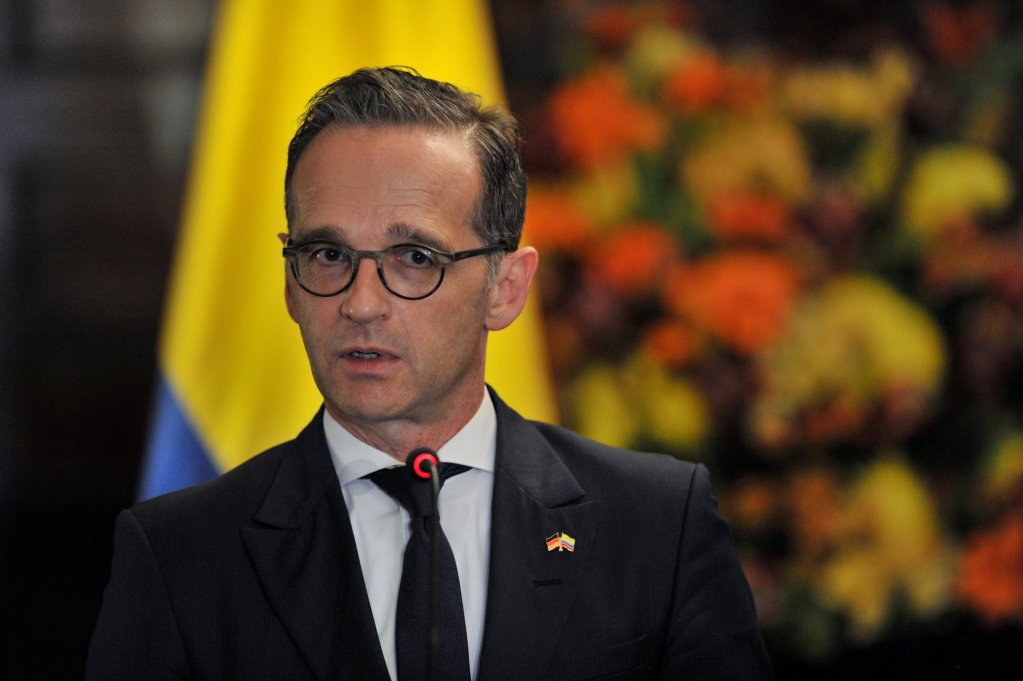 Will deterrents work?
On Germany's national public broadcaster ARD, Maas said that the EU was working closely with migrants' countries of origin, like Iraq, to fly some people back home. Josep Borrell, the EU Commissioner for Foreign Affairs, said he thought with plane companies putting blocks on transporting Syrians and Iraqis to Minsk, "the flow" of people was "under control."
The presence of journalists and NGOs in the border region is still not allowed, so it is difficult to verify exactly what is going on there.
But it seems, that the deaths and increasing restrictions on flying from places like Iraqi Kurdistan to Minsk have not deterred everyone. In its video, France 24 speaks to one 21-year-old man they call 'Sheiko' who sits with his packed rucksack, ready to leave.
"This jumper is very warm, it is great for traveling. I also have socks and a charger," he tells France 24, unpacking the meager contents as he sits on the floor, smoking a cigarette. Sheiko says he found an "intermediary" on Telegram, to which he paid $5,000 (about €4,300] for flights and five nights in a hotel in Minsk.
Turkish airlines has already stopped taking Iraqis on flights to Minsk, but France 24 reports that Sheiko is hoping to fly via Qatar or the UAE before beginning his own journey towards Europe.