A small boy called Taman is among thousands of migrants at the Polish-Belarus border. Reportedly born with a bone disease, Taman had both his legs amputated in Iraq. Now his family hope to travel to Germany to get help for him.
Taman's big eyes look directly into the camera. He sits on a pile of coats on the ground, holding his prosthetic legs. A thigh in one hand, a shin in another and the other leg leaning alongside him. Beside him, in a video which has been circulating on social media and was posted on the English newspaper Metro, a slightly older boy speaks in halting English.
"Hello dear Cristiano Ronaldo," the boy says, appealing first to the famous Portuguese footballer, currently playing for Manchester United in the UK. "This boy's name is Taman and he is eight. He needs your help and a leg. He loves you and right now he is from Poland-Belarus border."
The boy explains that Taman comes originally from Iraqi Kurdistan and loves Cristiano Ronaldo. He says that he would love to meet Ronaldo "and any other player." He explains that he is just a child and he needs help for "a better life than right now. He needs to go to Europe or another help. Thank you for everything, and again help him please" concludes the boy.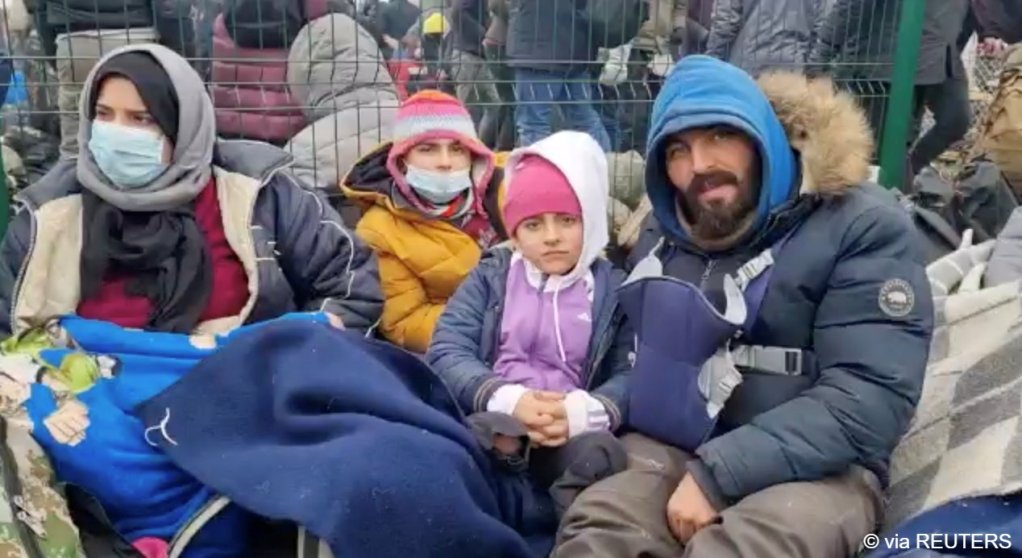 Traveling with his family
Prior to the appeal, Taman can be seen walking on his prosthetic legs in the mud and sitting with his family around a fire, at the border.
The news agency Reuters has also reported on Taman's story. In their report, published on Tuesday, November 16 in the evening, they say Taman is nine years old and is at the border alongside both his parents, his 11-year-old brother and seven-month old sister.
"We are here for eight days. It is very cold here… We came from Iraq for my son Taman. I want to take my family to a country where our rights will be protected," said Taman's father Sangar to Reuters.
"As a family we are in a very difficult position. We came here, so far, with him, like this… We are calling on everybody who can help us...I want my son Taman to live in a beautiful place."
Healthcare in Germany?
Reuters spoke to Taman's great-uncle Jwamar too, who is still in Iraq. The great-uncle explained that Taman had his legs amputated in Iraq after being born with some kind of bone disease. The family had been offered help for his condition by a hospital in Germany but were then unable to get visas to make the journey.
It was after that, explained Jwamar to Reuters, that doctors in Iraq amputated Taman's legs. According to Jwamar, the family flew to Minsk via Dubai and arrived at the Polish border on November 8. They hope that their appeal will allow them to arrive in Germany.
Reuters estimates that around 4,000 migrants are now waiting at the border, all of them hoping for some kind of help, even if their situations might not so powerfully appeal to people's emotions as Taman's story.
It is unclear where the video first appeared, or who posted it. Reuters says they sourced the pictures "from social media," the Metro doesn't post a source on their page at all. Critics of European migration policy in 2015 have already begun posting on social media that this is part of a manipulation by the media to persuade European countries to let more migrants and potential asylum seekers in.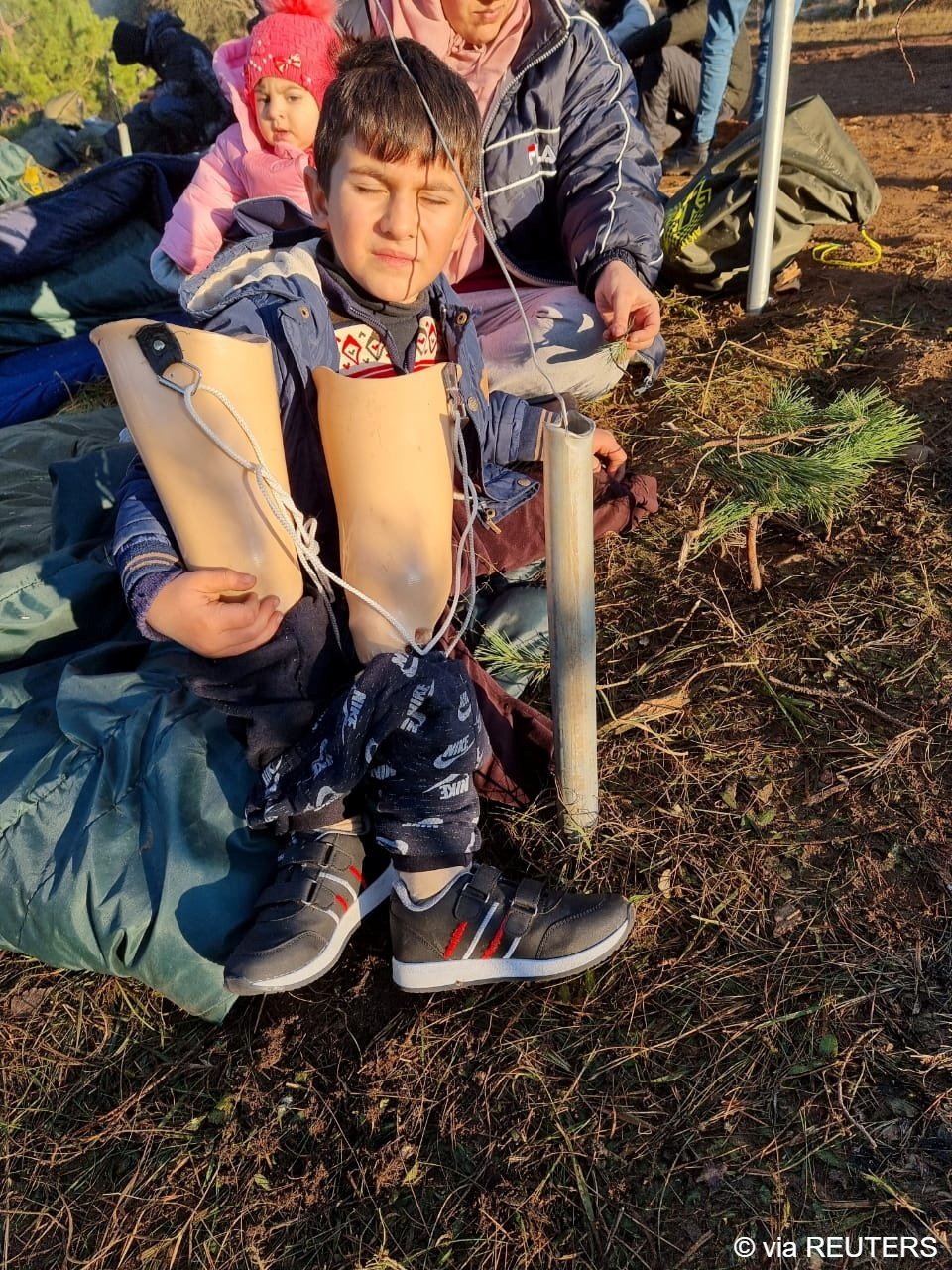 EU will not bow to pressure
Speaking prior to this video though, the German Foreign Minister Heiko Maas, who attended a meeting of European foreign ministers in Brussels on Monday, November 15, said that the bloc would stand firm and was refusing to bow to pressure from Belarus.
Maas said that the EU was in talks with origin countries like Iraq to take people who had arrived in Minsk back home on specially chartered flights, beginning this week. Frontex is also working with the Polish and Iraqi authorities to arrange the charter flights.
However some migrants say it is impossible for them to return to Minsk even if they did want to board these flights, as the Belarusian authorities have formed another cordon behind them, effectively placing them in a kind of no-man's land.
On Tuesday, November 16, the French news agency Agence France Presse (AFP) reported that the Belarus Red Cross had offered around 1,000 migrants a place to sleep in a logistics warehouse not far from the Bruzgi-Kuznica checkpoint.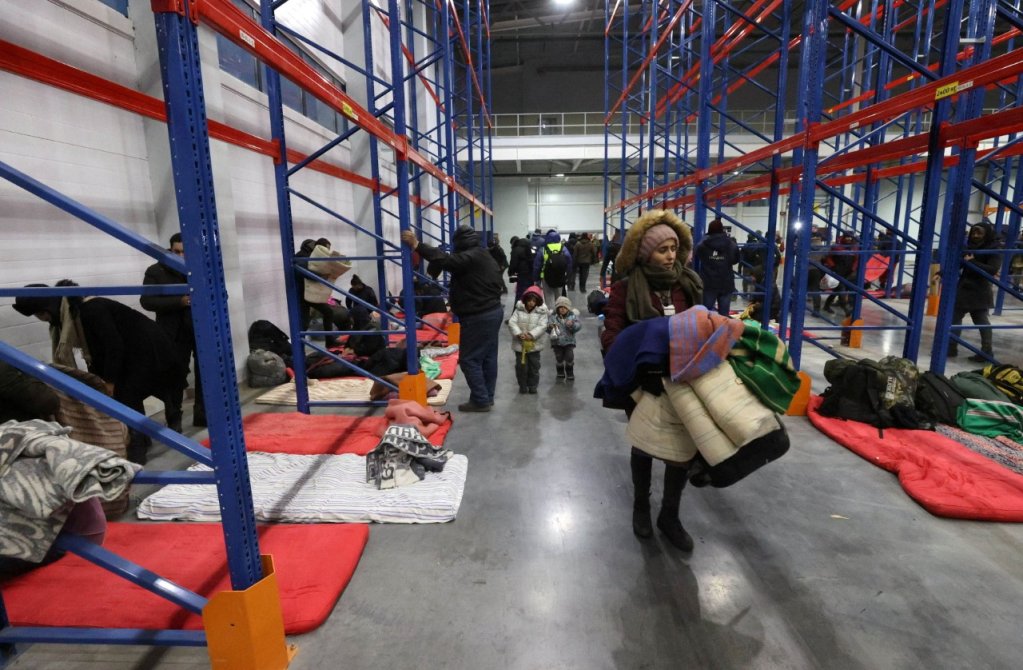 Night in a warehouse
The Russian news agency Ria Novosti, via AFP, said that at least 800 were still camped out at the border. Pictures inside the warehouse showed migrants wrapped in duvets and sleeping bags lying on the floor of the huge hangar, while volunteers and military personnel offered "hot porridge, sweets, water, tea and canned food."
The Belarusian health ministry said it had also admitted six people, including four children, to hospital from the Bruzgi camp, wrote AFP.
On the Polish side of the border, the Polish Defense Minister Mariusz Blaszczak confirmed that some migrants had crossed over during the night. AFP reported the Polish authorities think this situation could last for "months or even years."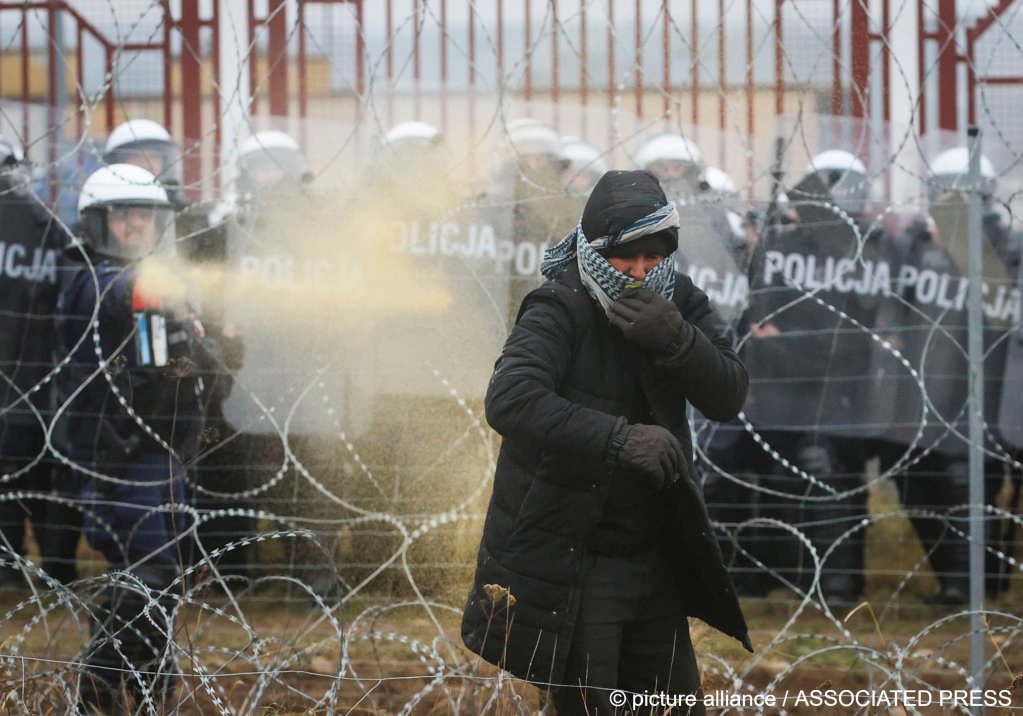 'We have to prepare for months or even years'
Talking to Poland's Radio Jedynka, Blaszczak said: "We have to prepare for the fact that the situation on the Polish-Belarusian border will not be resolved quickly. We have to prepare for months or even years."
Blaszczak added that although public attention on Tuesday was focused on the stone throwing, and use of tear gas and water cannons at the Kuznica crossing, during the night some smaller groups of migrants had attempted to break through the barbed wire barriers at other sections of the frontier.
In total, Poland's border guard told AFP that they had detected 161 crossing attempts "including two forceful attempts." After the skirmishes at the Kuznica crossing, Polish police said that nine officers, a border guard and a soldier were hurt, although all had been discharged from hospital by Wednesday morning.
With Reuters, AFP