Polish security authority have detained about 100 migrants who entered Poland across the Belarusian border. Meanwhile, G7 foreign ministers have urged the government in Minsk to bring an end to the crisis situation.
The situation along the Poland-Belarus border remains tense as thousands of migrants remain in the area in hopes of crossing into European Union member Poland.
On Thursday the Polish Defense Ministry reported that there had been numerous attempts to cross the border from Belarus and that that around 100 migrants had been detained.
Polish authorities in a statement said that Belarusian special forces (Spetsnaz) conducted reconnaissance and had possibly damaged the barbed wire fencing.
"Then the Belarusians forced the migrants to throw stones at Polish soldiers to distract them. The attempt to cross the border took place several hundred metres away," the ministry said.
In video footage posted on Twitter on Thursday morning Polish soldiers can be seen surrounding a large group of people huddled in the darkness.
EU, G7 announce solidarity with Poland
The EU meanwhile continues to accuse Belarus of engineering the crisis since the summer in retaliation for sanctions placed on the country since its disputed 2020 elections.
The EU issued a statement alongside the foreign ministers of the G7 nations on Thursday, saying that they "call on the regime to cease immediately its aggressive and exploitative campaign."
"We are united in our solidarity with Poland, as well as Lithuania and Latvia, who have been targeted by this provocative use of irregular migration as a hybrid tactic," the statement further read.
Meanwhile, NATO also issued a similar statement, saying Belarus' actions were "targeted" against its allies.
Belarus rejects blame
The Belarusian government in Minsk rejects the accusation that it is using migrants as pawns to destabilize the EU, and is -- along with its main ally Russia -- telling the EU that it should take in the migrants that are seeking to cross the border. 
It also stressed that it wanted to help de-escalate the crisis situation by facilitating a voluntary repatriation flight to Iraq — one of the main countries of origins. It added that 300 people had signed up to be on board that flight. 
Read more: Belarus migrant crisis: Iraq to begin repatriating citizens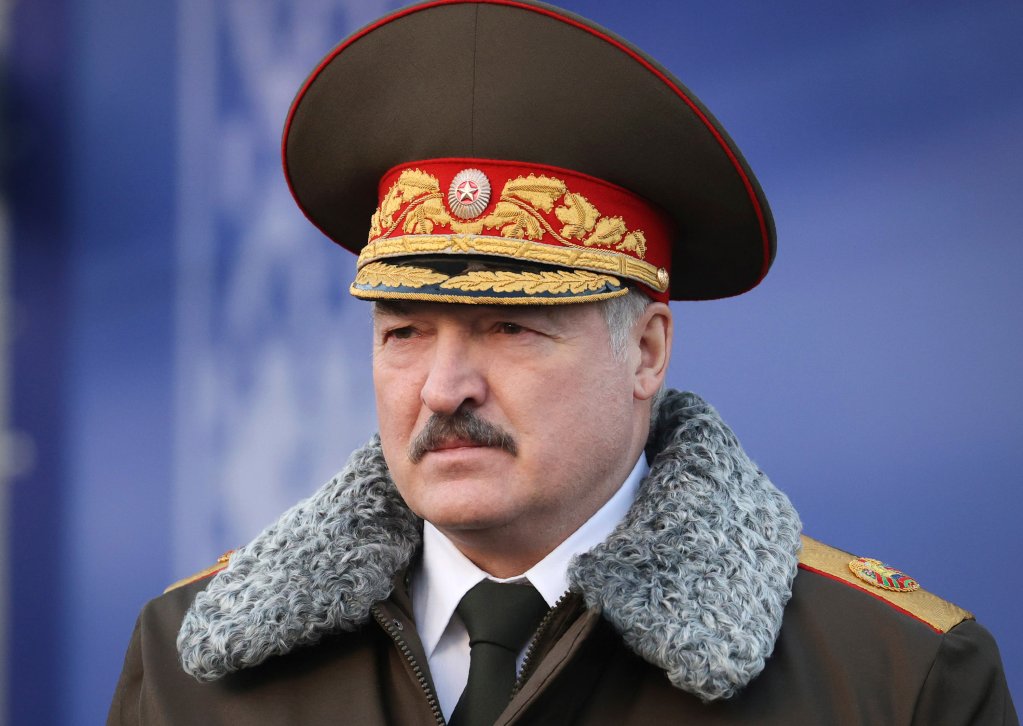 Belarus also said that it was trying to create further accommodation sites for migrants on the border, as at least 11 migrants are known to have died since the crisis began. The government-run Belta news agency said that hundreds of migrants have already been moved to a warehouse in Belarus in recent days, where the news agency said they will be offered food, water, medical aid, mattresses and pillows.
Read more: Belarus-Poland crisis: Death and misery at the border
Violence along border
In a previous incident on Tuesday, polish security forces deployed water cannons and used tear gas on migrants who attempted to cross the border.
Poland says that the Belarusians had forced the migrants to throw stones at Polish soldiers in a bid to distract them, while about 100 migrants crossed the border "several hundred meters away."
The migrants were later detained on the Polish side. Twelve migrants were injured in the confrontation. Meanwhile, Polish President Andrzej Duda stressed that there was "no military threat" growing at the border.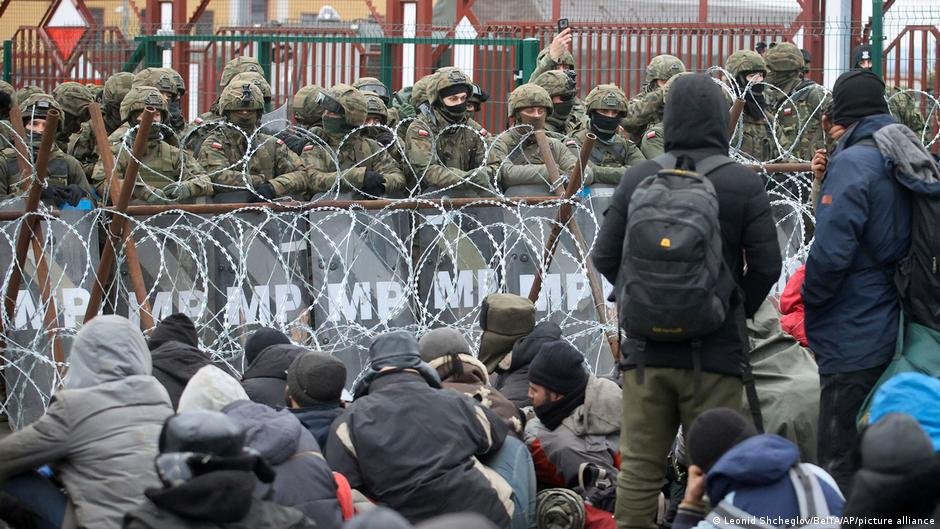 Poland estimates that there are more than 10,000 migrants in Belarus in total, who are all waiting to cross into the European Union. The largest group of migrants is staying close to the closed border crossing of Bruzgi-Kuznica. The Belarusian Red Cross says that they are aware of around 1,000 migrants staying in the government-run warehouse near that border crossing -- in addition to at least 800 more, who are camped nearby.
According to the German dpa news agency, those migrants have been spending more than ten days sleeping in the rough, as temperatures in the border region over night have started to dip below freezing. Many of them have been complaining of suffering respiratory problems after inhaling fumes at makeshift bonfire sites.
No direction in diplomatic talks
Meanwhile, outgoing German Chancellor Angela Merkel has been trying to mediate in the crisis by speaking to authoritarian Belarusian President Alexander Lukashenko twice in recent days.
According to Belarus state media, the two leaders "agreed that the problem as a whole will be brought up to the level of Belarus and the EU. Relevant officials, to be determined from both sides, will immediately start negotiations to resolve the existing problems."
An EU spokesman meanwhile confirmed that there were "technical talks" going on, while urging Minsk to prioritize granting humanitarian access to the border area, as aid agencies are trying to reach migrants stuck in Belarus.
Read more: Belarus: Lukashenko agrees to EU talks on ending migrant standoff
German government spokesman Steffen Seibert clarified that talking to Lukashenko, who has cracked down on his political opponents and independent media for nearly three decades, only "makes sense" because Lukashenko "has the opportunity to change this situation … even when it means talking to a ruler whose legitimacy, like all other European member states, Germany does not recognize."
The Polish government meanwhile has issued a warning that it would reject against any agreement that might be struck "over our heads" while Russia has welcomed the direct contact between the EU and Belarus.
With AFP, dpa, AP