In this episode of the InfoMigrants' podcast Tales from the Border, András Léderer from the Hungarian Helsinki Committe and reporter Idro Seferi head to the 'Afghan park' in Belgrade where they meet migrants, including Amir, a pharmacist from Iraq who is traveling with his wife and two small children.
This article is part of a series complementing our podcast "Tales from the Border". The audio feature format consists of eight episodes to be launched November 11, 2021 on Spotify, Apple Podcasts and other platforms.
🎧 Subscribe to Tales from the Border, and listen to previous episodes here.
Amir is a softly spoken man. He chats quietly in English, answering questions, and helping the group he is with communicate with András Léderer and reporter Idro Seferi. But, as his tale unfolds, the trauma of what he and his family have suffered on their journey towards Europe becomes apparent.
"My kids said, 'Baba, why, why do the police want to hit me? What did I do?'" says Amir softly, when asked about what happened on the many occasions when he and his family attempted to leave Serbia and cross yet another border towards western Europe and the better, more stable life, he so desperately hopes to find.
Sleeping in the open
Amir, like many of the other migrants András and Idro meet in the park when they visit in mid-May 2021, has been in and out of the official camps in Serbia and tried several times to make it across borders into the EU.
In theory, Amir's family could find a place in a reception center. However, due to the COVID-19 situation, every time they leave to try their luck at "the game" (crossing borders), they are expected to quarantine when they go back. Amir also fears being sent even further away from the north of Serbia and the EU border. That's why they choose to sleep in the park, or wherever they can find "out in the open", before boarding a bus towards the north of Serbia and trying again.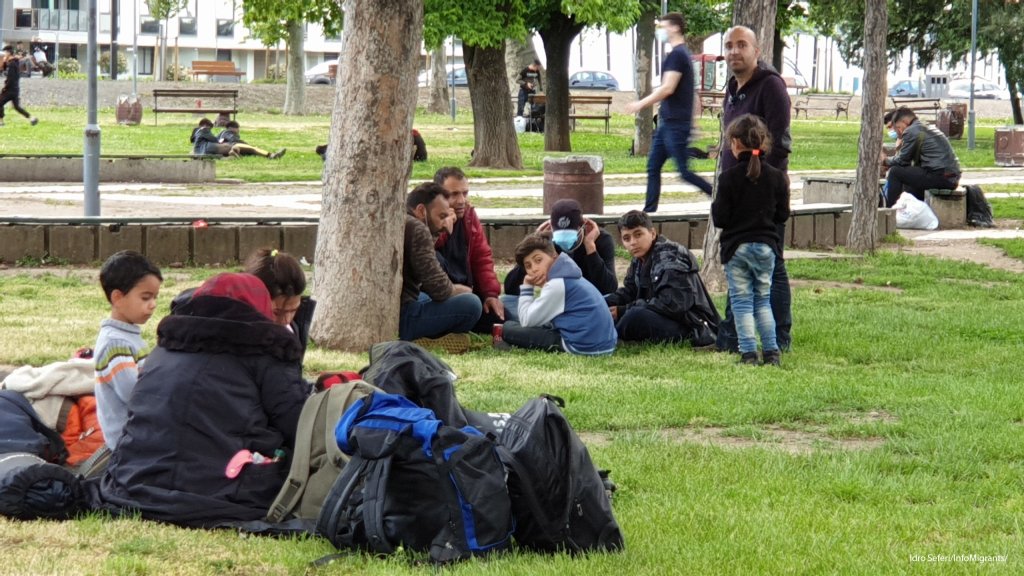 'In a very vulnerable situation'
Renowned Serbian lawyer Nikola Kovačević, who works closely with migrants and has won some big court cases in their favor, explains that unregistered migrants make up the vast majority of those in Serbia. They consider the country as something to transit, not stay in. As a result, their status is also not regularized, which "puts them in a very vulnerable situation, because they are more likely to be subjected to arbitrary practices."
Amir is sitting with a group of migrants who are from Syria. There are others in the park from Afghanistan too. He says he has been traveling for "eight months, crossing borders to Romania, Croaita, Hungary, Croatia. Always they catch us and return us to Serbia."
Amir says he was threatened in Iraq by a militia who want to kill him. "They are tearing after me, they want to kill me and my family. For that I come here. To Serbia, seeking for freedom, seeking for a place [of safety.]"
Amir says he hopes to get to Austria, Germany or Holland. Anywhere where he thinks his children can pursue the educational attainment he hopes for them. But ahead of Amir and his family is an almost impenetrable wall of fences and border guards.
'More than 71,000 pushbacks since 2016'
In July 2021, the Hungarian Helsinki Committee published an interim report, which found that at least 5565 people had reported pushback incidents on the Western Balkan route since January 2021. Since 2016, when Hungary changed its laws to prevent migrants from crossing its territory, an estimated 71,000 people have been pushed back to countries like Serbia, according to HHC.
Amir says he has tried about 12 times to cross borders. On one occasion, they got about 40 kilometers into Romania -- but then they ran out of food and water and so they came out into the open to allow the police to catch them.
During another attempt, Amir says he bought a boat to try and cross the Tisza river towards Hungary. He said he stayed for seven days up in the forest waiting to cross and enter Hungary. This time, they got about seven kilometers before the police caught them.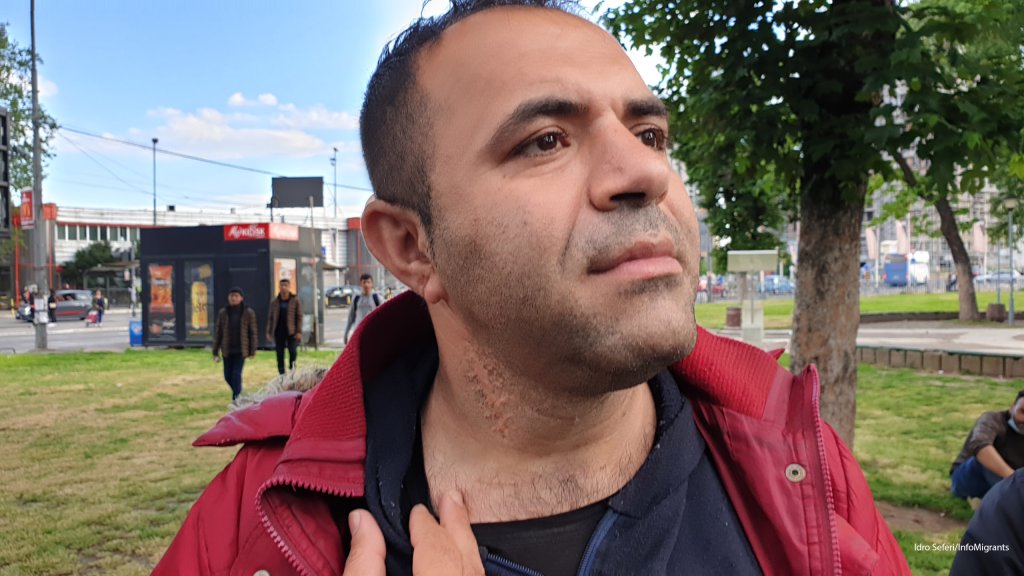 Hit by border guards
Amir claims that the police in Hungary wanted to hit his children. He shows his child's left eye as the child squeaks quietly. In Romania too, Amir said the police hit himself and his wife with sticks. "They put me in a car and throw me to Subotica fence, crossing border for Serbia," he remembers.
Amir says he repeatedly asked the police for asylum, but says they "refuse, they are laughing at me." He demonstrates a loud hollow laugh as if remembering the brash indifference of the situation. "They put us in the car and leave us for two hours. There was raining, a big raining."
Amir says he is from the Iraqi capital Baghdad. He said things took a turn for the worse there after he began helping young teenagers who had been "fighting for freedom." He says that the militias were trying to kill the teenagers. Amir gave them "medicine for free and helping their injuries for good will." That's when the militia found out and threatened to burn his house and pharmacy down. At that point, Amir says he knew it was time to flee.
'I am compelled to go to Europe'
Another man, from Afghanistan, sitting nearby, says that he too is fleeing violence and the Taliban. He has been on the road for about three years -- since he was 15 or 16 years old.
This man, who gives his name as Moes Khan, says that he has already been imprisoned in Romania and Slovakia for several months at at time for attempting to cross the border without papers. At the end of his sentence, he was sent back to Serbia, he explains.
In Romania, he says he was forced to give his fingerprints, which would mean, even if he makes it to another European country, under the Dublin treaty, he risks being sent back to Romania each time.
'Romania border closed, Hungary closed, Bosnia closed'
Another Afghan man, who declines to give his name, has already spent several thousand euros journeying through the snowy mountains of Iran only to find that "every border is closed. Romania border closed, Hungary closed, Bosnia closed. I am not [an] enemy," he says frustrated. "I am compelled to go to Europe," because of the threat from the Taliban and so-called Islamic State (IS). He says his brother was killed in the war in Afghanistan and all he wants is "peace."
András comments that the situation for many people in Serbia is "one of the most hopeless." He worries that the situation is once again becoming "untenable" and has echoes of what happened in 2015 amd 2016. That thousands of people were on the route with "no accommodation, no assistance and again no legal procedure."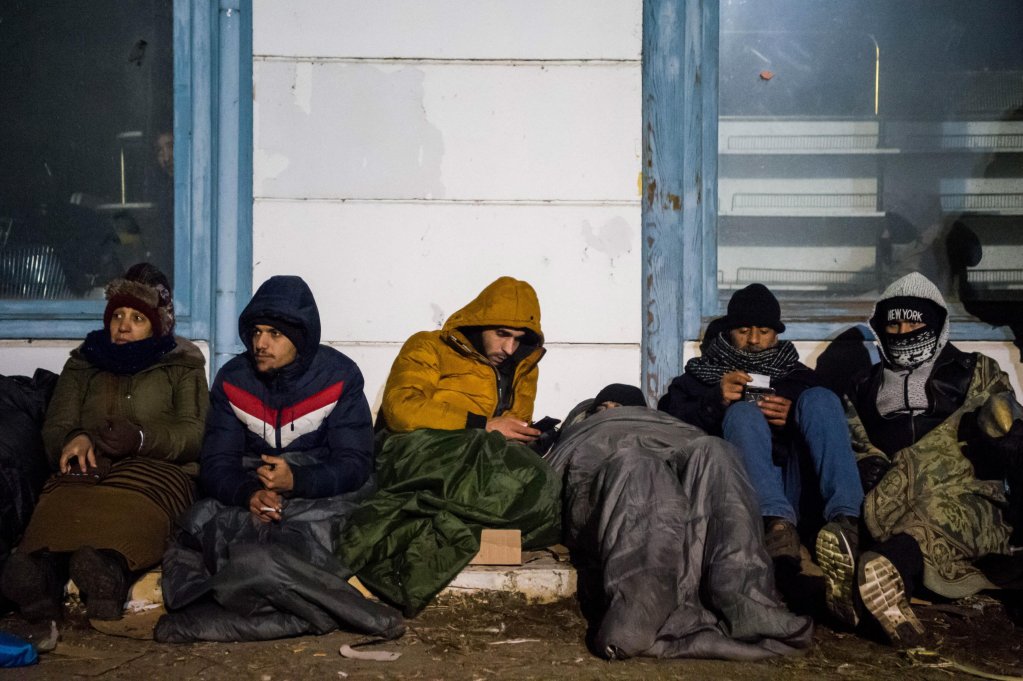 'Silent agreement'?
Lawyer Nikola Kovačević knows this situation all too well. He has collaborated for several years with the HHC. As he and András meet in Belgrade, Nikola Kovačević says there must be some kind of "silent agreement between all the states in this region to tolerate the illegal border practices...which are severely undermining the human rights of people in need of international protection."
Nikola Kovačević explains that Serbia has the capacity "to admit around 6,000 people in the camps." In theory, if Hungary is to push someone back to Serbia, they ought to be checking with the Serbian authorities that they have a bed to accommodate them. In practice, however, they are not doing this and therefore they are violating the law of non-refoulement, which states that if you are to push someone back to a receiving state, you need to make sure they will be accommodated in conditions which meet international human rights standards.
Essentially, thinks Kovačević, many of the surrounding states are violating Serbia's sovereignty by pushing people back over the border, sometimes people who say they have never even traveled through Serbia in the first place. Normally, doing things at the border means cooperation between the two states. He can't explain why this apparent violation doesn't draw any comment from the Serbian authorities.
'The game'
Kovačević refers to what the migrants call their attempts to cross the borders, "the game." But this is anything but a piece of fun. More than just a game of cat and mouse between border guards and migrants, Kovačević thinks it may be part of a much grander plan "designed behind the closed doors."
He thinks, after the deal between the European Union and Turkey was concluded in March 2016, the dangerous game began to be "played on all the borders from Turkey to the external borders of the European Union, which in this region are Romania, Hungary and Croatia." But just who may have designed this game, or who could be moving the pieces and pulling the strings is left undiscussed. What is clear is that thousands of people are now caught up in "a very illegal and very dangerous" practice which sees no sign of let up.
Reporting on the ground in Serbia and interviews were conducted by freelance journalist and filmmaker Idro Seferi and András Léderer from the Hungarian Helsinki Committee who made the three Serbian episodes of Tales from the Border.
🎧 Subscribe to Tales from the Border, and listen to previous episodes here.