Migrants who returned to Iraq after being stranded at the Polish-Belarusian border for weeks have reported severe abuses by Polish and Belarusian police. Meanwhile, Poland's prime minister warned of a new surge in migrant arrivals, this time from Afghanistan and Uzbekistan.
Several Iraqi Kurds who came to Belarus from the Kurdish autonomous region in northern Iraq told the dpa news agency on Saturday (November 20) that both Polish and Belarusian police beat and tortured them.
A 71-year-old Yazidi woman, who said she had wanted to reunite with relatives in Germany, as she was no longer feeling safe in Iraq, said that she had been "treated inhumanely," along with others in her group. The so-called Islamic State (IS) terror militia kidnapped several of her children, she told dpa.
A 41-year-old from the regional capital Erbil meanwhile claimed that Polish and Belarusian officers had tortured him, adding that he felt "deceived" by authorities in Belarus.
Another one of the alleged victims, a 38-year-old from the city of Dohuk, which is located around 120 kilometers away from Erbil, said he was abused and later forcibly deported from Belarus to his home country. Moreover, he and other migrants didn't receive any food or water, he added.
Notwithstanding his experience in European countries, the Iraqi national stressed that he'd try to get to Europe again.
Read more: Belarus crisis is 'greatest attempt to destabilize Europe' since Cold War, Poland says
Economic despair no reason for fleeing Iraq?
For weeks, thousands of migrants have been camping out on the Belarusian side of the border with Poland in the cold of winter in hopes of eventually getting into the EU.
Aside from Syrians and Afghans, there are also many people from the northern autonomous Kurdish areas in northern Iraq. While the region is considered to be comparatively stable, it suffers from an economic crisis like much of the rest of the country.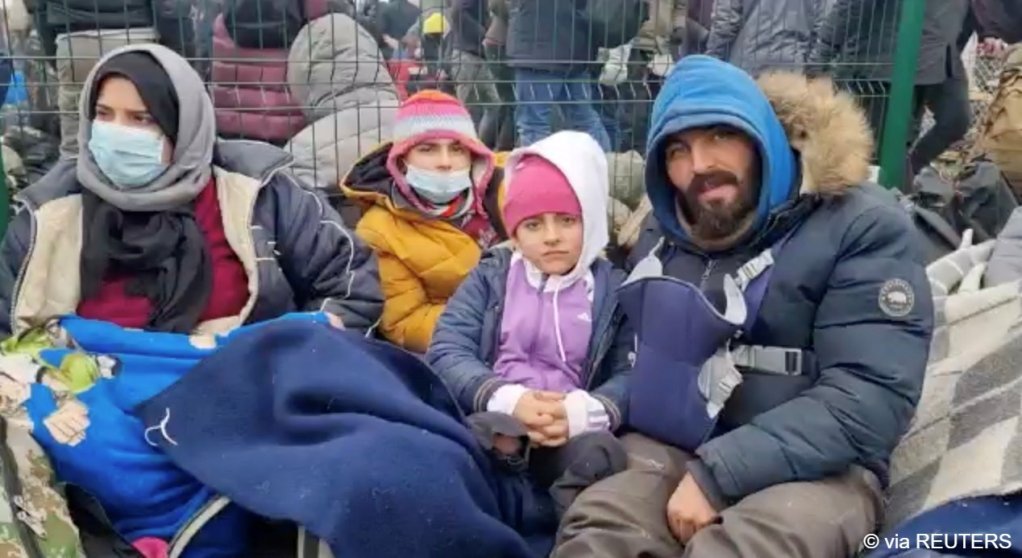 On Thursday (November 18), 430 Iraqi migrants were brought back to their home country from Belarus. Masrur Barzani, the head of the Kurdish regional government in northern Iraq, said at the time that neither economic hardship nor a lack of stability was a pull factor for Kurdish Iraqi migrants, who had fled to Belarus.
Most people who left Iraq by plane using the Belarus route had been exploited by human trafficking and migrant smuggling networks, Barzani said on Friday (November 19) during a security conference in Bahrain: "They want to take advantage of these people for their own gain to make profits," the politician said.
Barzani also noted that these migrants hadn't left Iraq illegally but had visas in their passports, paying thousands of dollars to get to Belarus. In this context he added that poor people don't have enough money to become refugees. However, Barzani also acknowledged that the circumstances in the Kurdish autonomous areas weren't perfect, which might have led some to believe that they could achieve a better life in Europe, he said.
Also read: False rumors fuel migrants' hopes of reaching Germany
Is Belarus eyeing Afghan migrants as border pawns?
On Sunday (November 21), Polish Prime Minister Mateusz Morawiecki said there could still be more migrants trying to cross into the European Union from Belarus, highlighting that this time the influx might likely be coming from Afghanistan and Uzbekistan.
"There is a threat of an even more difficult scenario," Morawiecki said. "There will most probably be an attempt at using the crisis in Afghanistan as a new act in the migration crisis, putting to use the remorse of the West related to the disorderly pullout from Afghanistan."
The head of the Polish government also claimed he had knowledge of "diplomatic" contacts between Belarus and Russia with Uzbekistan and Afghanistan.
"Only the full pullback of the migrants and steps toward deescalation can lead back to any kind of a constructive scenario with (Belarusian President Alexander) Lukashenko," Morawiecki said in Latvia's capital Riga.
He was on a one-day tour of meetings with the prime ministers of EU members Lithuania, Latvia and Estonia to discuss ways of solving the "very difficult situation" at the borders of the EU member states situated along the border of Belarus.
While Lithuania and Latvia have also witnessed an increased number of migrants trying to cross the border from Belarus, Estonia has only seen five irregular migrant arrivals (as of November 11), as the country does not share a border with Belarus, Estonian public broadcaster ERR reported. Still, the Estonian government last week announced it would erect temporary fences along part of its border with Russia in anticipation of potential future migrant movements.
Fears of further escalation
The situation at the Polish-Belarusian border started to deteriorate considerably at the beginning of the month. Last week, migrants throwing rocks at security forces were met with water cannon and tear gas by Polish forces. Last Thursday, the Polish Defense Ministry reported that there had been numerous attempts to cross the border from Belarus, and that around 100 migrants had been detained. At least a dozen people have reportedly died as a result of the dire conditions in the border region.
Pointing to a Russian troop buildup on Poland's border with Ukraine as well as an increased military presence in Belarus and Russia's Kaliningrad enclave, which borders Poland and Lithuania, Morawiecki warned of the border crisis turning into an armed conflict: "I think that the things that are unfolding before our eyes, these dramatic events, may only be a prelude to something much worse," Morawiecki told reporters in Vilnius, the Lithuanian capital.
The EU has been accusing Belarusian President Alexander Lukashenko's regime of flying in thousands of people from the Middle East and pushing them to cross into EU and NATO members Poland, Lithuania and Latvia in retaliation for EU sanctions placed on Belarus after its crackdown on peaceful democracy protesters last year. The move has been referred to as "a hybrid attack" on the entire 27-nation bloc by various Western powers and alliances.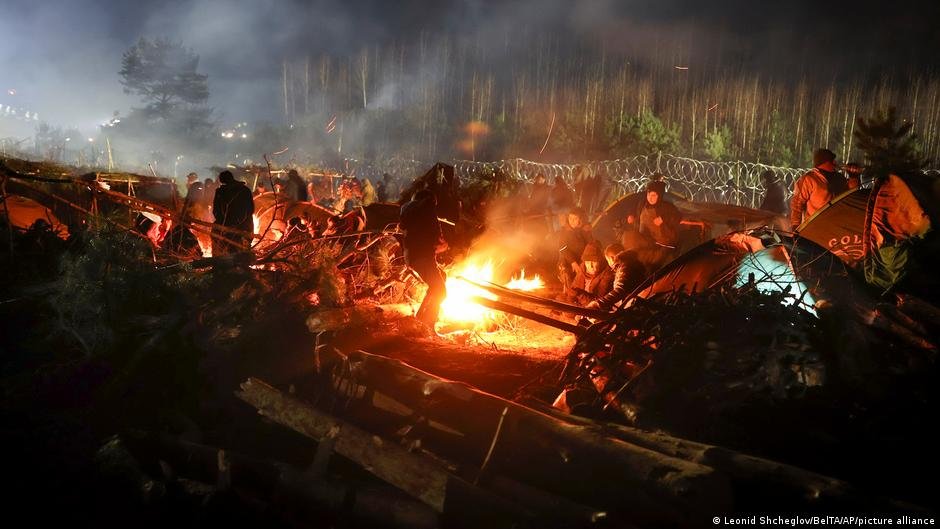 Belarus, which denies orchestrating the mass migration event, cleared the main migrant camps near the border last Thursday and brought the migrants to a large transport and logistics center located near the border. In recent days, Poland and Lithuania reported lower numbers of attempts of people trying to cross their borders.
Read more: Ukraine boosts border security in response to Belarus crisis
'Aggressive' border crossing attempts prevented
Over the weekend, meanwile, some 250 migrants allegedly tried to enter Poland by force. Poland's border authorities on Sunday said it had prevented a forceful irregular entry by some 100 "very aggressive foreigners" a day earlier. Belarus forces had reportedly brought the migrants to the fenced border area near the village of Czeremcha.
Another 150 "aggressive foreigners tried to break into the territory of Poland" on Sunday, the Poland's border force said on Twitter on Monday. The migrants were allegedly "supervised" by Belarusian authorities.
During his trip through the Baltic states, Morawiecki said that Poland was ready to contribute financially to return flights home for migrants who had been stranded at the damp border forest for weeks. He also said his government was ready to close all border crossings with Belarus to step up the economic pressure on Lukashenko's regime.
Earlier this month, Polish authorities had already closed the road crossing near Kuznica, one day after thousands of migrants arrived in the area seeking to cross into the EU.
A new law meanwhile allows for Polish authorities to use push back tactics on migrants to keep them across the border in Belarus; this is a practice that is considered to be illegal under European and international law. Poland, however, argues that it is protecting the border of all of Europe and of NATO. While it has been criticized by various human rights watchdogs and EU institutions as well as the governments of Belarus and Russia, Poland has received words of support from the EU, NATO and the US.
Read more: Belarus -- Poland warns of 'changed tactics' amid irregular migrant crossings
Third migrant funeral
On Sunday (November 21), Poland's Tatar community in the eastern village of Bohoniki buried 37-year-old Yemeni Mustafa Mouhamad Murshid al-Raimi, who had been found dead in the border forest on September 19. He had reportedly died of hypothermia.
Also on Sunday, the EU Commission on Sunday leveled further accusations against Lukashenko. "In this crisis, Lukashenko has been behaving like an unlicensed tour operator who sold expensive travel packages to the EU, only for them to collapse on arrival," EU Home Affairs Commissioner Ylva Johansson told Germany's Welt am Sonntag newspaper.
"To protect our borders, and to protect people, we are shutting down Lukashenko's unlicensed travel operation," Johansson wrote on Twitter on Sunday. "The viable route to Europe is through a legally paved pathway, not an irregular forest trail."
Poland's Border Guard says it has registered over 34,000 irregular crossing attempts into Poland this year, including over 17,000 in October and over 6,000 in November so far.
Germany meanwhile has registered a few thousand migrants who have reached its territory from Belarus.
With dpa, AP, Reuters