Spanish rescuers on the Canary Islands have rescued more than 370 migrants who were trying to reach the archipelago from western Africa. An increasing number of arrivals to the Canaries come from Morocco, whose authorities picked up more than 160 migrants in several different rescues.
Spain's Maritime Rescue Service rescued 374 migrants from seven wooden boats in the night from Tuesday to Wednesday, Spanish news agency EFE reports.
The migrants, reported to be of sub-Saharan, North African and Asian origin, were traveling on boats near the islands of Gran Canaria, Fuerteventura, Lanzarote and El Hierro.
The 112 emergency service of the Canary Islands said that there were 36 women, 26 minors and two babies among the groups, according to EFE. The migrants were disembarked on four island ports and given medical assistance. No one needed to be transfered to hospital, according to 112.
Continuing arrivals
Also on Tuesday, distress hotline Alarm Phone tweeted that Morocco's navy picked up 20 migrants on Monday, also in the Atlantic. Spain's Maritime Rescue Service confirmed this. According to Alarm Phone, the vessel had left the city of Dakhla in the disputed territory of Western Sahara three weeks earlier with 34 people on board, reports news agency AP.
AP reported that in a separate case Tuesday, Spain's rescue service said it had been told by Moroccan authorities that at least one person had died and another had gone missing from a migrant boat in distress. According to the rescue service, Moroccan authorities reported that 24 migrants had managed to swim back to Moroccan shores.
Read more: 'Each boat is in danger' -- the rescue of migrants trying to reach the Canary Islands
Sub-Saharan, Asian migrants rescued off Morocco
In another rescue operation, Morocco's coast guard picked up more than 140 African and Asian migrants in difficulty aboard makeshift boats early Monday (November 22), news agency AFP reported citing a military source.
The 147 migrants were from sub-Saharan Africa and from 10 Asian countries, according to the source quoted by the Moroccan state MAP news agency.
The source did not specify the location of the rescue operation but said the migrants received first aid at sea before being handed over to police "for the usual administrative procedures".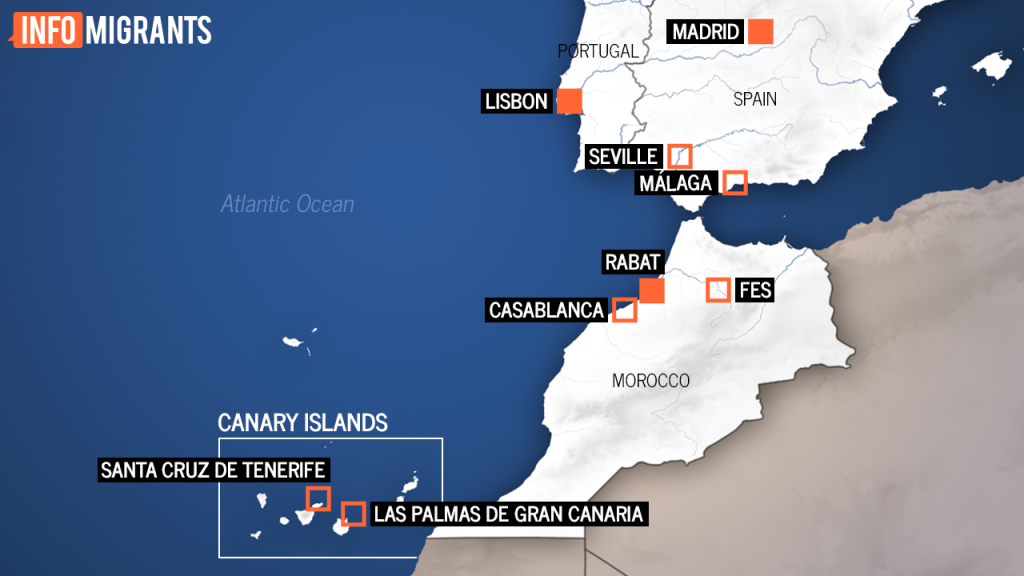 Earlier this month, the Moroccan coast guard and navy picked up a total of 331 migrants in the space of four days. Among those rescued were about 248 sub-Saharan Africans, 80 Moroccans and two migrants of "Asian" origin, as well as a Sudanese man.
Because of its geographical position between sub-Saharan Africa and Europe, Morocco has become an important transit country and departure point for thousands of migrants hoping to make it to Europe.
Despite tighter controls, migrant departures from Morocco's coast started increasing in 2020, with most boats aiming to reach the Canary Islands via the Atlantic. According to the UN refugee agency UNHCR, Moroccans were the second-most common nationality behind Algerians among arrivals to Spain between January and September. Eight out of ten people who reached Spanish shores were male.
Also read: Canary Islands -- Spaniard uses his garage as language school for migrants
Large number of arrivals continue
The Atlantic route from western Africa to the Canary Islands has been increasingly used by migrant smugglers who launch boats from Morocco, Western Sahara, Mauritania and even as far away as Senegal and The Gambia.
This year is on track to reach a similarly high number of arrivals: While more than 18,000 people have reached the Canaries so far this year, the final number in 2020 was just over 23,000, with the vast majority arriving between September and December.
Strong currents and other risks make the Atlantic route one of the deadliest to Europe. Between November 14 and November 18, for instance, at least 13 migrants died trying to reach the Spanish archipelago in three separate incidents.
According to the IOM, the UN's migration agency, around 900 migrants have died or disappeared so far this year, already more than in twelve months last year. The IOM admits the true death toll is likely much higher.
With AP, AFP