Anthony from Liberia has spent the past seven months in a reception center for asylum seekers in the town of Eisenhüttenstadt in east Germany, near the Polish border. This is his story.
"My name is Anthony and I'm from Liberia, a small country with 3.4 million population. During 1989 we had the Liberian civil war. At that time I was a little boy. I grew up in the civil war and I was recruited in the military when I was 12 years old. But in that period my leg got exploded by a rocket, in 1995.
When the second war came in 2003, I had to leave Liberia to go to Nigeria. And then I wanted to seek asylum in Nigeria. But life in Nigeria was difficult, I had to support myself selling some cell phones. In 2009 I went to Nairobi. I spent one year in Nairobi. There I approached the Polish embassy to say that I wanted to come for medical treatment there.
The Polish embassy gave me a visa for 10 days. I fled, I went to Amsterdam and I applied for asylum in Holland. (But) they were deporting people and so, because of Dublin, I had to go back to Poland.
But when I got to Poland, what I was expecting, I couldn't get it. There was no medical treatment. I wanted to back to school, to rehabilitate myself, to achieve (something in) my life. The situation was so difficult in Poland. So I got married to a citizen and we had two kids.
But I don't understand with my leg condition, that couldn't help me to give me a document. I stayed all the 10 years in their country without their giving me permanent residency, with two children.
The refugees, the way they are treating them in Poland, they are keeping them in detention. Here in Germany you have freedom to go out, but in Poland you don't go out. And the money they are giving to us, you cannot pay your rent, on top of finding food to eat. So it brought back trauma to me and I was so traumatized -- I suffered in Africa and I'm coming to suffer here again."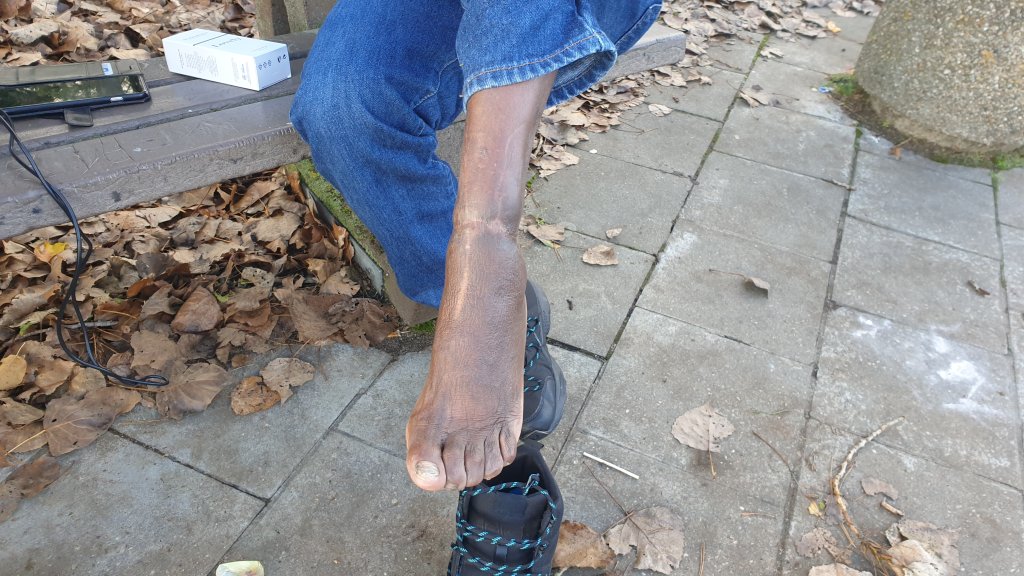 Did you spend time in a closed camp in Poland?
"I was just a few times in a closed camp. But the people that were in a closed camp… I saw many difficult situations. Some people even said to me that they even ate their own shit in the closed camp. Because the treatment that the Polish are giving to the refugees and immigrants too in the closed camp, it is terrible. In Germany there are organizations fighting for immigrants. It's not like that in Poland. Human rights are not functioning.
So I got frustrated that, 'why I couldn't die in the Liberian civil war?' So all the struggle was coming to me – the struggle we were going through in the war, (when) there was no food, as a small boy walking in the jungle – all these things started coming to my mind. So I said to myself 'I will never give up'. The best thing is I will go to a nearby country. If I will perish, let me perish.
Coronavirus came. I was very hungry, I was struggling for my life and to survive. So I gathered some money and went to the bus station and paid for my ticket. I was going back to Holland, but the police controlled me at the border and they told me 'because you do not have a valid visa to cross the Schengen border we cannot allow you to go'. This is why I seek asylum here."
And they brought you here? (to Eisenhüttenstadt).
"Exactly. I have been here for seven to eight months now. At first I had the Dublin [ed: Dublin III, the European system to determine which member state is responsible for an individual's asylum application, usually the country through which the person first entered Europe]. And now my Dublin is over, so I'm looking forward to the next stage to see what they're going to do now. And they sent me a letter that the German government are going to take responsibility." [ed: After a certain period has expired, the member state in which the person is residing is responsible for their asylum procedure.]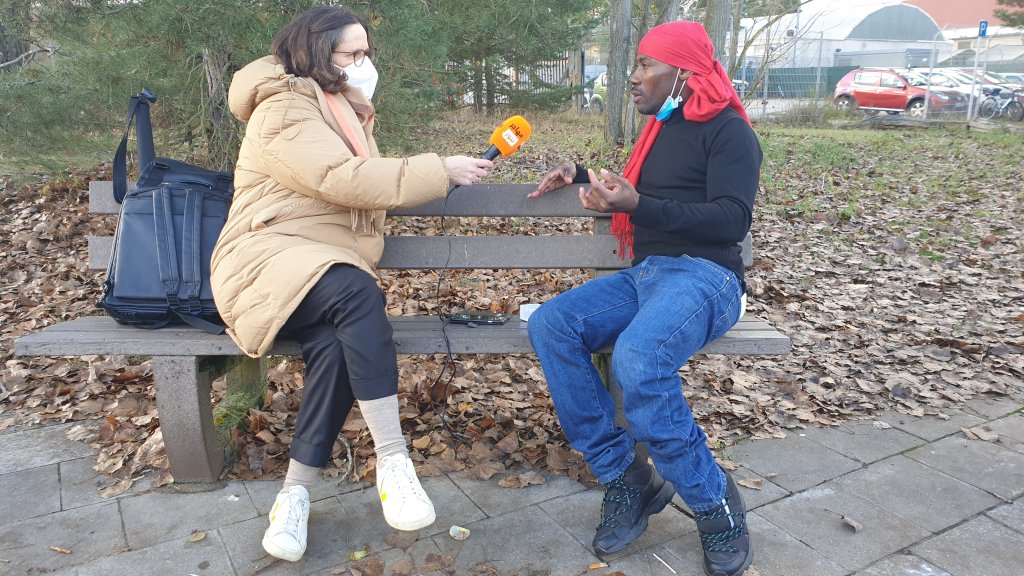 How do the pictures of the migrants on the border between Belarus and Poland affect you?
"When I look at the situation, I pray that the Europeans should reconsider and just bring them in, for the sake of the children. I pray that Germany continues to help them, and then maybe after they can talk to Belarus to find a solution so as not making people to suffer through the journey.
Because a girl, they like, cut (her). She had been traveling for one month, and there was no food. She told me that they were in a jungle. Her whole leg is cut. She cannot walk, she is in a camp. And this one disabled guy, he told me that the Polish soldier would push him, slap him. Yeah, this boy is in the camp, a disabled guy who is in a wheelchair. They said they will push him to the Belarus side, and in return Belarus pushed him to the other side. He is from Cameroon. He has a disability! Why are you treating him like that?
And in Poland, people don't respect disabled people. But I can see here (in Germany), people with disabilities have more advantages here. They give you free ticket to ride buses, to ride trains. But in Poland disabled don't have rights. If you have a disability you are on your own, almost like you are in Africa, you know? There is a big difference between Poland and normal Europe. I regret the 10 years that I spent in that country because I destroyed my life."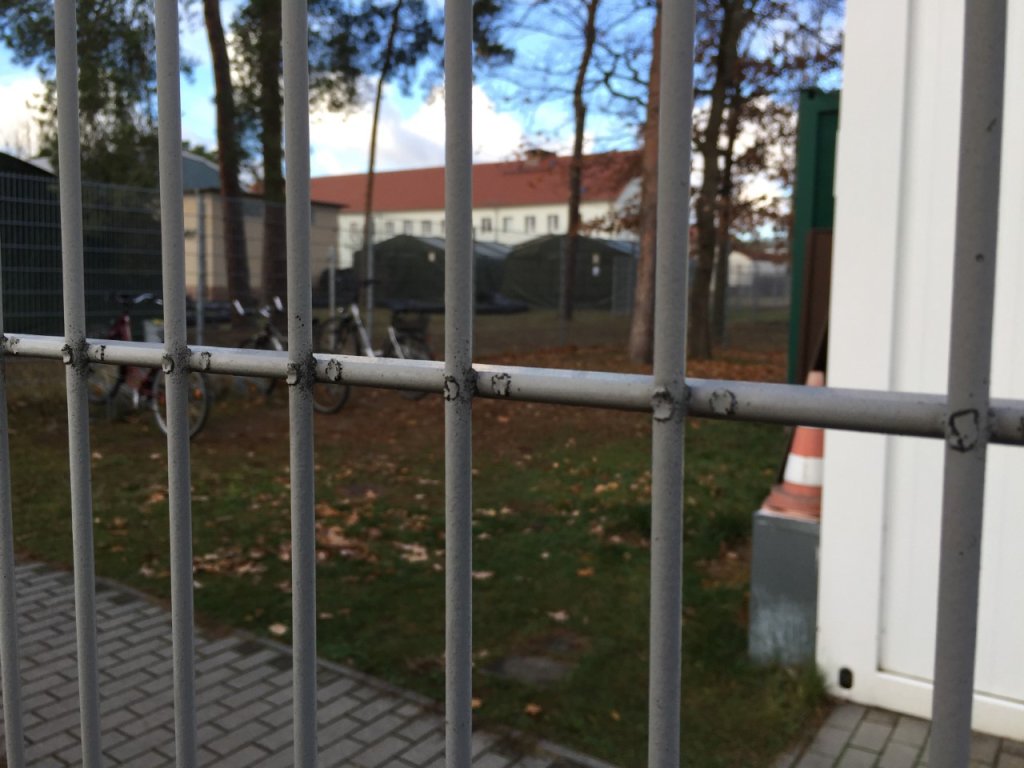 What about your family back home?
"Well my father passed away. My father was dependent on me, but he died. I was here in the camp, I couldn't have money to bury my father. And my mum, the same situation, she is dependent on me. So if I don't stretch a hand to my mum, she cannot survive. Because Africa, the government does not care for the old people. In Europe, they care for the old people, but Africa is not like that. That's why many children come to Europe, to help their parents before they die. Our government is not helping them. They are dependent on their children."
If you were to get refugee status and maybe German citizenship, what would you like to do?
"My dream would be to work with disabled people in Africa. After the Liberian war many people were cut, their legs were cut. The government doesn't have time for them, I would like to build some place for them – a rehabilitation center. Everybody would have a room, they would be working, I would be paying those people to create a skill in their life. I would like to talk to the International Red Cross to give me support to help disability people and also the widows, because our government doesn't have time for the widows. Many women's husbands passed away and they have struggled with the children and no support. This is my vision."
Anthony's story was edited for length and clarity.
Correction note: The original version of this article (published November 29, 2021) said that Anthony returned to Poland with the help of a friend, which was incorrect. He was transferred under the Dublin Regulations, the European rules on which country is responsible for an asylum application.