Sorting out clothing to send to the Belarusian border, finding an asylum lawyer and creating paintings are all in a day's work for Michael Kurzwelly. The artist has been trying to realize his vision of an open society since long before refugees were gathered at Europe's razor wire fences.
The river that divides the two cities of Słubice and Frankfurt an der Oder is not very wide, and from one river bank you can see clearly to the other side. Getting across the river is just a matter of walking, or driving, about 200 meters over a bridge.
It is hard to comprehend that this apparently unremarkable place is in fact a national boundary which separates Germany and Poland and which, not so long ago, marked the external border of the European Union.
More than two decades ago, Michael Kurzwelly, an artist living in Frankfurt, started to question the idea of identity and the nation state. Might it be possible, he wondered, to create societies in which there was no longer a 'them', and instead everybody belonged to the 'us'? An open society, where there would be no refugees.
On a crisp November morning in the center of Frankfurt we are at the physical realization of Kurzwelly's idea, a community space called the 'Brückenplatz' in a former sports hall. It is unheated, because the funds he receives from the city council only cover the water and electricity. Inside the chilly, cavernous space a makeshift Mongolian yurt, heated with a gas potbelly stove, offers a warm refuge to those who come here.
A place for everyone
"The Brückenplatz is open to everybody," Kurzwelly explains. "Everybody can come with their own ideas and can find a place where they can realize these ideas, as long as they also take responsibility for their ideas."
The result is a kind of ramshackle activities center – here a sewing workshop, there a puppet theater. Bijou, a choreographer and singer from Guinea, also does African hairstyles, so she has a section full of wigs and hair paraphernalia. In another corner is a repair café where there are tools mostly used for fixing bikes, which are sought after items among asylum seekers.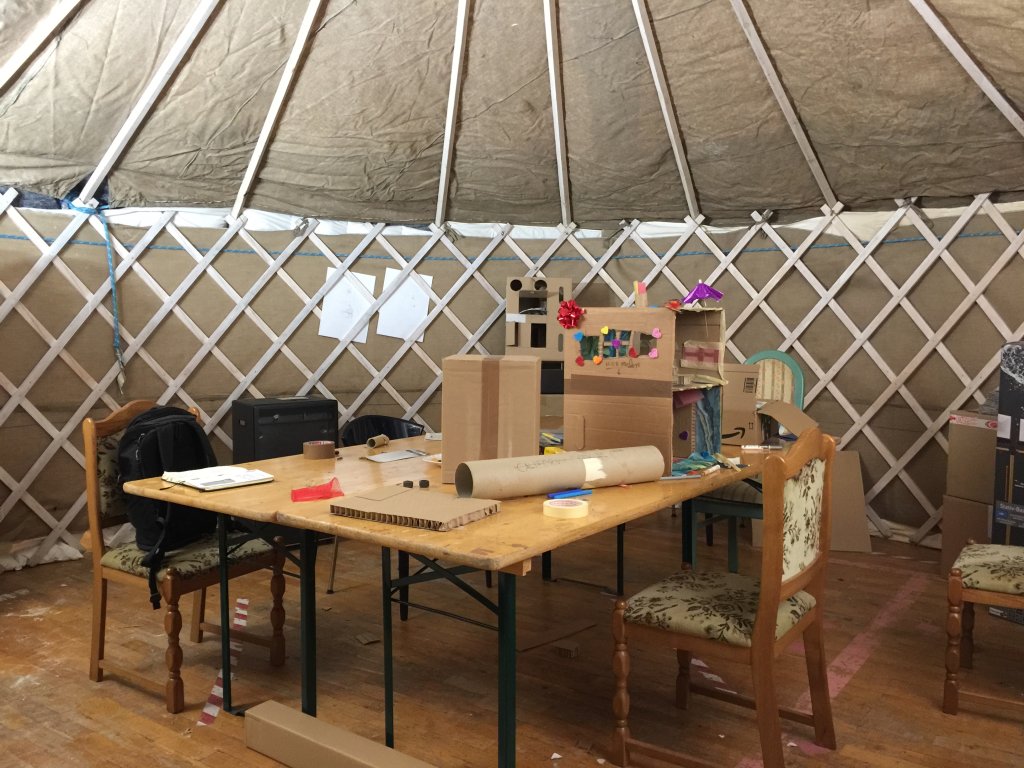 And then there is the 'free shop', an area full of second-hand clothing, shoes, toys, and books. Right now, the items are being carefully sorted to be sent to migrants on the Belarus border. "Here are the donations which we got in the last few days. We just got some sleeping bags to temperature minus thirty degrees," Kurzwelly says.
"We have to make a selection of what is worth sending. For example, very colorful clothes should not go there, so we put them here." Bright clothing is too conspicuous in the forests where the migrants are hiding from the military, he explains.
The sender's address on the donations collected from this region of east Brandenburg is 'Słubfurt', the official name of Kurzwelly's organization and of a new imagined city, half-Słubice and half-Frankfurt, which he founded in 1999.
"At that time there were no refugees from anywhere here," Kurzwelly tells me. It was a few years later, in 2014, that the first groups of refugees began to arrive.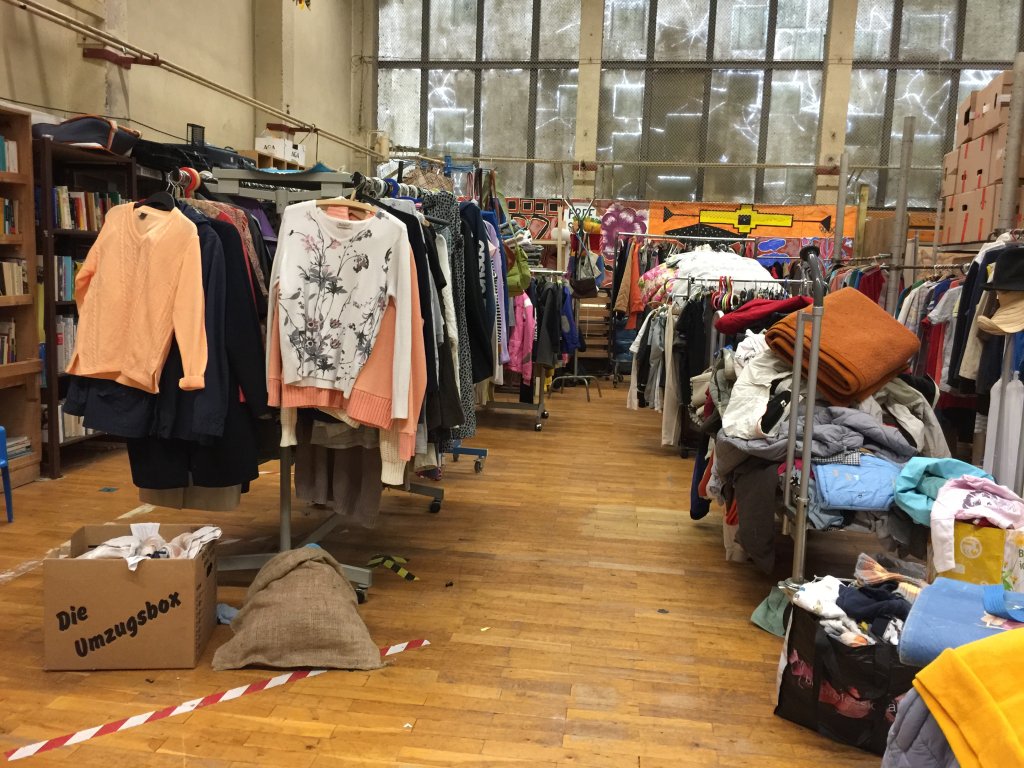 Freddy and Cyprien: the beginning
For Freddy and Cyprien, who were among those first arrivals, it was music, and meeting Kurzwelly, that changed their lives. The two young men from Cameroon had left their country and traveled to Spain before ending up in an asylum seeker center in Frankfurt.
Kurzwelly, meanwhile, was in contact with a friend who had been using singing as a way to teach the German language in Kazakhstan, and the two came up with an idea. 
"We knocked at the doors of the refugee center and asked the people, would you like to sing with us?," Kurzwelly recalls with a smile.
"Soon we had a bunch of between 15 and 20 people singing once a week there in one big room. We got invited to sing in various places and we got to know each other better and better, and then we started to do other things."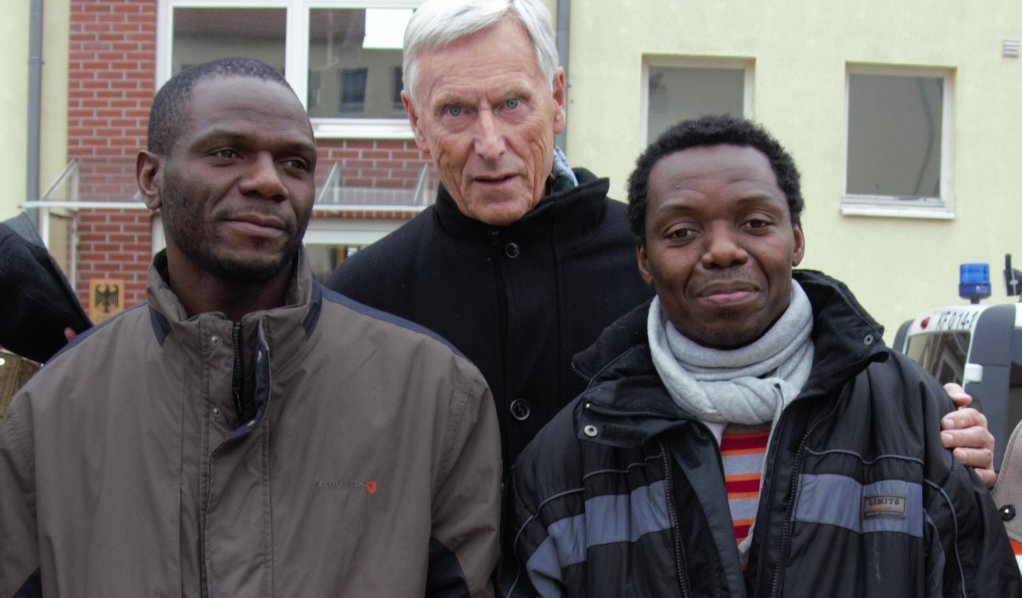 At around the same time, however, Germany was deporting those whose asylum claims had been rejected, and one of the early activities of the group was to offer legal advice to people who were facing forced return to Italy or Spain. Their lawyer, Dieter Bollmann, acted for free on behalf of 260 asylum seekers, including Cyprien and Freddy. It is their case that Kurzwelly remembers best.
"One evening, Freddy called me very nervously. He said: 'Oh shit, the police were here and they wanted to take us, to send us back to Spain.' Luckily they were not at home at the time."
A crisis meeting at midnight followed, Kurzwelly says. "I called the lawyer, whom I woke up, and he agreed to help." Freddy and Cyprien, however, were facing deportation under the EU's Dublin Regulation, and there was nothing the lawyer could do. In a last ditch effort, the pair appealed to the church in Frankfurt, which agreed to take them in.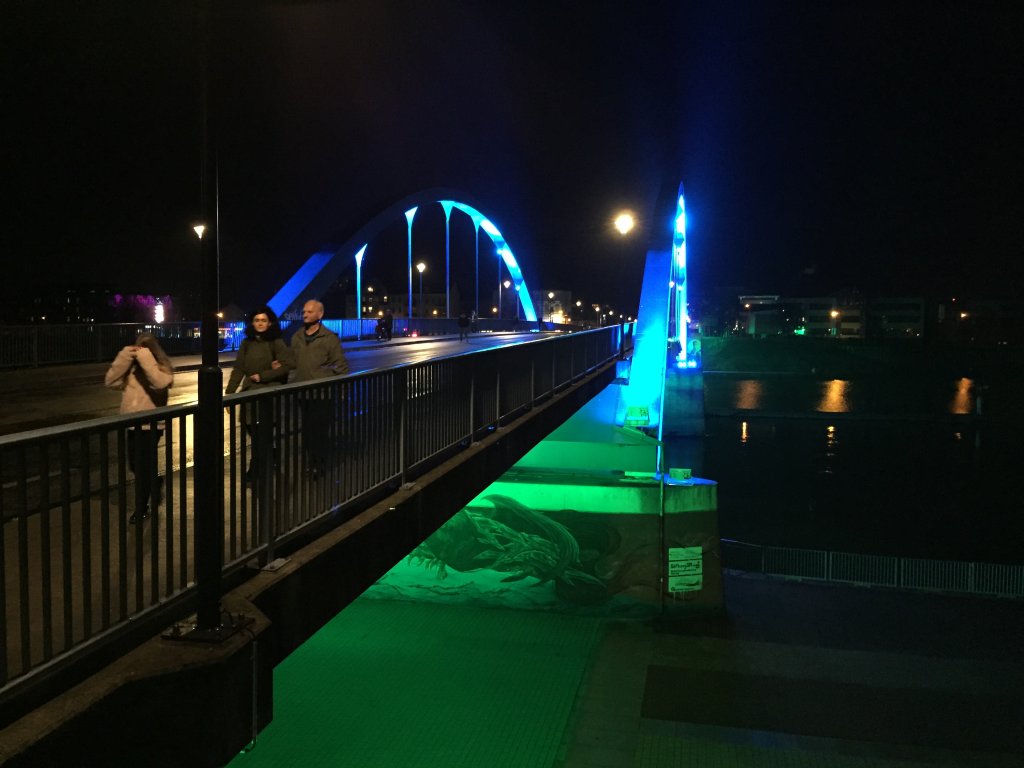 Finding refuge
The next three months were a tough experience for the two men. "They didn't have any financial support during that time," Kurzwelly explains. "The church just gave them a place with a kitchen and they were officially not allowed to leave. We were organizing shopping for them. It was like, you know, a conspiracy," he recalls with a chuckle.
"They were in lockdown, it was very difficult. At that time, our 'Brückenplatz' was at the bridge, and at the pedestrian area we had an empty shop as the repair café. Freddy got the key, and in order to feel good psychologically he went there at night and repaired bikes, just so as not to go crazy."
When the period of church asylum ended, Freddy and Cyprien were able to reapply for asylum but, Kurzwelly says, both now have German partners and are no longer in the asylum procedure. Having been apprenticed as electricians, the two men have since graduated. Cyprien managed to achieve the highest grade in East Brandenburg, Kurzwelly says proudly, adding, "Both speak German fluently with an accent of the dialect of this region, which is very funny."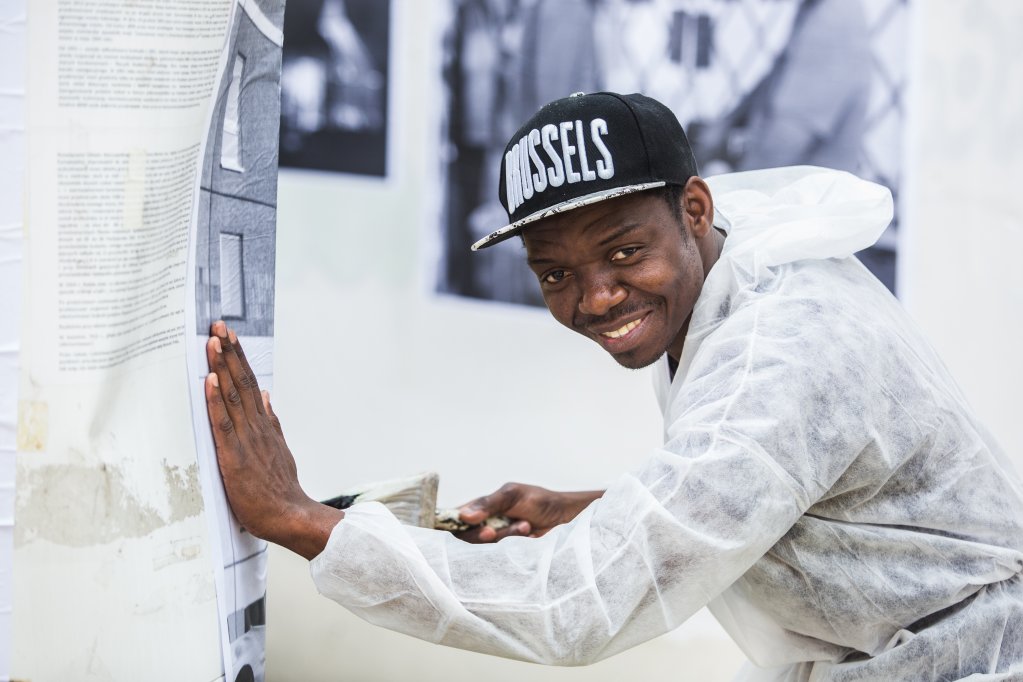 After Freddy and Cyprien, the church in Frankfurt sheltered around 15 more asylum seekers. But recently, more and more nuns and priests have faced criminal charges – and some have been fined – for 'aiding unauthorized residence'. As a result, it has been more difficult to get people in to church asylum, Kurzwelly says.
Ebb and flow
This morning we are alone in the Brückenplatz, among cardboard cartons and sacks of clothing. It's a place where people come and go, like Freddy and Cyprien did.
"We have shifts and changes of people," Kurzwelly explains wistfully. "Those who get asylum and start working stop appearing here because they don't need us anymore. For a long time the Afghan community was very strong here. Now because of the situation in Afghanistan they get asylum, so here we have a certain disappearance. It is changing all the time."