Since leaving his home in Cameroon, Jean* has traveled through at least seven countries, including Libya, where he was kidnapped. In November he finally reached Germany, where he has applied for asylum. This is his story.
"My name is Jean*, I come from Cameroon.
I did not come via Belarus, but crossed from Tunisia to Italy via Lampedusa and from there to France and then to Germany.
A lot of my friends decided to stay in Belgium, France or other French-speaking countries, but I wanted to experience something else. Since the fourth grade, I've dreamed of being here in Germany. I'm interested in its history and I have been curious since I was young to see the Berlin Wall.
Since there was no prospect of getting here legally, I decided to take the difficult and dangerous route. I sacrificed a lot and took risks, but I reached my goal.
Kidnapped in Libya
"First I traveled through Egypt, Morocco, Libya, Algeria, and then Tunisia.
The worst thing that happened to me on the trip was spending two months in Libya against my will. I was in Tripoli and I was kidnapped for three days. After being kidnapped they ask you for an exorbitant ransom to release you. The militias there kidnap people for a long time, but my friends and I managed to escape quickly.
When I was climbing the fence to leave that prison, I fell. It was four or five meters high and I lost consciousness. My friends managed to hide me for a while so that I wouldn't be found and then they took me to the hospital. I had a lot of bleeding after injuring my wrist. I spent two weeks in the hospital, after which I quickly left for Morocco and from there to Algeria and then Tunisia.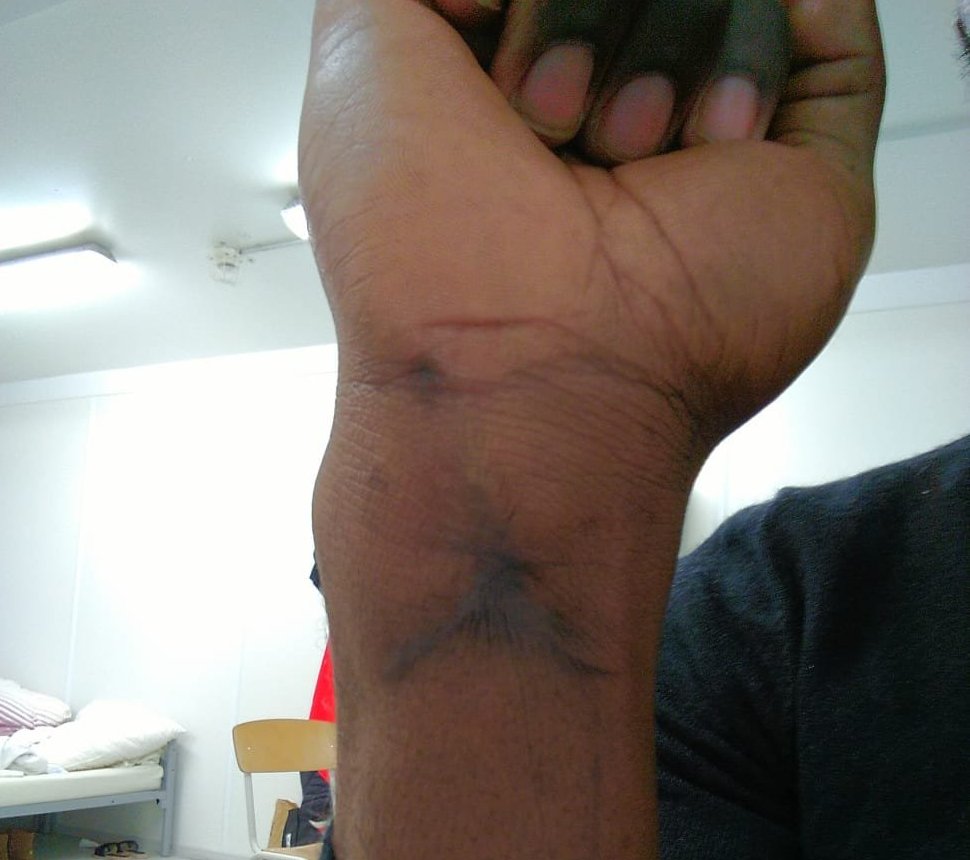 The Mediterranean crossing
"The trip was dangerous. Crossing the Mediterranean was very risky. You spend hours or days out at sea. We didn't eat or drink, there was no one there to help us but God.
It is the most terrifying thing to see children in danger.
There were 500 people in our small boat and it was very crowded. We were sitting on top of each other. For 28 hours we were trying to reach European territorial waters. There were eight children on board. That is the most terrifying thing, to see children in danger.
The migrants were of different nationalities: Tunisians, Algerians, others from Cote d'Ivoire, Gambia and various countries in sub-Saharan Africa.
When we were caught by the Tunisian national border guards, they took us back, of course.
But the Italians brought us to Lampedusa, without treating us badly or insulting our dignity. From there our journey began again. In Italy, the coast guard treated us well, they gave us clothes, shoes and food, no one abused us there."
[From Italy, Jean traveled to France and then to Germany. InfoMigrants spoke with him in Eisenhüttenstadt, in the eastern state of Brandenburg.]
"I've been here in Germany now for three days. The first thing I will do is learn German, then I will look for a job. I came here to achieve a good future."
*name changed