Since 2015, migration routes through Italy towards France have gradually changed. Today, many migrants climb high up in the Alps to arrive in France, heading west from the Balkan route and north from Italy's south.
This article is part of a series complementing our podcast "Tales from the Border". The audio feature format consists of eight episodes launched November 11, 2021 on Spotify, Apple Podcasts and other platforms.
🎧 Subscribe to Tales from the Border, and listen to previous episodes here.
The small town of Bardonecchia in the upper part of the Susa Valley nestles under the Col de L'Échelle (Colle della Scala) mountain pass. Most people are unaware that the area below the mountain on the Italian side is already French territory. But to get up and over the Col de L'Échelle and into France proper is a perilous climb, one that many migrants nevertheless consider their best chance of crossing the border.
On the other side of the pass, in the French village of Névache, the sudden appearance six years ago of migrants, weary from their trek over the mountains, sparked a similar reaction among the local community as it had in Bardonecchia. Mountain guide, Jean-Gabriel Ravary, remembers how villagers went out of their way to protect those complete strangers arriving from the mountains and knocking on their doors.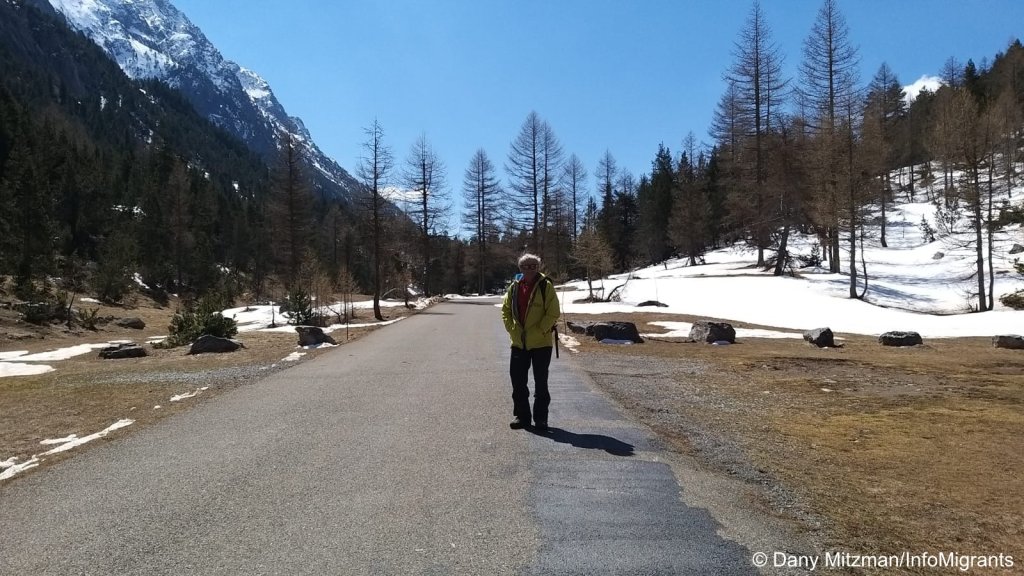 Frozen hands and feet
"They often had frozen hands and feet because their socks and shoes had got wet," says Jean-Gabriel, adding that it was the first time he'd seen black people with frostbite. "We'd let them in, we'd take off their shoes and socks and gloves, we'd soak their hands and feet in water at 37 degrees because you mustn't heat them too quickly. And we'd also put in Betadine to stop infection."
Jean-Gabriel defines the locals as montagnards, meaning mountain dwellers. He says helping people in need is a reflex all montagnards have that doesn't stop with tourists and hikers but extends to all human beings. In a community of just 347 permanent residents, at least 40 offered regular support and shelter.
"If you look at the percentage, that makes over 10% of the population. If 10% of France did the same, there would be seven million French people taking an interest."
Temperatures can drop to -25 degrees at night
With five metres of settled snow in the winter and temperatures down to -25 degrees celsius during the night, little acts of kindness were commonplace. The person who drives the machine to flatten the cross-country ski pistes would always give passing migrants a lift to the village and the mayor would turn a blind eye. But Jean-Gabriel remembers how problematic it was to help the migrants in the first years of arrivals.
"The night we had the most people, we had 25 to 30 people and it was a huge problem trying to house them all and do so discreetly. There were three rounds of police every day in Névache."
Offering emergency humanitarian aid was straightforward, explains Jean-Gabriel, but helping them continue their journey was not. There were no refuges or hostels so they would drive them to the station in the nearby city of Briançon or drop them off on the road to Grenoble. But the danger was getting stopped by the police. "If we had migrants with us they'd make them get out and make us leave."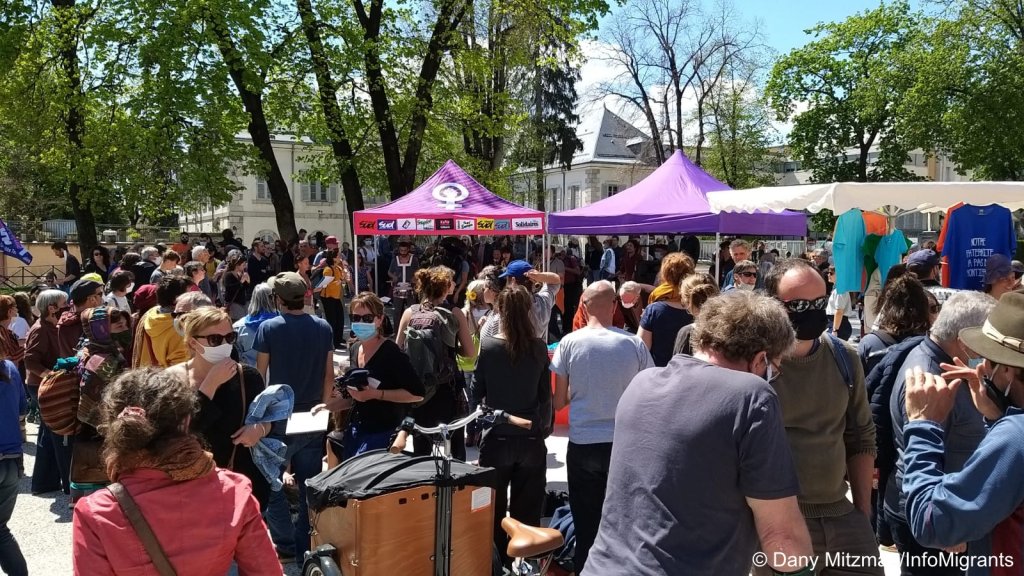 Refuges Solidaires
There was a sense of relief in Névache when the Refuges Solidaires association opened a refuge in Briançon in 2017. Situated near the station and run by volunteers, it was opened to offer migrants food, clothing and shelter, as well as medical assistance and advice. When the Alpine route changed three years ago, its presence became even more essential as migrants no longer arrived in Névache but would come over the mountains directly above Briançon.
Many of the volunteers at the refuge come from different parts of France, having heard about the critical situation. When InfoMigrants visited at the end of April 2021 to record the podcast, Typhène from Toulouse had been working there for a month. Whispering, so as not to disturb anyone who might be asleep, she described the experience as "intense."
The refuge was invariably over-capacity and Typhène recalled one night when there were so many arrivals they had people sleeping in the corridors and "you had to tip-toe in between them." Finding ways to accommodate entire families was also challenging. "There's a lot to do but it's really interesting to have exchanges with the people who come and tell you about their journeys. It's enriching."
Ayoub's story
Ayoub is one of the migrants who was staying at the refuge at the end of April. He's originally from Morocco and traveled through more than 12 countries to reach France. "It's good, really nice people. I'm happy to meet them," he says cheerfully, after breaking off his game of football to speak.
Ayoub says volunteers have been helping him with his application to stay in France to study. In the podcast, he explains that he had begun studying in Morocco but realized, to make something of himself, so his family could be proud of him, he needed to make it to Europe. That dream though, comes at a cost. He misses his parents, his little brothers and sisters and is still feeling alone in France.
While waiting for his application to be processed, Ayoub tells InfoMigrants he tries to make himself useful and distract himself from feelings of anxiety and homesickness. "It's hard [when] you stay and don't do anything. Sometime[s] you need to help in [the] kitchen to make food, sometimes you fix something. I will go fix [a] bicycle in one place here. You need to do something so you don't feel alone, you don't feel sad."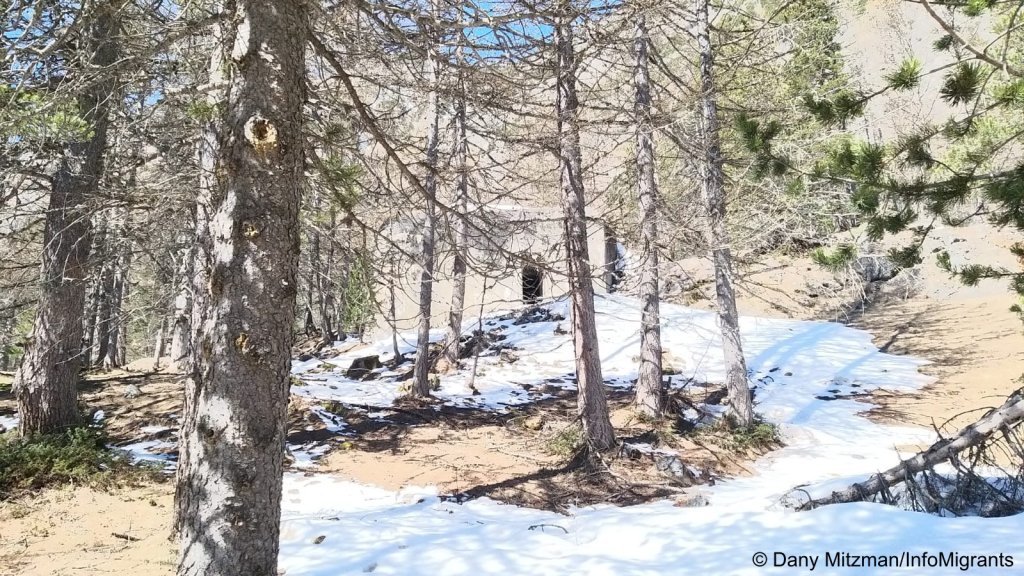 Solidarity across the borders
As soon as the Refuge Solidaire opened, a cross-border network of solidarity developed between the refuges in Oulx in Italy and Briançon. Every evening, volunteers on the Italian side phone to give the number and description of those setting off that night. This way, French volunteers know how many to look out for and can alert search and rescue teams for any missing people. When Italian volunteers happen to be in Briançon, they often provide logistical help, for example, by taking mountain boots – no longer needed by those who have arrived successfully – back to the refuge in Oulx.
Among the many voluntary associations supporting the Refuge Solidaire is Tous Migrants, an organization which works to protect the rights of migrants and help them with legal issues. Whenever there is an emergency, there will be members of Tous Migrants on hand, distributing food, blankets and sympathy. Lobbying the government and local institutions to do more to protect human rights, the association also offers support to people who help migrants and find themselves in trouble with the law – most commonly, those who go out at night in the mountains in search of migrants to guide to safety.
Les maraudeurs - volunteers in the Alps
While the Italian side has the Red Cross and Alpine rescue teams on the look-out for stranded migrants, the French side has volunteers called maraudeurs. They patrol the area near the border – a practice known as la maraude – looking for those who have crossed into French territory and leading them safely down to Briançon. During coronavirus lockdowns they were frequently fined for breaking the curfew and some have even been accused of illegally helping migrants to cross the border.
When Will from the south of France moved to the southern Alps, he immediately joined the maraude collective. New volunteers always go out with team members to become familiar with the terrain, the trails and, crucially, the border with Italy. Maraudeurs know that they can only help those who are already in French territory. Will goes out once or twice a week but says some members are out as many as five nights per week.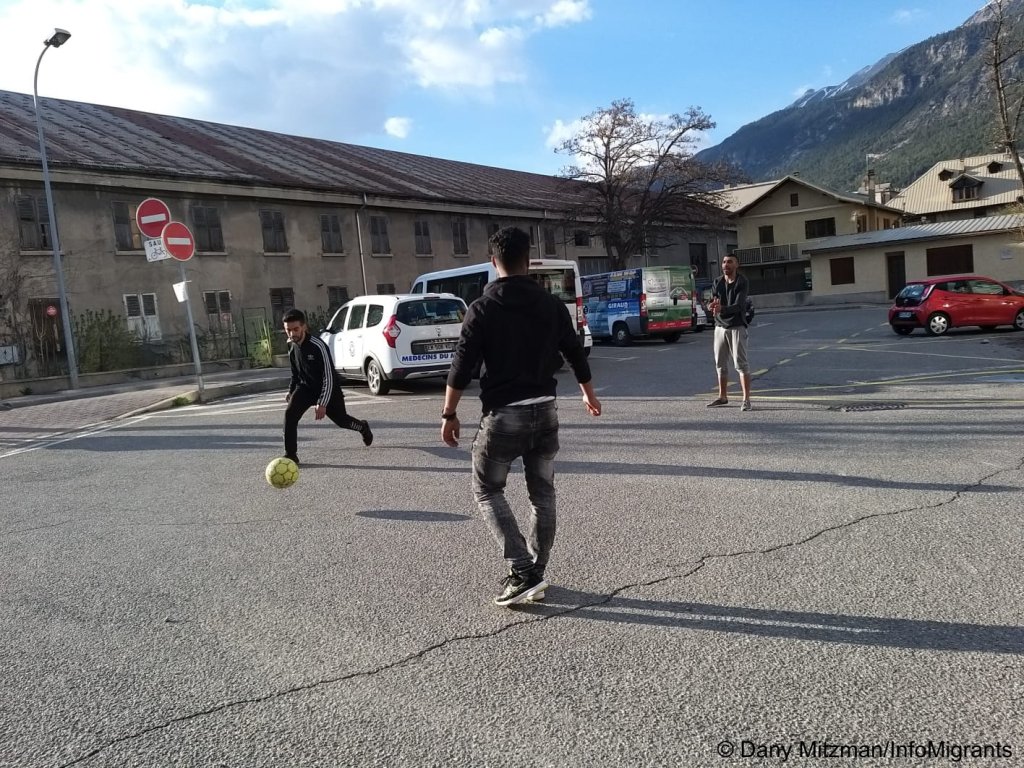 "What worries us a lot especially is the winter period," he says, describing how they go out with snow shoes each time it snows in order to tread the paths and make them safer. "People can sometimes take a lot of risks to avoid police controls and sometimes they get lost, sometimes they get hurt and even sometimes they die, which is very hard to deal with when this happens."
Samir's story
Samir actually made it across the mountain paths without help. He followed an app on his phone called 'Maps Me.' InfoMigrants met him at the refuge in Briançon, having watched him set off over the Alps the previous night from Claviere on the Italian side of the border.
"We were worried about getting arrested so we had to climb high up in the mountains. It was full of snow and really, really cold. We saw the lights of a patrol and we quickly changed our route. There were border police everywhere, but we followed our maps on the telephone and we managed it," he says cheerfully in France, after very little sleep.
Samir set off with a small group and says they walked almost non-stop from 10 p.m. until 7 a.m., stopping just briefly to eat something.
"Even after 10 minutes sitting down, we realized that we couldn't stay longer, it was just too cold. It is really difficult trekking through the forest. It is not a good idea, you can die, we knew that. It is not just one mountain, there are about 10 mountains," he said, before joking that all that walking was good for burning cholesterol.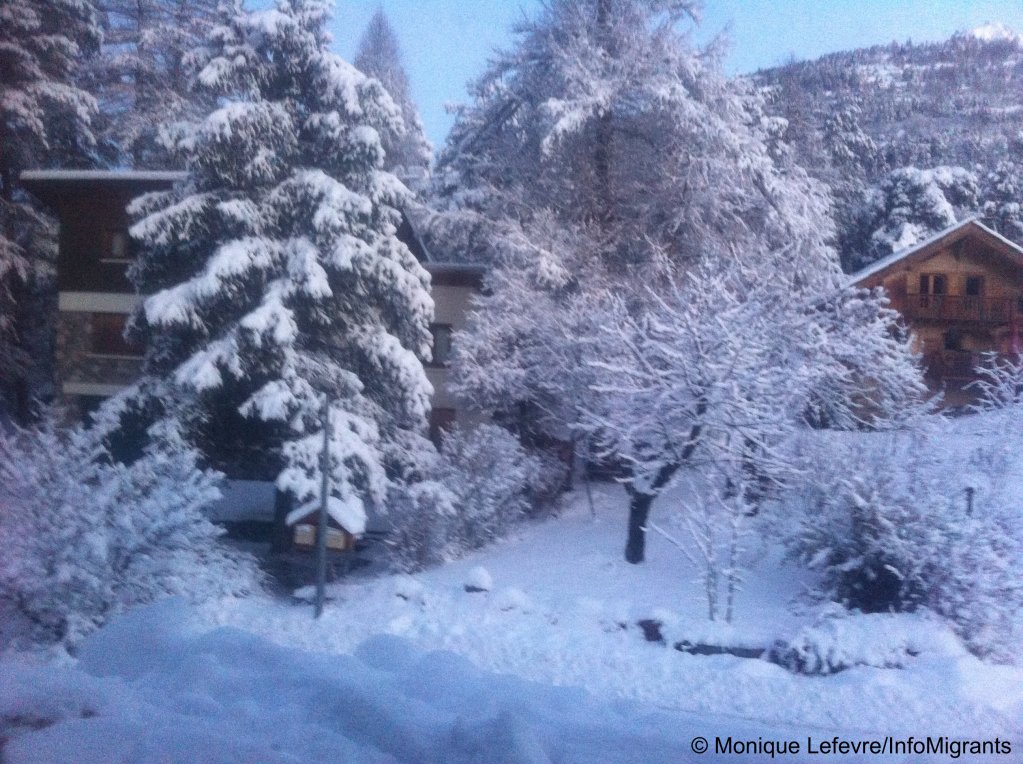 Conditions worsening
While voluntary associations remain dedicated to helping those who reach Briançon, things have now become critical. The worsening situations in Syria, Iran, Pakistan and especially Afghanistan have led to a massive increase in the numbers arriving. And today they are no longer just young men but entire families: pregnant women, young children, babies, the elderly.
Unable to accommodate them at the refuge near the station, the Refuges Solidaires association had found a larger building that could offer dignified shelter to 80 people. Inaugurated in late October, Les Terrasses Solidaires closed the following day, unable to deal with more than 200 arrivals on the first day.
Instead, they chose to occupy the train station in Briançon, in an attempt to force the authorities to take responsibility for the humanitarian emergency. Monique, a volunteer with the Tous Migrants association, was at the station, helping to distribute hot food and blankets to the migrants spending the night there. At the time, she was hopeful that their action might force the prefecture to find a definitive solution. But today she describes their response as "inflexible."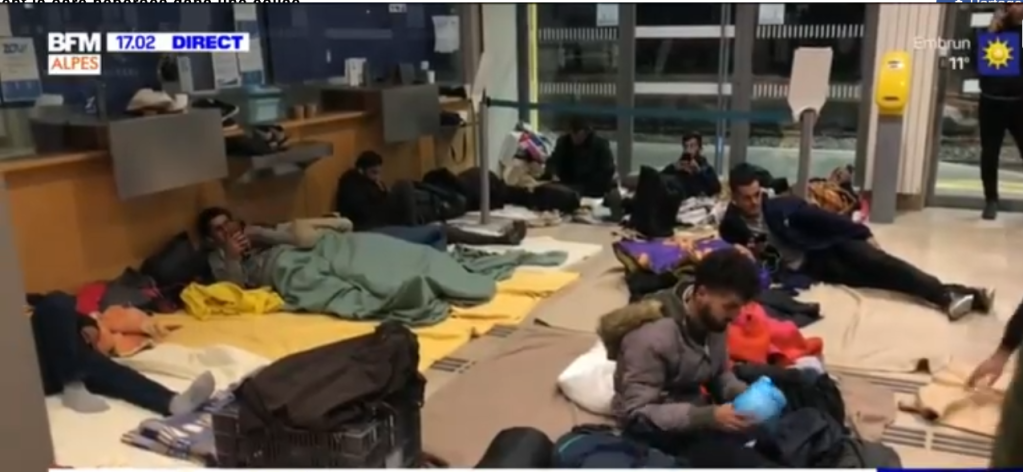 'Inflexible'
After two nights occupying the station, the Church of Saint Catherine opened its doors to the migrants and has continued to provide emergency shelter as the weather has worsened. Médecins Sans Frontières has set up a tent for voluntary associations to use in order to provide daily hot meals for those who continue to arrive. And they do continue to arrive, in spite of reinforced border controls.
Many locals have been offering migrants, even whole families of migrants, a place to sleep in their own homes, and Médecins Sans Frontières has also provided a heated tent offering shelter for 50 people, a vital additional support for the already overwhelmed church and volunteers.
For weeks, Les Terrasses Solidaires remained closed, with the association that runs it unsuccessfully attempting to force the prefecture to take responsibility for the provision of shelter and humanitarian aid. But with heavy snow falls and temperatures well below freezing, the refuge reopened on December 1 but the crisis continues.
Journalist Dany Mitzman recorded interviews and sounds on location in the French Alps at the end of April 2021 for the InfoMigrants' Podcast Tales from the Border. To find out more about the stories in this article, listen to the podcast and join the migrants and the network of volunteers at the border.
🎧 Subscribe to Tales from the Border, and listen to previous episodes here.