Many of the hundreds of migrants crossing the border between Belarus and Poland report having suffered mistreatment and abuse at the hands of authorities. InfoMigrants recorded the stories of two men who traveled from central Africa to seek protection in Germany.
Aldo from Cameroon and Bertrand from Brazzaville had traveled two different routes from their countries before their paths met in the east German town of Eisenhüttenstadt. But elements of their stories are disturbingly similar.
At the migrant center where many asylum seekers who arrive from Poland are transfered, they told InfoMigrants about their journeys from central Africa to Belarus, through Poland, and finally to Germany.
Bertrand, a tall 35-year-old, has been here since the end of September. It took him one month to get to Germany from Belarus, where he landed a month earlier on a flight from Congo Brazzaville.
During that month, he and his sister and 20-year-old niece slept in the forest without a blanket, he explains. "We drank water that we collected on the road, and we ate everything we could find."
At the border, the Polish army subjected the migrants to all kinds of abuse, according to Bertrand: "I was arrested 10 times by the Polish police and turned back. They threatened me with weapons, treated me like an animal and cursed, 'Dirty negro, why did you come here?'."
Bertrand says that "through God's grace" they met a group of migrants from Arab countries who helped them continue on to Germany. "The Arabs we met just in the woods. They had their carriers. I don't know how they got it. But we were transported to the German border by car."
Also read: Returned Iraqi migrants claim they were tortured in Belarus and Poland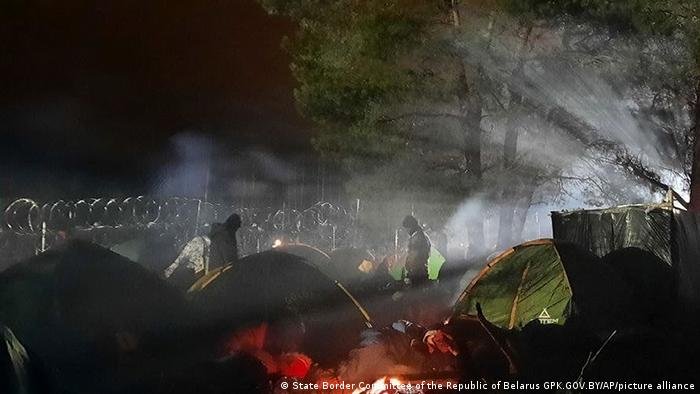 'We walked all night'
Sharing an umbrella with Bertrand, 32-year-old Aldo sits in a wheelchair. He has had a disability since birth, he explains, and usually uses a prosthetic foot. "I never used to use a wheelchair, … but the prosthesis was already quite old and worn out. When I arrived in Eisenhüttenstadt, it really annoyed me. It's given me sores on both legs and I can't wear it."
Aldo's journey began in Cameroon where he paid 2 million [Central African Francs, about €3,000] to go to Belarus. He was told that he would be taken to Germany but instead he was delivered to a house in Belarus where he spent nearly five days before being dumped at the Polish border.
"[A man] told us the border was there and we just had to cross. He said it is right next door. It took us a few minutes to realize that was not the case.
"We walked all night until 8 a.m. We didn't see the police appear on the Belarus side until the last moment, when we were trying to cross."
The Belarus police allowed the group to cross, but when they reached the Polish side police arrested three members of the group, a young couple with a child. "We no longer knew which direction to take. When we saw how the police reacted to them, that discouraged us from going to the police and instead we hid again."
We shouted: 'Asylum!' They said no.
"I was with a Togolese. We walked until the next day and arrived at another village. It was terribly cold in the morning and at night.
"We found a church and we knocked and asked for help. A lady came out and we begged her to give us food or drink or a phone, or a charger to charge our phones, because we no longer knew where we were. She said no and made some signs, and we left. Then the police arrived and arrested us. We shouted 'Asylum!' They said no.
"The Togolese who was with me understood what they were saying. They were insulting us, calling us 'dirty niggers' and saying we were not welcome. Then the Togolese told me that they were going to take us back to the border.
"I was already in enough pain with this prosthesis and I was a bit shocked, I had not expected this.
Also read: Anthony's story: 'I suffered in Africa and I'm coming to suffer here again'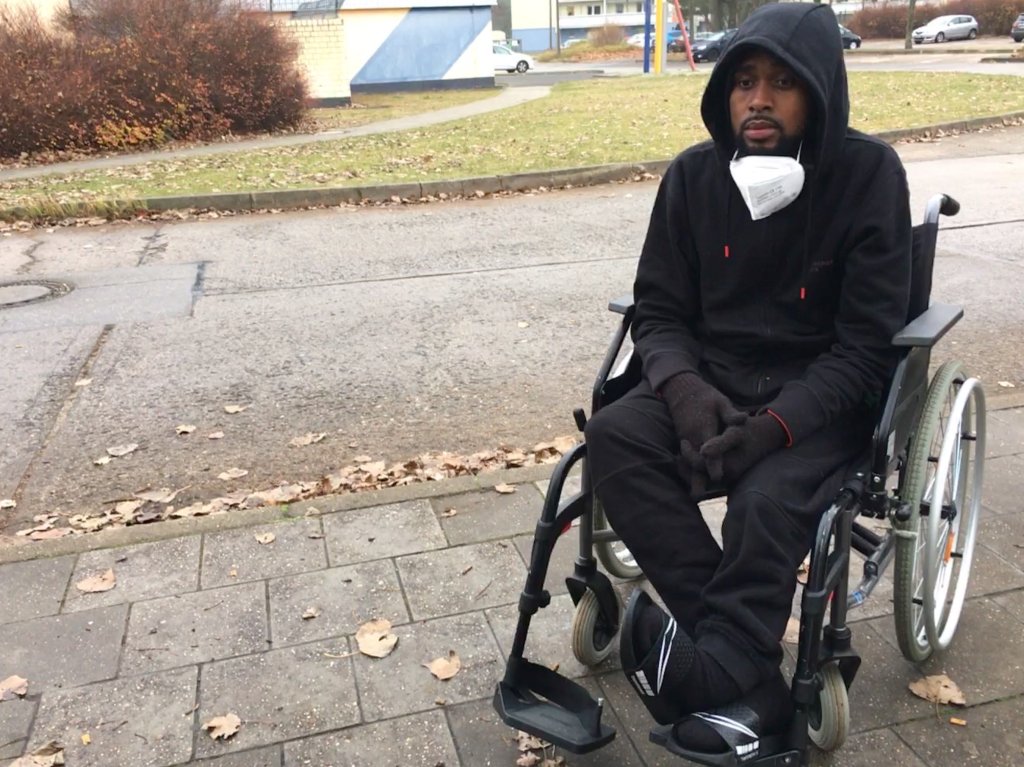 "When we got to the border I didn't want to get out of the car. I shouted 'asylum, asylum!'. They pulled me, they threw me to the ground and they beat me. They said that if we took a step forward they would shoot to scare us."
Once again, Aldo found himself on the Belarus side, where he was arrested and beaten by police and told that he was not welcome. But he says that once they explained that they wanted to return to Poland, the Belarusian authorities changed their tune, giving them food and drink and charging their phones before escorting them to the Polish side at night.
It took Aldo three days to cross Poland, paying someone he met by chance to get as far as Warsaw and hitchhiking the rest of the way. In early September, he reached Frankfurt an der Oder, where he was picked up by German federal police patrolling the border.
When InfoMigrants spoke to Aldo and Bertrand they were waiting for a decision on their application for asylum. Both say their wish is to settle and be integrated in Germany. Aldo wants to take language courses and try to find ways to manage his disability.
Interviews with Aldo and Bertrand were conducted in Arabic and French by Majda Bouazza on November 23, 2021.
Also read: Poland to Germany: 'Just cross the bridge'