Farhad has been stuck in Belarus, at the border with Poland, for the past three weeks. This 34-year-old Iraqi Kurd has already tried three times to cross the border, without success. Housed in a warehouse in Bruzgui with more than a thousand people, he told InfoMigrants that migrants are now being given an ultimatum by the Belarusian authorities: go to Poland or go home.
"I have been in Belarus for about three weeks, I live in a warehouse in Bruzgui. There are more than 1,000 of us here, it's a terrible situation. This week on two occasions, men with their faces hidden came to the center. They were dressed like private detectives.
They took the passports of some people and then gave us all an ultimatum: either we go across to Poland or we go back to our country. But it is about -10 degrees outside now and there are Polish soldiers everywhere, it is very difficult to cross the border.
I don't want to go back to my country because I am afraid I will be sent to prison for helping people to organize demonstrations.
Read more: More migrants flown back to Iraq from Belarus
When people want to try to cross the border, the Belarusians sometimes bring them to a place that is a weak point in the frontier and they cut the fence to let the migrants through. But then they intentionally make a lot of noise to alert the Polish guards, so they come. Of course, they don't do this to help us but just to annoy the Poles. Some Polish soldiers are very nice but others are really stupid. Sometimes they hit people or steal sim cards.
Read more: Tensions remain on Polish-Belarus border, despite decrease in crossings
We live on top of each other
I am waiting for the European Union to make a decision [on the current situation here], because we are in a terrible situation. We live on top of each other. If someone catches Covid, it will be a disaster. Children are already sick and there are at least fifteen pregnant women among us.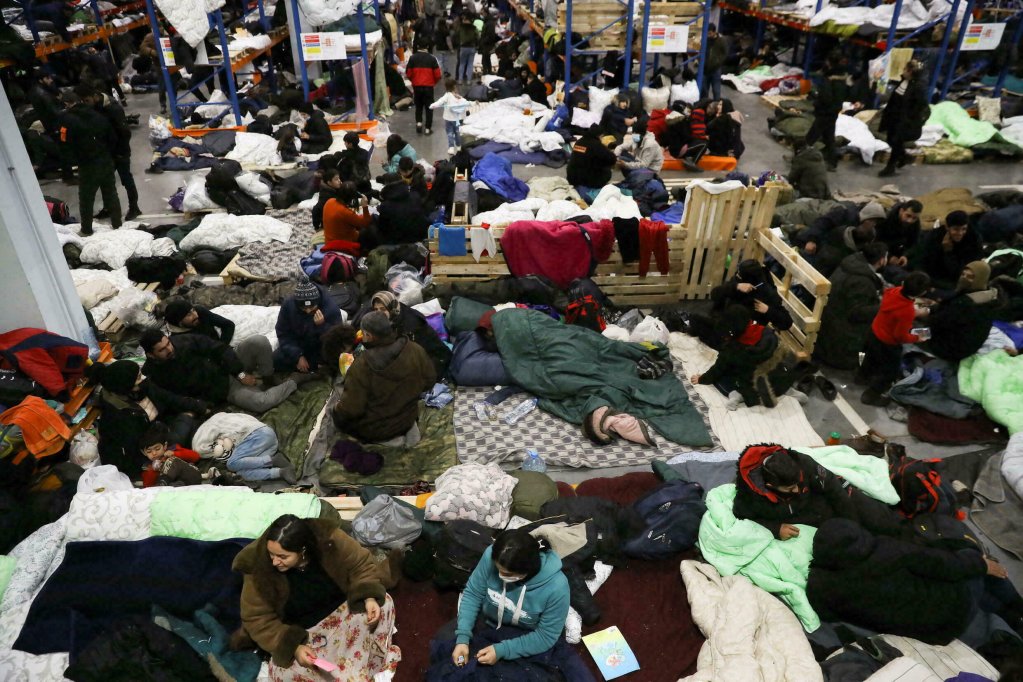 We don't have enough to eat. In the morning, we are given a glass of tea with some cookies. At 2 p.m., we have a small plate of food with cookies again and sometimes a bottle of water. And that's all we have to get us through the long nights. It's difficult to take a shower too. At the moment it is very cold. Where I sleep, if I have a bottle of water next to me during the night, by the next morning the water is frozen.
Read more: Poland says another migrant found dead near Belarus border
Four years in France
I want to go to Europe. I don't care if I go to Germany, France or the UK. The only thing I don't want is to go back to my country. I am able to speak French well because I lived in France for four years, between 2008 and 2012.
I had done a vocational course in hairdressing and I wanted to continue with the next level, but I couldn't because I couldn't get a work permit. So I decided to go to the UK. I went to Dunkerque [in the north of France] and, from there, there a smuggler took me to Belgium with other people. In Belgium, we got on a truck that went to England. But I was sent back to France. At that time, I decided to return to Kurdistan. When I came back, I got married and had a little boy.
I came to Belarus this time to change not only my own life, but also the lives of my wife and my son. I had to leave Kurdistan for political reasons. At the moment, there are demonstrations there and I am trying to help the demonstrators to organize them. But the government of Kurdistan is threatening us. I left when a friend told me that the authorities were looking for me.
I arrived here too late. Now the border is very well guarded and the temperatures are very low. But I don't think I fell into a trap here. Maybe some others did, but not me. I knew the situation. I knew that there was a problem between Belarus and Poland, but when there is a situation like this, you can sometimes take advantage of it to get across. I was lucky enough to get out of Iraq, but I have not been lucky enough to get into Europe."