Members of the Polish emergency services and the military helped rescue four migrants who got lost in swampy ground on Tuesday on the Polish side of the border with Belarus.
Four migrants, three men and one woman, were pulled out of a bog in the forest not far from the Polish-Belarus border, tweeted Polish emergency services on Wednesday, December 15.
The migrants, who are reported to be from Syria and Iraq, reportedly sent a text asking for help on Tuesday to an NGO, the Ocalenie aid group.
The text, sent in Arabic, read: "We are in danger. Please do everything to get to us. If you have to, call the police."
Ocalenie said the group made it clear that they wished to apply for asylum in Poland.
The terrain where the migrants were found is "hard to access", said the border guards. They found the group with the aid of an army drone, dpa reported. They had been in the area since Monday, which is near the village of Siemianowka. The village is on the banks of a large lake.
'A fight for life or death'
An army statement confirmed that the rescue was "a fight for life and death," because "of the low temperatures and the hypothermia of those involved." The two Syrian migrants were taken to hospital.
The news agency Reuters published pictures from the rescue, showing sodden ground and the migrants wrapped in recovery blankets and placed on stretchers. "They were in a place where it was hard to get to them because it was a swampy area," Anna Michalska, spokesperson for the Polish Border Guard told Reuters.
Michalska added that the fire brigade had assisted with special equipment to help "pull the migrants onto dry land."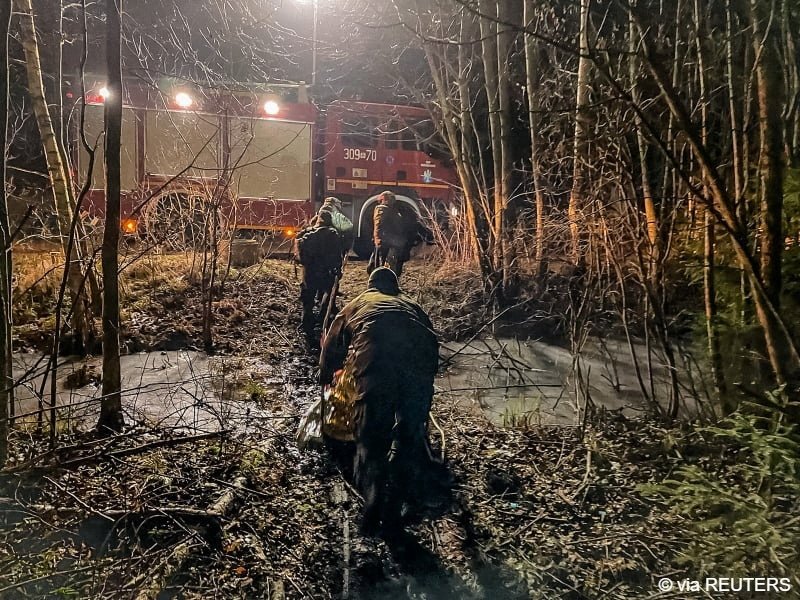 Attempted crossings continue
According to dpa, Polish border guards reported more attempted crossings, of a group of 40 migrants on Wednesday night. The guards said some of the migrants "threw stones at the officers."
On December 13, Polish Prime Minister Mateusz Morawiecki, at the end of a meeting between French President Emmanuel Macron and the leaders of the Visegrad states (Hungary, Czech Republic, Poland and Slovakia) tweeted that they would continue to defend the eastern border of the EU and NATO. He said it was vital that Poland is "able to defend our external borders. We must prevent people from being smuggled and used as human shields."
Poland has been criticized over its declaration of a state of emergency and restrictions of press and NGOs in the border zone since late summer. It has also been accused of denying migrants the right to seek asylum in Poland, instead pushing them back over the border to Belarus. Poland, however, says its offers of humanitarian aid have been rejected and that the migrants are Belarus' responsibility.
With Reuters and dpa