Nearly 350 migrants were rescued by the crew of the humanitarian rescue ship Geo Barents in several operations between Wednesday and early Thursday morning. The total number of migrants on the ship is now more than 450.
The crew of the Geo Barents rescued 237 people from three boats on Wednesday (December 22), Doctors Without Borders (MSF) -- the organization operating the ship -- said on Twitter. The rescues took place in the span of several hours.
On Thursday, the group tweeted that it had saved another 103 people in two night operations -- 27 people including "several children" on Wednesday night, and 76 people ("adults and children") at around 4 am on Thursday morning.
The ship is now carrying 458 migrants and is waiting to be assigned a port for disembarkation.
More than 100 migrants rescued earlier
The Geo Barents started its latest mission in the Central Mediterranean last Wednesday (December 15). The first rescue operation took place two days later on Friday: A group of 49 people, including women and children, was saved from a rubber boat by the Geo Barents crew, after the distress hotline Alarm Phone had sent out an alert.
A few days later, on Tuesday (December 21), MSF reported it had taken aboard another 69 people from a rubber boat in distress. "They are exhausted and many of them have violence-related leg injuries which our medical team is treating," the group said at the time.
In a video message posted on Twitter after Wednesday's rescue of 237 people, a crew member explains that none of the migrants were wearing life jackets when they were found on overcrowded boats. All migrants have reportedly "fled Libya in the past days," and some were receiving medical treatment. 
More ships waiting at sea
Two more ships carrying migrants are currently at sea in the Mediterranean. They have been waiting for a permission to disembark their rescued passengers for days.
The Ocean Viking is carrying 114 migrants. They were rescued on December 16 after a "night-long search" in international waters off Libya, SOS Mediterranee -- which operates the vessel -- said on Twitter. The group reportedly includes a baby that was 11 days old at the time of rescue.
The Sea-Eye-4 rescued 223 migrants nearly one week ago. After several medical evacuations by Italian authorities, there are reportedly 216 migrants left on the ship run by the Sea-Eye charity.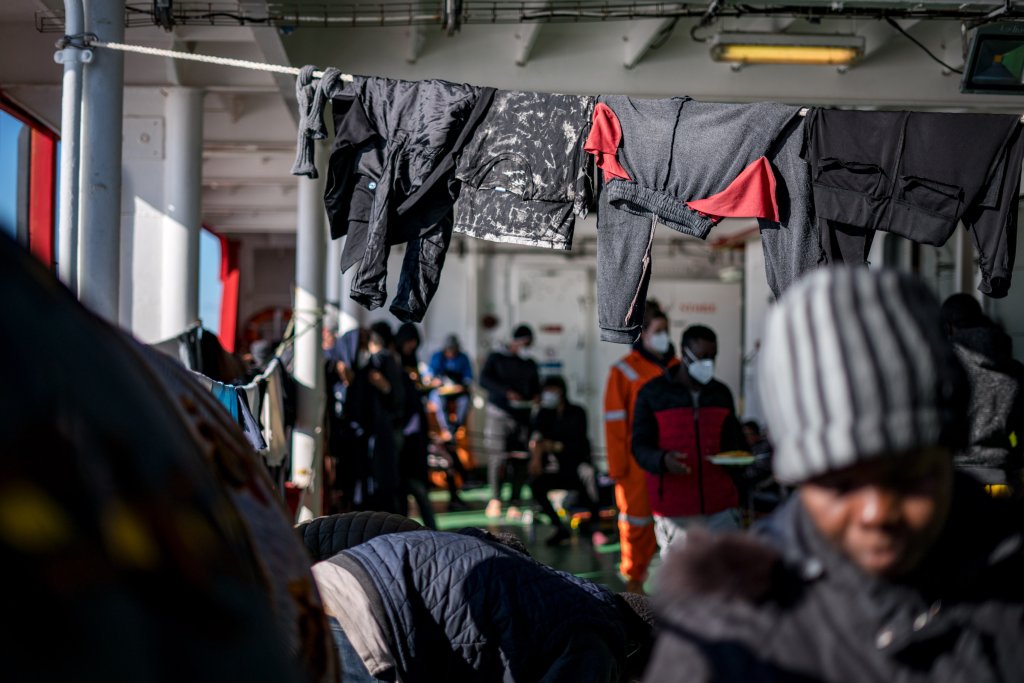 Most migrants rescued in the Central Mediterranean set off from the coasts of Libya or Tunisia to make the dangerous sea journey to the European Union, often traveling on unseaworthy, overcrowded rubber boats. According to the UN migration agency IOM, 1,508 migrants have died or gone missing on the Central Mediterranean route so far this year, compared to 999 in 2020.