In 2013, thousands of migrants descended on the island of Lampedusa. In response, Italy hastily established a new policy for receiving migrants. From humanitarian protection to a controversial agreement with Libya, has this strategy been a success? InfoMigrants takes a look back at nearly a decade of Italy's migration policy.
This year, nearly 66,000 migrants arrived in Italy. They set off from Libya, Tunisia, Greece and Turkey, and Italy was an obligatory part of their route to exile. This is the same situation that has prevailed for a multitude of migrants since 2013 when tens of thousands of people landed on the island of Lampedusa.
At this time, a system to receive migrants was quickly established to cope with the demand. Eight years later, the results are mixed. A model of reception that is "emancipatory, integrated and generalized has still not become the reference point for a national asylum policy," laments the Fondazione Migrantes, an Italian Catholic NGO.
In its latest report on asylum in Italy, the association denounces an "institutionalization of the emergency", which has created "major contradictions" in the reception system.
"Despite the fact that there are still numerous arrivals, nothing has really changed," confirms Aldo Liga, a researcher at ISPI, a research institute based in Milan. "In 2013, the country was unprepared and coped as best it could. But since then, no government has had a real vision on how to integrate migrants, or a solid political project dedicated to them."
Read more: Record 35,000 migrant arrivals to Lampedusa in 2021
The most telling example of this "trial and error" policy is the quarantine ordered by authorities for migrants in boats since the beginning of the health crisis. "We could isolate these people in specific premises. Instead, we prefer to keep these people, who for the most part have already suffered atrocities in Libya, in lockdown at sea, in very risky situations. These conditions only increase their vulnerability. It can even drive some to suicide," warns Liga.
Sending migrants back to Libya instead of accepting them
Instead of an adequate reception system, the country has preferred to opt for the outsourcing of borders. In 2017, Rome signed a highly controversial agreement with Libya, with the support of the European Union (EU). The objective of this contract is clear. Italy agrees to financially assist and train the Libyan coast guard, which in exchange guarantees to block the departure of migrants. At the end of October 2019, the agreement was extended for another three years.
"No one can deny that it has allowed us to go from 170,000 landings [of migrants in 2016], to 2,200, in just two years [in reality, 11,439 people landed in Italy in 2019, 50.72% less than in 2018 ed.]," claimed Italian Minister of Foreign Affairs Luigi di Maio, speaking in parliament, in 2019.
"The Italian government says it wants to improve the situation, but in reality, they are perpetuating policies of return and detention," retorted Marco Bertotto, member of Doctors Without Borders (MSF) in a statement. Especially since this forced return sends migrants back to Libyan jails, a real "hell on earth".
Read more: Italy's top court: Migrants can resist Libya repatriation
For Liga, this policy has "certainly limited the arrivals on Italian soil. But at what cost? It has also increased the number of deaths in the Mediterranean Sea and generated much suffering." This year, 31,500 migrants were intercepted at sea by the Libyan coast guard and taken back to the country's detention centers. And at least 1,500 people have died in the Mediterranean, compared to 999 last year.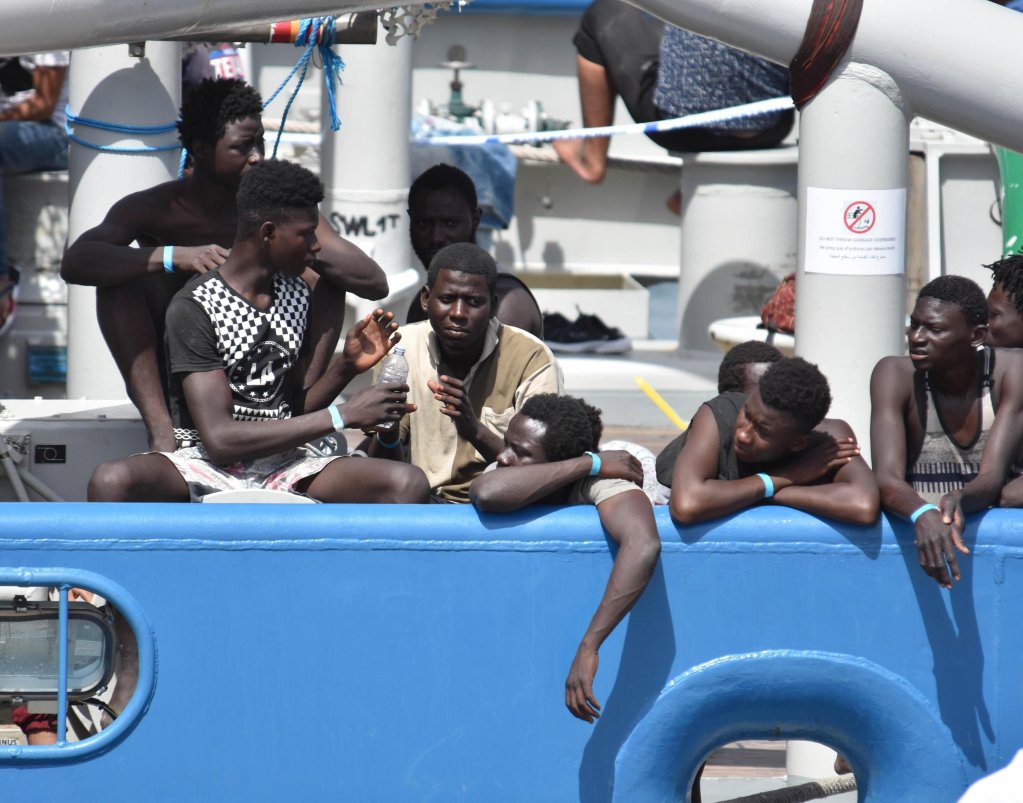 Efforts to improve asylum process
The appointment of Luciana Lamorgese as Minister of the Interior, following far-right politician Matteo Salvini, has changed the picture somewhat. "Her predecessor had very successfully dismantled the reception system that had just been built. The new minister thankfully does not have the same approach at all," says Liga.
Upon her arrival in the government of Giuseppe Conte in September 2019, Lamorgese is working to deconstruct the policy carried out for a year and a half by Salvini. She puts an end to the strategy of "closed ports" in the Mediterranean Sea and reintroduces humanitarian protection for the most vulnerable migrants.
Lamorgese also launched the decree-law 130/20, "an important innovation in the Italian system of foreigners' rights," says Fondazione Migrantes. It consists of a residence permit for special protection that grants fundamental rights to migrants who request it. "It creates a form of lasting protection for migrants who are in or arrive in our country, even if they do so by unofficial methods, and who do not have all the conditions to obtain the recognition of international protection," explains the report.
This is a useful regularization tool for migrants, but in practice, it is not granted very often. In 2021, between January 1 and August 24, 3,241 permits were issued, or just 11% of all applications. Other requests for protection are also far from being granted. According to the report, "about 40 percent of applicants - including Pakistani, Nigerian, Egyptian, Somali and Malian exiles -- were granted protection in 2021". This is still much more than under Salvini: in 2019, the rejection rate for all protections was 81%, according to the Ministry of the Interior.
Read more: What does Italy's asylum procedure look like?
At the end of 2020, 128,000 refugees in the broadest sense -- beneficiaries of a protection status -- were living in Italy. This means that there are slightly more than two refugees per 1,000 inhabitants in the country. This is significantly less than in France (nearly seven per 1,000 inhabitants), Germany (14 per 1,000), or Sweden (25 per 1,000).
Security approach still favored
"Luciana Lamorgese does not have much room for maneuver, as she remains under pressure from the Draghi government. Despite a change in tone, the security approach is still favored in the treatment of migrants," says Liga. "We've just taken the repression down a notch. For example, there is no longer any penal detention of humanitarian ships, but they are still subject to very regular administrative arrests."
As for humanitarian corridors, they remain "rare". With one exception: after the fall of Kabul, on August 15, 2021, Italy rescued 4,890 Afghan citizens, via the air bridge established between the two states. This is proof that the country has "sufficient capacity and resources" to do much more than it is doing now, says the Fondazione Migrantes.
Read more: Italy: Support for migrant women who survived violence
For Liga, despite the regular arrival of migrants on its soil, "Italy remains a country of transit for a large part of the arrivals. This changing policy destabilizes the migrants, who must constantly adapt. It is logical, therefore, that most of them do not stay."