Riots break out in several migrant camps in Cyprus and police fired warning shots at a group of migrants in the western resort town of Paphos on Tuesday.
On Tuesday evening (January 4), riot police on the island of Cyprus fired warning shots at a group of around 200 migrants in the resort town of Paphos, in order to force them to disperse, news agency dpa reported.
According to the police, the incident occurred almost at the same time as riots broke out between residents at reception camps in the capital city of Nicosia. In both cases, stones were thrown at the police.
Several people have been taken into police custody, the police spokesman, Christos Andreou, told the state broadcaster RIK on Wednesday morning. The causes of the unrest are unclear, it was said.
Formation of migrant 'ghettos'
Cypriot media reported that residents of the Chloraka district about five kilometers from Paphos have complained of the formation of a "ghetto" where hundreds of migrants live. The police have reportedly lost control over the neighborhood.
However, the police have been applying an emergency law, which went into effect in December 2020, to prevent asylum seekers from residing within specific zones. Local human rights groups have criticized the law, saying it promoted racial discrimination and segregation.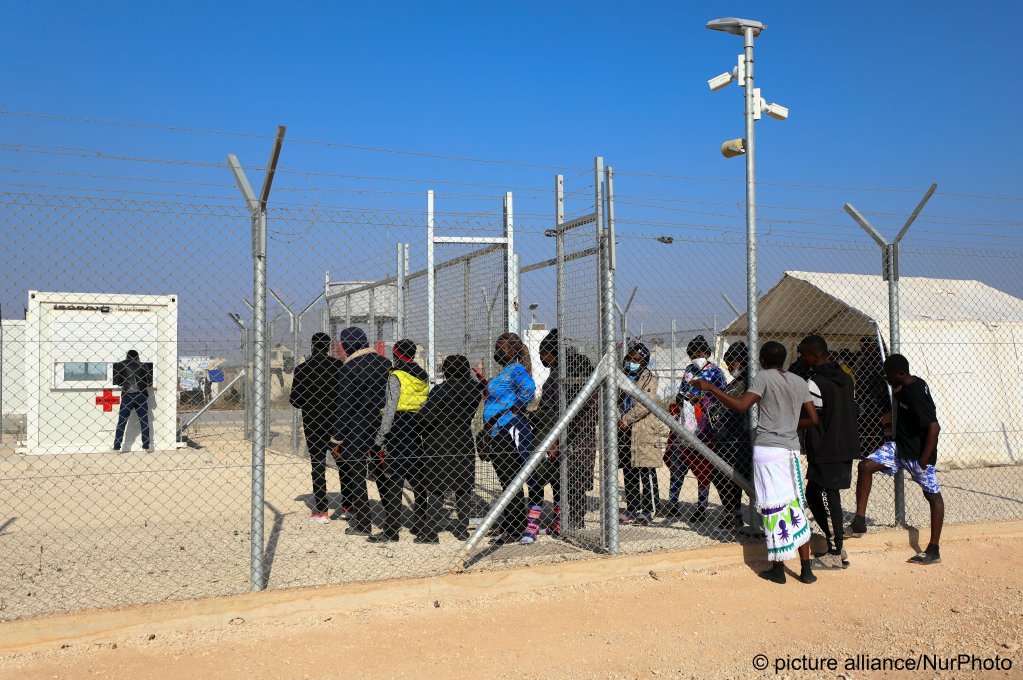 Dire conditions at camps in Cyprus
The conditions in several camps in Cyprus holding migrants and refugees have raised serious concerns. The Pournara Emergency Reception Center, 20 kilometers west of Nicosia, has long been overcrowded, holding over double its capacity with hundreds of migrants accommodated in tents outside the camps.
The dire conditions have led to ongoing unrest at the camp. In January 2021, 20 people were injured when violence broke out between Syrian and African communities at the facility. In early December, clashes at the center involving some 300 people resulted in seven people being injured.
Last month, Cypriot health authorities moved hundreds of migrants to another location after 80 people tested positive for COVID-19 at the Pournara center.
Cyprus receives a high proportion of migrants
Cyprus has the highest rate of asylum applications in the European Union in proportion to the size of the island's population according to the EU statistics in 2020. According to the interior minister, Nikos Nouris, 4,000 migrants arrived on the island in October and November. The government has repeatedly asked other EU member states to accept migrants.
In December, Pope Francis had urged other EU states to share responsibility for migrants crossing the Mediterranean. Following his trip to Cyprus last year, he arranged for a total of 50 migrants to be resettled in Italy.