Fashion might be the furthest thing on the minds of people escaping war, persecution and hardship. However, an initiative in Bosnia-Herzegovina makes sure that creative ideas by migrants get to have their own moment in the limelight.
Flowing chiffon, flattering linen and shimmering silk help migrants and refugees stuck in Bosnia-Herzegovina to not only find an outlet to express themselves but also to show off their creativity and cultural influences to audiences from around the world.
The No Nation Fashion (NNF) initiative by the International Organization for Migration (IOM) gives migrants an opportunity to trade their stories of hardship for the glamor of the fashion world, encouraging them to design clothes that tell their stories.
"Initially, they were supposed to make reusable face masks for the pandemic, but they soon became fashion studios. Local artists, fashion designers and textile companies joined in quickly, so the creativity just exploded," said Laura Lungarotti, the head of the IOM in Bosnia, at a fashion show event in Sarajevo on December 16.
"This type of cooperation can benefit both migrants and the host society," she added, stressing that the initiative is as much about creativity as it is about promoting integration.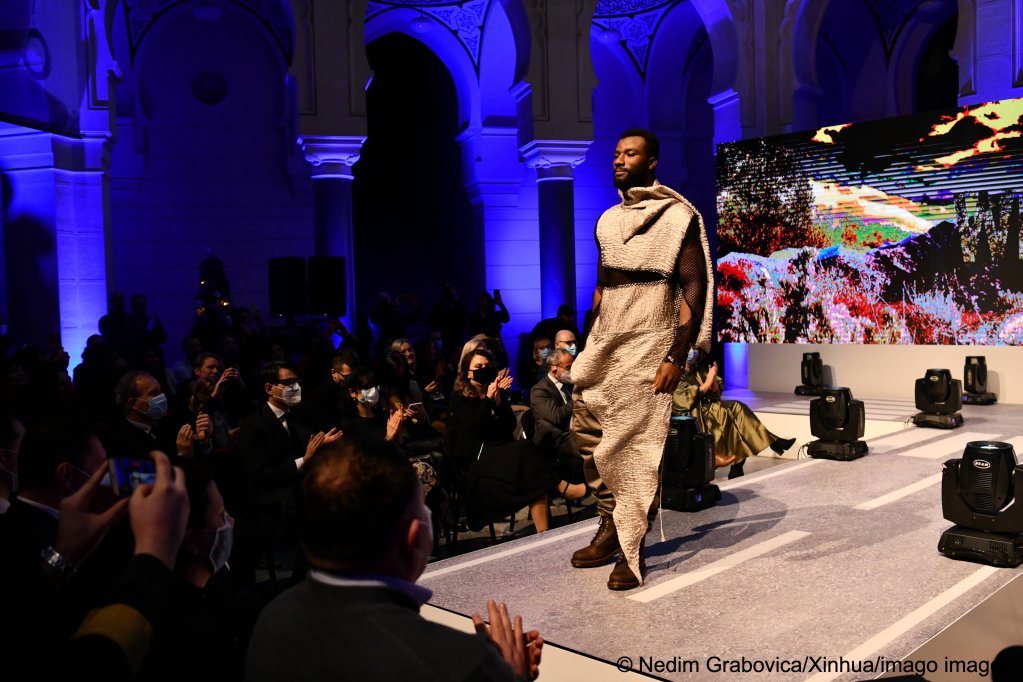 Read more: Paris: Refugee tailors reconnect with their craft
Fashion designers — and models, too
And a proper fashion line also needs its own fashion show to shine: to mark International Migrants Day on December 18, migrants involved in the project walked down a catwalk at Sarajevo's City Hall on December 16, showing off the creations designed as part of the No Nation Fashion (NNF) initiative.
The event, which also celebrated 70 years since the establishment of the IOM, had representatives from the IOM and the EU in attendance, admiring the refugees and migrants on the runway boasting their best model moves and looks.
Speaking to the audience, Ingrid Macdonald, the UN coordinator in Bosnia-Herzegovina, said that this "fashion show demonstrates that migrants are not only people in need of aid but individuals that can bring new life, new ideas and help build something beautiful."
The fashion show was titled "The Story About Us," as it drew both on stories circulated about migrants but also intended to share true narratives of migrants' lives.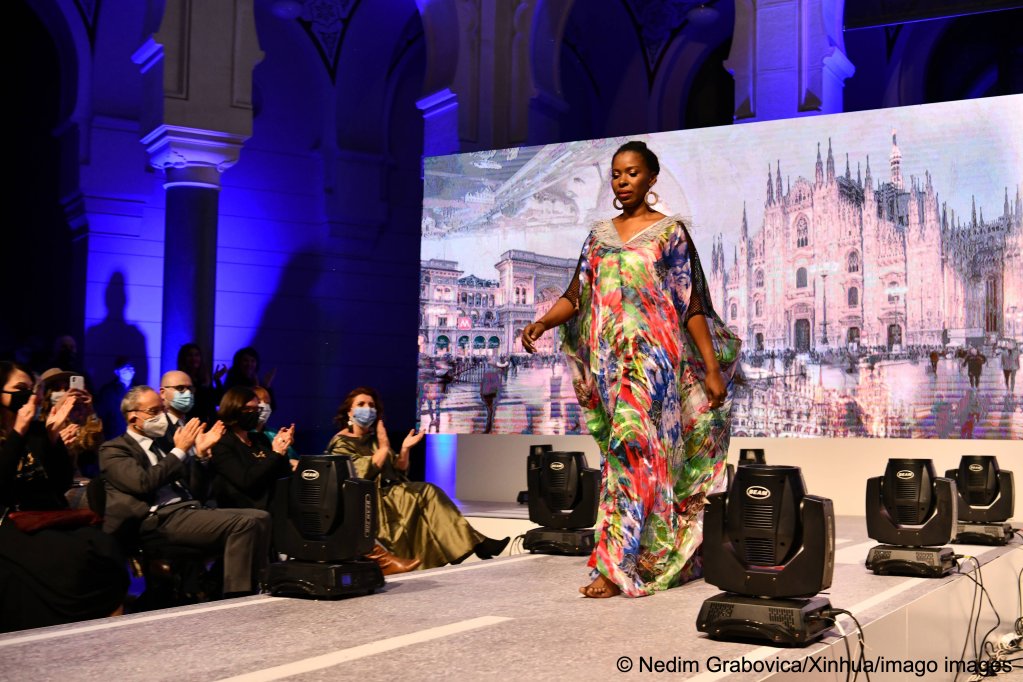 Read more: Fashion training program for refugees kicks off
Stitching a better world together
Azra Ibrahimovic, a reception center manager at an IOM facility in Bosnia, told France24 that focusing on a creative outlet like fashion is highly beneficial for the migrants' and refugees' mental health as well: 
"It is a kind of occupational therapy because migrants often tell us that when they come here, they simply forget for a moment everything they went through, their current situation. They give themselves up to imagination, and they travel to another, a better world."
Laura Lungarotti meanwhile wants to work on making that better world become a reality for people fleeing war, poverty and persecution: "Migration is a phenomenon, not a problem. We hope such an event will change the narrative a bit, mostly the negative narrative about migration," she said at the reception after the fashion show. 
"The plan is to expand the NNF project and establish fashion corners in all temporary reception centres, explore opportunities for additional education through partnerships with technical schools and universities, build partnerships with other designers, companies and organisations, and increase involvement of local communities," Lungarotti added, elaborating on expansion plans for the initiative.
Read more: Tailoring apprenticeship empowers migrant women in Germany
Fashion to the rescue?
Bosnia lies right at the heart of the so-called Balkan route, which is used by many migrants trying to reach the European Union. 
However, the country's border with Croatia, an EU member state, is heavily fortified, with migrants reportedly being violently pushed back into Bosnia if they manage to cross over into Croatia using irregular means of crossing. Croatian authorities largely deny being involved in the illegal practice.
At least 4,000 migrants are currently believed to be in Bosnia, with many of them sleeping rough and away from migrant reception facilities, as they keep attempting to sneak into the European Union on a frequent basis. Their living conditions are often squalid, with no official place for them to turn to for help.
For many of them, the only fashion item that matters daily might just be decent clothing to keep them warm during the cold winter temperatures that can often dip below freezing.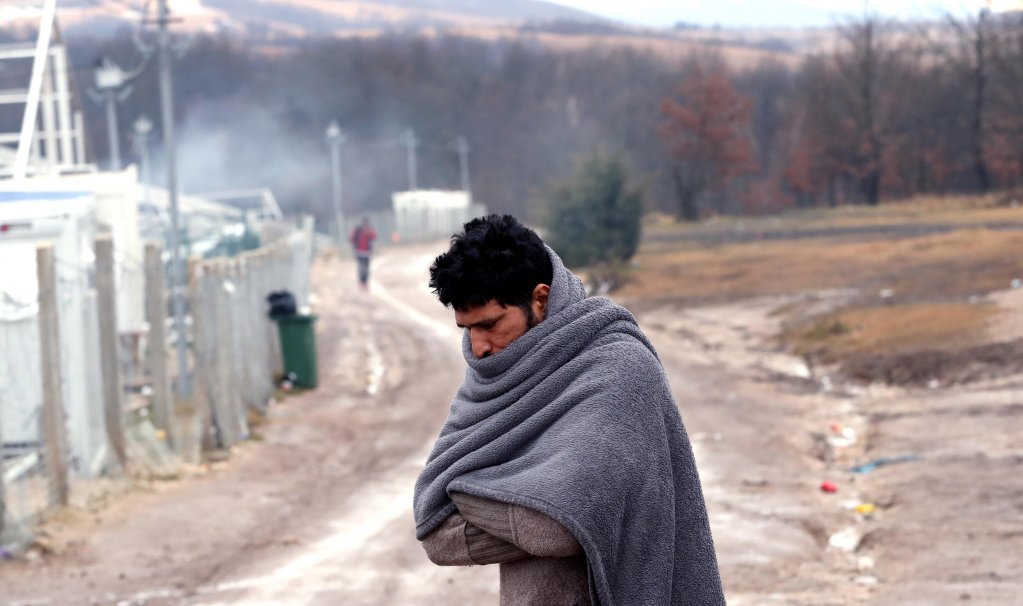 Read more: Berlin duo wants to rewrite the story of migrant rubber boats
with France24, IOM