In its offices in northern Paris, the French Office of Immigration and Integration (Ofii) is offering COVID-19 vaccinations to everyone who comes to file their asylum applications. For this population on the move, it is also an opportunity to take stock of their health in general.
"Here, we vaccinate." In the lobby of Ofii, a stone's throw from the counters where asylum applications are filed, posters announce that vaccination against Covid-19 is possible there without an appointment "for asylum seekers from the age of 12."
The procedure takes place a few meters away. Behind gray screens, the medical team has set up a discrete vaccination area to protect people's privacy. "When people arrive, they are asked to fill in a questionnaire in their own language, their temperature is taken, they are questioned and vaccinated. Then we keep them for 15 minutes for observation and explain to them how it will work for the next dose, if they need it," explains Françoise Audat, one of the doctors participating in the vaccinations.
Read more: COVID-19: The long road to vaccination for undocumented migrants
Each person vaccinated then leaves with a Doliprane tablet "to take in the evening," a vaccination certificate and a health pass valid in the European Union (EU). These documents will allow them to travel by train in the country but also to receive their next doses of vaccine.
"If I don't protect myself, I might die"
This will be the case for Imran Malakhail. This young Afghan is due to leave next Tuesday for Rennes, in western France. After receiving a first dose of vaccine at the Ofii on Wednesday, January 5, he will have to get his second dose in Brittany in a few weeks time.
Having left Afghanistan four months ago "to flee the Taliban", the 27-year-old says he is afraid of falling ill with COVID-19, especially since he is currently living on the streets. "To protect myself, I wash my hands as much as possible and wear a mask. This is very important because if I don't protect myself, I might die," he says.
Before his vaccination, Malakhail was questioned by Alexandre Macone, a medical intern. For the trainee, it's a matter of determining the asylum seeker's medical history, has recently tested positive for COVID, or has any allergies to certain vaccine components. "That's actually the only thing that could really prevent a vaccination," the young doctor says.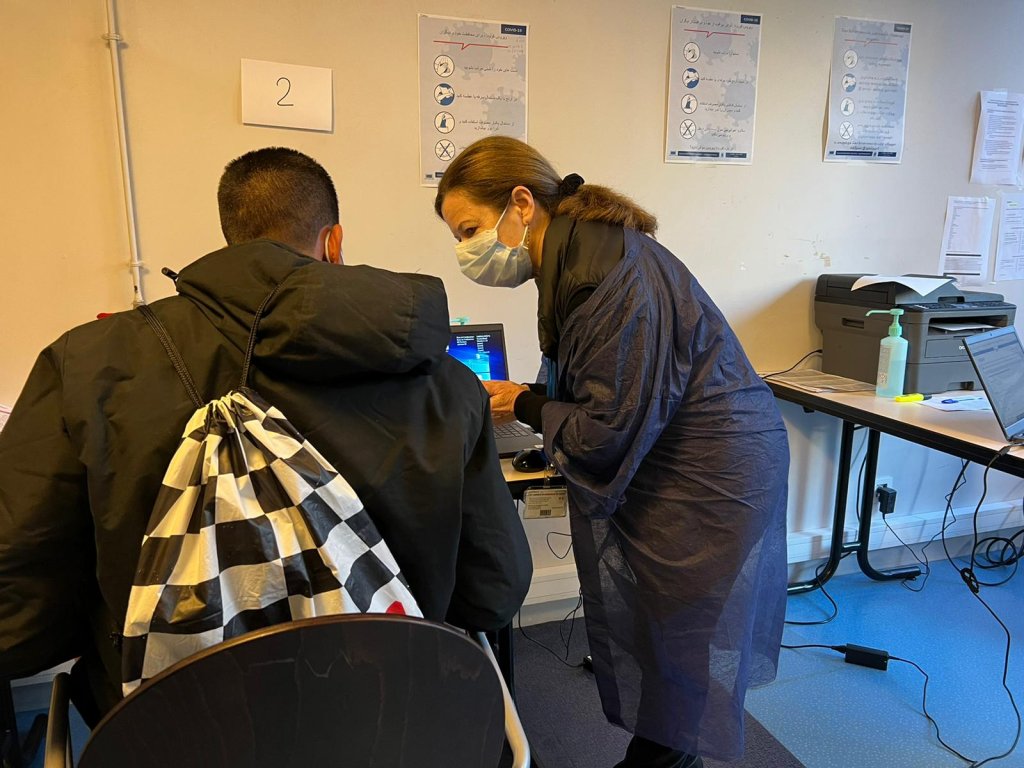 "The asylum seeker population is generally young and healthy," says Karim Laouabdia, coordinator of Ofii's COVID vaccination center. "But when we vaccinate them, we often discover that they have wounds, sometimes infected, or other pathologies. In these cases, they are directed elsewhere. Often to the PASS (Permanence d'accès aux soins de santé) of the Bichat hospital."
Read more: Italy: Migrant vaccinations begin on Lampedusa
"Never miss an opportunity to vaccinate"
As early as October, Ofii began offering asylum seekers the opportunity to be vaccinated when they come to file their asylum applications. Since then, some 600 asylum seekers have been vaccinated at a rate of about 20 people per day. "The idea is to never miss an opportunity to vaccinate people. And here, it is an opportunity", says Laouabdia.
The doses given here are rarely the first. "People have often already been vaccinated in the shelters. Between the associations, the regional health agencies (ARS) and the town halls, people have often already been offered at least one vaccination dose," assures the vaccination center coordinator. The same is true of Ofii staff who tell asylum seekers about the possibility of being vaccinated at the end of their asylum appointment.
"Generally, I bring up this issue when I mention the need to have a valid health pass to travel by train," a staff member explained to InfoMigrants. "But today, for example, everyone I saw had already been vaccinated." Also that day, none of the people this auditor saw refused the vaccine. According to her, however, this happens very regularly: about half of the migrants she meets are reluctant to receive the injection.
Vaccinated abroad
For the medical team, the most complex cases are asylum seekers who have been vaccinated abroad. Some have no documentation of the injections they received. Others have received vaccine certificates that are not recognized in the EU. "To convert them, you have to go to a pharmacy and it costs 37 euros, so it is not possible for the asylum seekers," laments Laouabdia.
Ahmed is one of the asylum seekers who have been vaccinated abroad. Originally from Bangladesh, he transited through Dubai on his way to exile and received his first two doses of Pfizer vaccine there but lost his certificate. In these cases, health care providers either test to see if the person still has antibodies or start the vaccine regimen from scratch.
As early as November 2020, while waiting for the first vaccines, the High Authority for Health had classified among its priority targets the 300,000 to 600,000 undocumented migrants in France, who are often subject to accommodation overcrowding and for the most part deprived of masks and hydroalcoholic gel. Since the end of May 2021, any person in an undocumented situation, whether or not he or she receives State Medical Aid, can be vaccinated. Ofii now offers vaccination in all of its 19 centers in Ile-de-France.