Undocumented Afghan migrants struggle to access healthcare in Turkey, including coronavirus vaccines. With famine looming over Afghanistan, many are forced to take drastic measures to survive.
Since the Taliban takeover, all foreign aid has been scrapped, leaving Afghanistan on the brink of famine. The UN's World Food Programme estimates that currently only 2% of the Afghan population has enough food to eat.
As civilians continue to flee the country, they are facing further obstacles in countries such as Turkey, where undocumented migrants are unable to access basic services.
Lack of healthcare placing undocumented migrants at risk
The coronavirus pandemic further complicates the situation for undocumented migrants Voice of America (VOA) reports.
Individuals who have been officially registered as refugees are able to qualify for healthcare in Turkey. However, the thousands of undocumented migrants in the country are unable to access health services, including vaccines and essential medical treatment.
The United Nations estimates that there are about 300,000 undocumented Afghan migrants living in Turkey, and over 120,000 registered Afghan refugees. However, unofficial estimates suggest there may be far more Afghan migrants in Turkey, who remain under the radar. The country has been hosting 4 million registered refugees, including 3.7 million Syrians, the largest refugee population in the world.
Migrants hit hard by Turkey's economic woes
Turkey is facing significant economic problems, hitting migrants especially hard, both socially and financially. Undocumented migrants are often marginalized and at risk of living in poverty. This has become increasingly evident in Istanbul, Turkey's most populous city.
Without an official status they are unable to work regular jobs and have great difficulty finding official accommodation. The few available jobs now typically go to the country's struggling middle class, while migrants and refugees are facing a backlash from the local population.
Some migrants have resorted to salvaging materials from trash, making less than the equivalent of $10 a day. In the absence of any regulation or access to medical care this raises further concerns in regards to health risks for migrants, who have few other options to earn a living.
No healthcare without documentation
The VOA spoke to several refugees in the central Turkish city of Erzurum, including Muhammed who works for a local dairy company in the city along with his friend Islam and several other Afghan migrants. They live in a small, run-down apartment in the city.
Islam told VOA that they share a room with eight or nine people. Five people have ID cards, and the others don't have any documentation. "If any of those who don't have an ID card catches coronavirus, the hospitals don't treat them. Those who have no ID card cannot have a vaccine. If they catch coronavirus, we all will catch coronavirus."
Many migrants do not register as official refugees, because they fear arrest and deportation, VOA reported.
Violent pushbacks and a reinforced border with Iran
Since the Taliban began to seize power in August 2021, the number of Afghan citizens fleeing to Turkey through Iran has increased significantly. The news agency DPA reported that more than 1,000 Afghans were already arriving daily in the Van province bordering Iran, in late July 2021 -- several weeks before the Taliban takeover.
In response, the Turkish military has increased security at the Turkey-Iran border, to keep out migrants and asylum seekers bound for Europe. Construction on a new 183-mile concrete border wall in Van province, which aims to hinder people crossing the border, started in August 2021.  
Read more: 'Afghanistan is finished' – Afghan refugees trying to reach Turkey defy new border wall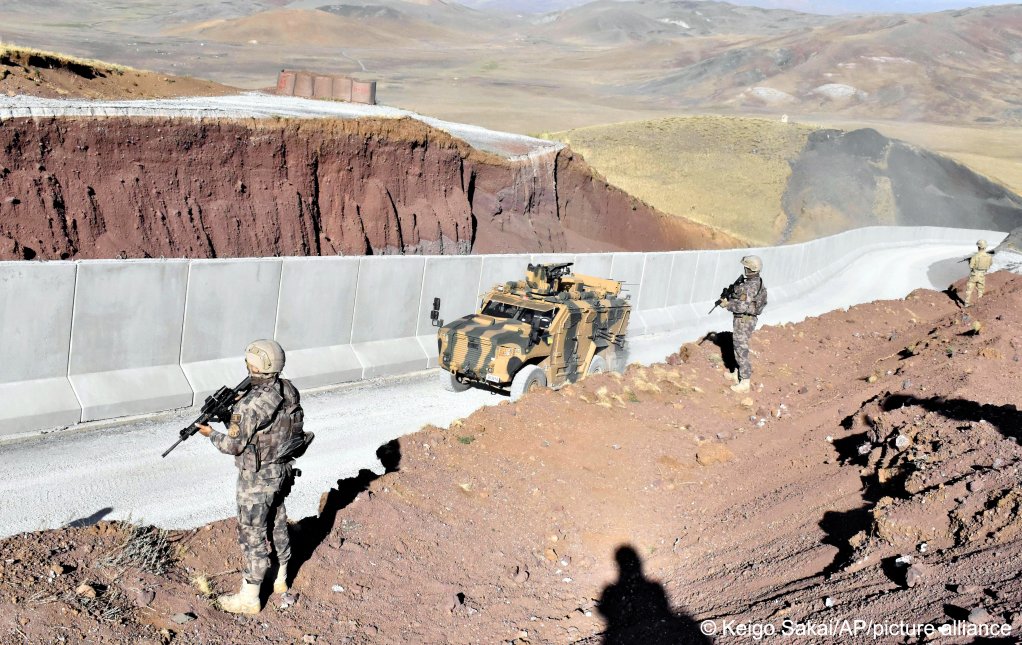 Human Rights Watch has accused the Turkish government of violent pushbacks of migrants at the border. However experts have stated that the increasing numbers of people crossing the border from Iran are raising concerns among European countries, as the situation in Afghanistan becomes more and more desperate.
Turkish President Recep Tayyip Erdogan repeatedly said his country wasn't willing to accept more migrants and refugees. He has also urged European nations to share "the burden" of those fleeing violence in Afghanistan.