Germany's new economy minister, Robert Habeck, says that the country needs migration to fill the job vacancies and maintain productivity in the future. A new economic study shows that in some branches migrant labor already accounts for one in four of employees across industries.
The Green party politician Robert Habeck is not only Germany's new economy minister, but the country's deputy leader and environment minister. On Tuesday, January 11, he unveiled the plans and some of the policies he hopes his new super ministry will be able to achieve.
During the press conference, Habeck underlined that Germany at the moment has "390,000 job vacancies, which is expected to increase up to and even beyond a million. When we don't fill these vacancies, then we will have some really serious productivity problems," Habeck explained, according to the specialist online European news network Euractiv.
Minister Habeck said that not having enough trained personnel was becoming a problem in so many parts of the economy, from tourism, industry, building and services. A variety of different measures are needed, including better training and the offer of a better work-life balance in some industries, where people are more able to combine their work with their family situation. However, "what is definitely needed is a rise in migration, and that is for every branch, from engineers, to craftspeople, to carers and health personnel," said Habeck.
Aging population
Germany, like many other countries in Europe, has an aging population. The German Institute for Economic Reserach has estimated that in 2022, more than 300,000 will leave their jobs and retire, and not enough young people are available to take their places.
The prognosis looks grim, Euroactiv reports. By 2029, the numbers leaving the job market could be as many as 650,000 which means that with the accumulated departures each year with no one to fill their shoes, by 2030, Germany could have a deficit of about 5 million people who are able to work.
One of the ideas presented by the new government will be to offer a faster track to work for those who have been granted asylum status. The government is also thinking about looking at reforming its legal migration routes and offering a points based system to attract the skilled workers the economy needs.
'Without migration, these numbers would be more dramatic'
According to a new study, published on January 12, by the German Economic Institute (IW) based in Cologne, many migrants are already working in the German economy, particularly in the gastronomy and logistics branches.
Notwithstanding its contribution, IW says that Germany is already lacking about 12,000 goods drivers and about 4,200 people to work in gastronomy. "Without migration, these numbers would be even more dramatic," note the study's authors.
In fact, in the logistics branch, one in every four drivers was born abroad, or is still a foreign national. IW says that 132,888 migrants have the full training (two to three years) and are driving heavy goods vehicles currently in Germany. It is a similar story in the gastronomy branch.
About 91,000 migrants work in restaurants and cafes, serving or preparing food, says IW. That means that about one in three workers in this branch were born abroad or are foreign nationals. Despite the frequent lockdowns in this area, the lack of personnel to fill these jobs, according to IW, has been rising since spring 2021.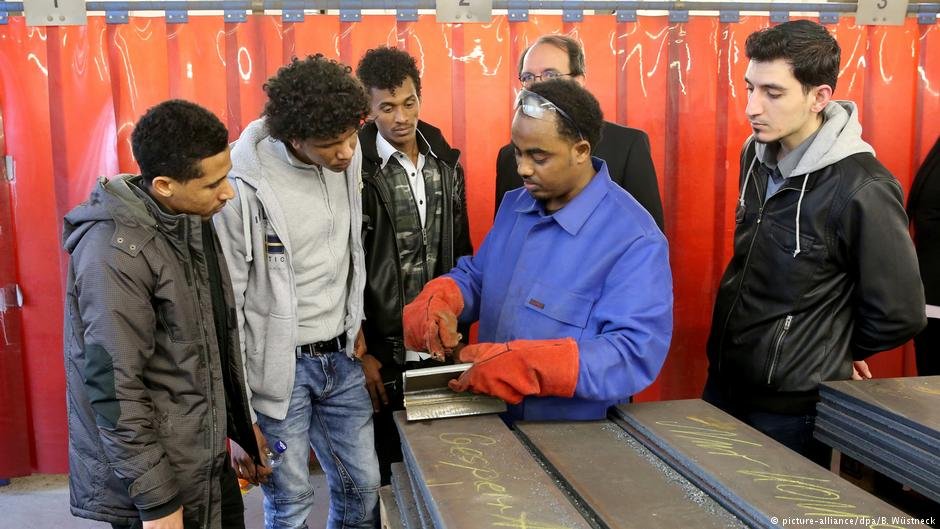 Regional variations for the job market
IW notes that there are regional variations across Germany too. So, in Lower Saxony for instance, about 60% of those who work in the meat industry come from abroad. In the southern state of Baden Württemburg, 34.7% of heavy goods drivers are migrants.
Right across Germany, say the IW authors, the numbers of migrants, asylum seekers and refugees applying for training programs in the most popular sectors is far higher than their German counterparts, which means that in the future, the presence of migrants will be even higher.
In 2020, the study found that the participation of qualified migrants in the job market was highest in Baden Württemberg, standing at 15.1% of all trained employees. This was closely followed by Hessen at 14.6% and Bavaria at 13.5% and Berlin at 13.4%.
For those with a recognized protection status, asylum or refugees, the percentage of those participating in the job market was far lower. However, in Hessen in 2020, the percentage of those with skills in the job market stood at 1% and in Hamburg at 1.3%.
A series of fact sheets from each state in Germany accompanied the study and showed a list of the top ten most popular sectors where migrants, asylum seekers and refugees were choosing to work and train. These included working as electricians, care workers, health-care professionals, plumbers, mechanics, goods drivers and in gastronomy. In some states there were also small percentages of people working in the dental industry, as butchers, sales people, tax experts, train drivers, cleaners and social workers.