The new web series "7 rue du rendez-vous" is aimed at helping foreigners to learn the French language and cultural idioms through entertainment. The first episodes will be available on YouTube at the end of January.
Directed by Emmanuelle Dubergey, the web series "7 rue du rendez-vous" will be available online from the end of January. Through four 10-minute episodes, scriptwriters Flavien Rochette and Catherine Hertault wanted to develop a fun way to help people learn French, using their own experiences. Other episodes are scheduled to be released in the coming months.
"I've always had a lot of trouble with foreign languages. I try to practice my English by watching dramas. I thought it would be nice to do the same thing for those who want to improve their French," explains Hertault speaking with InfoMigrants.
'To better understand the language and cultural codes'
The series features several characters living in the same building who have some difficulty with French. We find Albertine, a 60-year-old woman, who doesn't always understand the people she chats with and asks them to repeat their sentences; or Juan, a Spanish-speaking man who misses certain words; or Justine who welcomes an African student into her home.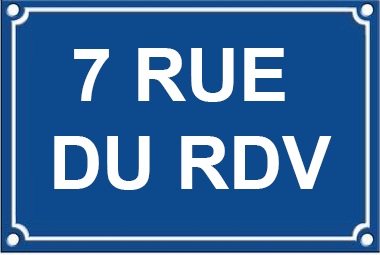 The actors play with language and regularly use synonyms or different expressions to make themselves better understood. "I'm not an informant, nor a tattletale. There are lots of words in the French language to describe a snitch," Justine says to her landlord, who is trying to find out who is "squatting" in her second apartment, located a few floors below.
Several major themes are addressed in the series: homosexuality, relationships between men and women, contraception... "The goal is to make students think and sharpen their discernment. This learning fiction puts forward situations to better understand our cultural codes, and helps viewers to better understand the language," says Catherine Hertault. Phrases from cult films have also been inserted into each episode.
'A good way to talk about intimate subjects'
Similar programs have also been recently produced, such as the videos "Pas en Prefecture", directed by Géraud Pineau. Released on YouTube at the end of December, they are presented in the form of scenes in a setting reminiscent of a prefecture. For one minute, the actors use colloquial expressions and translate them into everyday language. "Avoir le seum" (to have the heebie-jeebies), "être au bout de sa vie" (to be at the end of your tether), "se casser" (to snap), "cacher son jeu" ("to hide your hand") are some of the expressions used in everyday life which can leave the foreigners dubious. "It works a bit like a living dictionary," says Hertault.
Some of the actors are from the Agency of Artists in Exile. Opened in 2017, the organization accompanies a hundred artists who have fled their country.
To carry out her project and reach out to foreigners, Hertault worked with a FLE (French as a foreign language) consultant. She hopes that the web series and the additional programs will be used by associations that give French courses. For her, it is also "a good way to talk about intimate subjects."
With this series, Hertault wanted to put her profession "at the service of the general interest."
"I think that artists should be more involved in certain areas. It's good to denounce situations, but it's no longer enough. It's easy to criticize but it's more complicated to bring solutions and create helpful paths together. So I felt like 'mettre les mains dans le cambouis' (getting my hands dirty)." Another expression, which may soon be featured in "Pas en Prefecture."