According to a Facebook post by a citizen's committee in Italy's southern city of Barletta, an unnamed shoe factory has donated 2,500 shoes for migrants on the Balkan route.
"Often Barletta comes to public attention because of negative news stories and crime," begins a Facebook post from a citizen's committee from Zona 167 in the southern Italian city of Barletta. "But we know the other side of this city, we know that our community is different [from that negative portrayal], and so many people are busy demonstrating this, with acts of solidarity, helping others and those who have been left behind catch up.
"Among these people is the owner of a big shoe factory in Barletta, who wants to remain anonymous, but about whom we wish to tell you a story."
Welcome to Barletta
To understand this post published by local online portal Barlettaviva on January 12, you perhaps need to know a little bit more about Barletta. It is a relatively small port city on Italy's south-eastern coast. In 2019, according to an entry on Wikipedia, it had about 94,000 inhabitants.
It sits about 200 kilometers due east of the more well-known Naples but is situated in another province, namely Apulia (Puglia in Italian). Migrants have been fairly present in Apulia for some years now. They typically work in the tomato fields, for which the region is famous, or in other agricultural roles. The region also provides olives, wine and grain, fruit and vegetables, as well as fish and shellfish from the sea.
A quick look at the local news offers a snapshot of some of the typical stories of small-town southern Italy: A dog 'kidnapped' for the purposes of extortion is safely returned to its owner. There is news of a new tender being issued for dredging the local harbor, and a story about an open day for teenagers and young adults to get their vaccinations.
One city, two faces
But there is another side to this region. The least known of Italy's organized crime groups, La Sacra Corona Unita, is based in Puglia. A new film was set to be shot there, depicting this so-called "Fourth Mafia."
The local citizen's committee 167 protested against this negative image, saying that "Zona 167 is not a ghetto."
"Zona 167 is not Scampia," they added, referring to the suburb of Naples with sprawling social housing, which in Italy has long become synonymous with lawlessness, as it is only held in check by the tight grip of families from the Neapolitan organized crime group, the Camorra.
Zona 167 is situated in Barletta's suburbs. Pictures from the area show large blocks of flats and indeed a certain level of poverty. But a lack of rule of law is not part of the picture, says the committee's president Giuseppe Dibari.
In fact, he says that the committee are trying hard to mobilize citizens for charitable causes. "Just after we launched our appeal for migrants dying on the Balkan route, the shoemaker contacted us to donate 2,500 pairs of shoes," Dibari explains to Barlettaviva.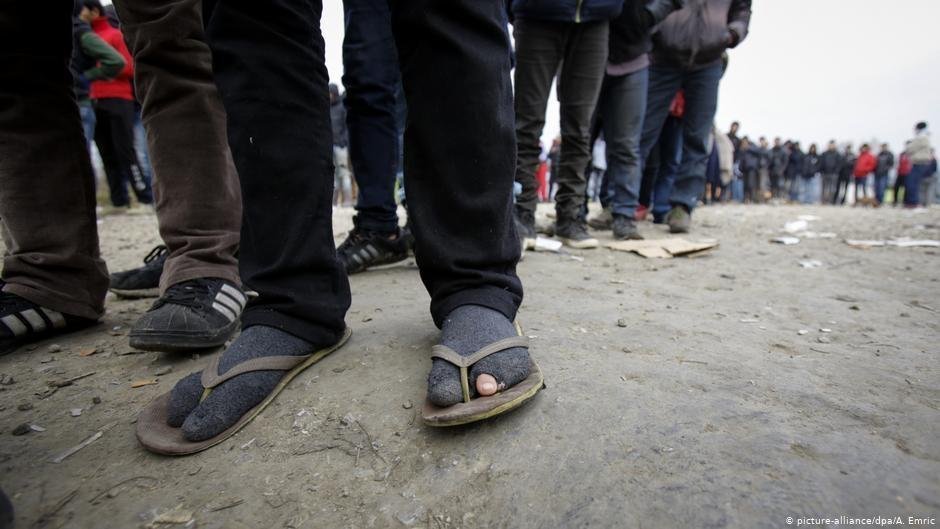 'Donate quickly, people are dying!'
Dibari calls the donation drive "immense" and says it might just be "one of the biggest ever." He expressed his thanks to the shoe manufacturer on behalf of the Barletta community but also on behalf of all "all those people, women, children, old people and men who might be able to benefit from the shoes on the Balkan route, which is claiming so many victims every day, and about which Europe has stopped caring."
The committee say they are hoping to take the shoes and other things donated directly to them out to the Balkan route at the end of January. For that though, they apparently need more funds -- in order to make the journey to the other side of the Adriatic Sea.
The article on Barlettaviva ends with an additional appeal to finance this journey: "Donate quickly, people are dying!"