Germany remains the number one destination country for migrants in Europe, according to the Migration Report 2020, published by the German government on Wednesday. Overall immigration to Germany, however, fell by 23.9% compared to numbers in 2019.
According to the Migration Report 2020, eight of the ten main countries of origin of migrants coming to Germany were EU states. Romania topped the list with 15.7%, followed by Poland with 8.7% and Bulgaria with 6%. 
Despite the severe restrictions due to the COVID-19 pandemic, 1.19 million people moved to Germany in 2020, while a total of 966,451 people moved away from the country, leaving Germany with a net migration growth: In total, 220,000 more people migrated to Germany than those who left.
Read more: EU Blue Card: More flexible rules for skilled migrants in Europe
COVID only a dent in migration trends
Migration numbers within the EU have steadily grown in recent years, according to the report, as migration on humanitarian grounds has been declining compared to the previous year, with only 122,170 asylum applications lodged in Germany in 2020, presumably on account of the effects of the COVID-19 pandemic around the world.
However, the Federal Office for Migration and Refugees (BAMF) meanwhile recorded an increase in 2021 compared to 2020, with 190,816 asylum applications being filed, showing that the downward trend is likely reversing. 
The main countries of origin of migrants and refugees coming to Germany from outside Europe have remained the same in 2021, according to the BAMF report: Around 70,000 asylum applications came from Syrian nationals, around 32,000 from Afghans and about 17,000 from Iraqis.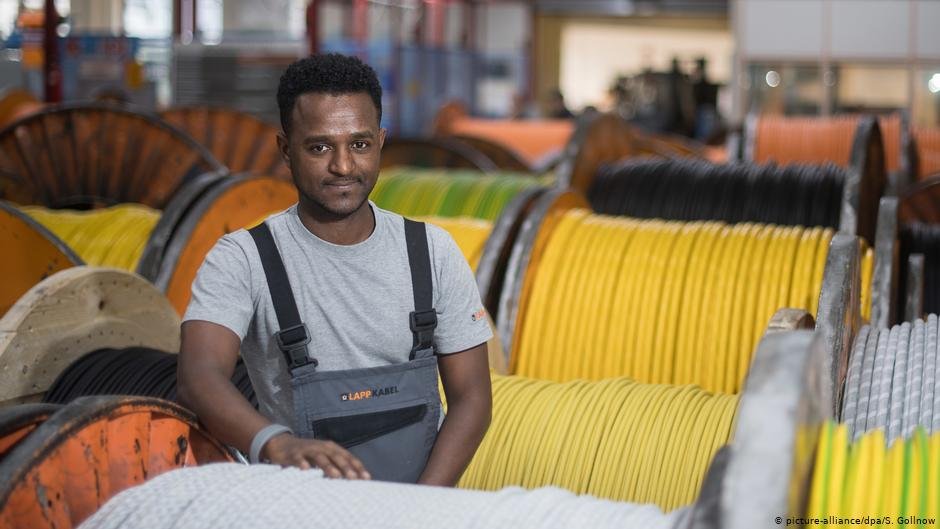 New government: Focus on employment-based migration
Other noteworthy forms of migration trends in Germany include the influx of international students, family reunifications of accepted refugees, and employment-based immigration. Some 29,747 third-country nationals entered Germany in 2020, having obtained a residence permit for the purpose of seeking gainful employment. 
However, the number of skilled workers coming to Germany from third countries was also impacted by the COVID-19 pandemic, indicating that more people may have sought to come to Germany were it not for pandemic-related restrictions and challenges.
The migration policy spokesman for the ruling Social Democrats (SPD) parliamentary group, Lars Castellucci, said that in view of shortages in the labor market, it is time to find a new approach to Germany's migration and integration policy: "This includes … faster legal certainty in the residence status for well-integrated persons."
Read more: New German government to introduce sweeping changes to migration policy
Germans with migration history
According to the report, more than a quarter of the population in Germany now has a migration history. More than half, however, are German citizens, either having been born in Germany to immigrant parents or having been naturalized as Germans.
Almost two-thirds of people registered as having a migration history were first-generation immigrants in their own right.
Castellucci said that Germany was on track to becoming a "modern immigration destination."
Read more: German Commissioner for immigration: 'Don't make me your integration role model'
with KNA