The detainees are being held in 27 prisons and detention centers across the country, according to a new UN report. UN Secretary-General Antonio Guterres says thousands more are being detained unofficially.
Over 12,000 people are held officially in 27 prisons and detention facilities across Libya while being exposed to torture and abuse, the United Nations chief said in a new report. The number is much higher considering those migrants being held in illegal confinement in 'secret' premises, by armed groups.
UN Secretary-General Antonio Guterres said in the report obtained Monday by the Associated Press (AP) that the UN political mission in Libya known as UNSMIL continues to receive reports of migrants being arbitrarily detained, tortured and abused, in camps run by the Libyan government and other groups.
He said that in addition to the statistics provided by the Libyan authorities, there are thousands of detainees who don't appear in the official records and despite being held in deplorable conditions, are unable to claim their rights through legal ways, AP reports.
Detainees face a high risk of sexual harassment
"Female and male migrants and refugees continue to face heightened risks of rape, sexual harassment, and trafficking by armed groups, transnational smugglers, as well as officials from the Directorate for Combating Illegal Migration (DCIM), which operates under Libya's Ministry of the Interior," Guterres said in the report to the U.N. Security Council.
He said that the UNSMIL mission has recorded "credible information on trafficking and sexual abuse of around 30 Nigerian women and children."
Also read: 'Exploitation and enslavement': Two Nigerian migrants take rights case to UN Committee
The report has been made public a week after Libyan security forces raided a sit-in by migrants outside a shuttered UN community center in the capital Tripoli. After burning down the migrants' makeshift tents, the guards moved them to the overcrowded Ain Zara detention center. Libyan armed forces routinely conduct mass round ups and arrests of migrants. Most notably in October 2021, Libya detained 4,000 people, including hundreds of women and children in a major anti-migrant crackdown.
UN officials have repeatedly called for the closure of migrant detention centers in Libya.
Detained after being rescued
Many of those detained are refugees or migrants who had been traveling across the Mediterranean Sea to Europe, but were returned to Libya by the nation's coast guard, the AP reported. 
As of Dec. 14, Gutteres said, the Libyan coast guard blocked 30,990 migrants and refugees and returned them to Libya. That's "almost three times the total number of people returned in 2020 (12,000 people)." More than 1,300 people lost their lives or disappeared during the journey, he added.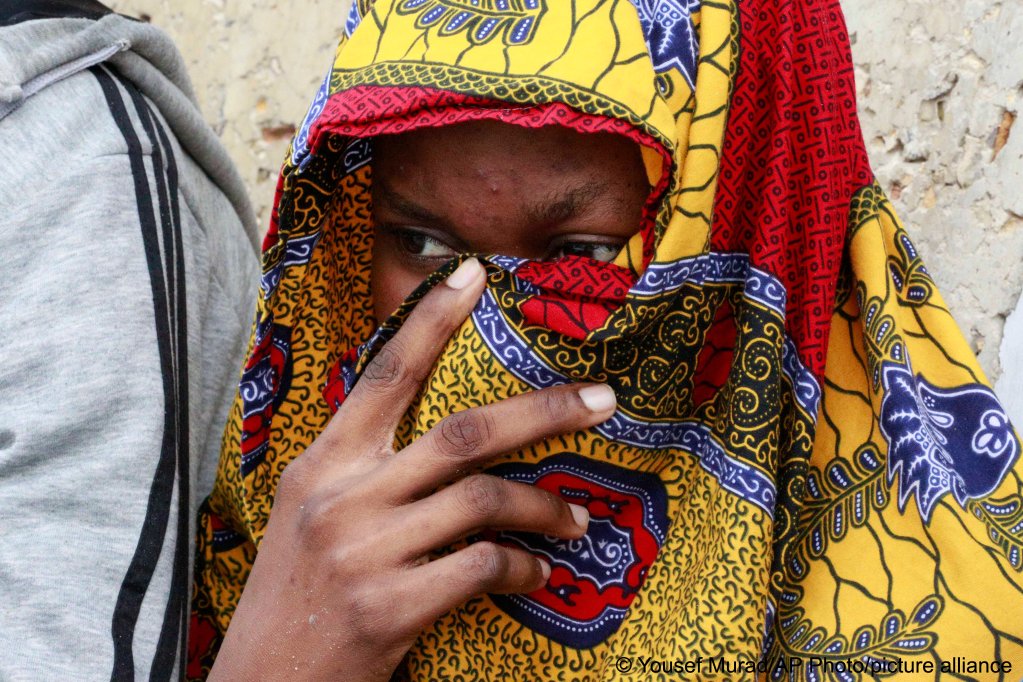 Since August, Guterres has criticized the widespread expulsions of migrants from Libya's eastern and southern borders as the nation blocks hundreds of nationals from countries such as Chad, Egypt, Eritrea, Ethiopia, Somalia, and Sudan and deports them to Chad and Sudan. The expulsions, Guterres says, are conducted "without due process", and neglect "the prohibition of collective expulsion and returning people without their consent," enshrined in international human rights law and several UN conventions.
Also read: Raped 'every night' in Libyan prison until she gave birth: Sarah
Since the 2011 NATO-backed uprising, that removed and killed longtime leader Muammar Gaddafi, Libya has emerged as one of the main transit points for people fleeing war and poverty in Africa and the Middle East, who hope for a better life in Europe.
Traffickers have exploited the chaos and often pack desperate families onto ill-equipped rubber or wooden boats that stall and founder along the perilous Central Mediterranean route.
 With AP