The Belgium government has presented a plan to integrate asylum seekers into the labor market by training them in the fields of catering and hotel management. This helps migrants to learn a trade while their asylum application is being processed and also fills a labor shortage.
On January 13, 28 asylum seekers housed in Walloon reception centers in southern Belgium began their training in a four-star hotel in the region. For several weeks, the migrants will learn the various trades in Horeca, the Belgian acronym for the hotel and catering industry.
This initiative is part of the action plan presented by Secretary of State for Asylum and Migration Sammy Mahdi. Led by Fedasil, the federal agency for asylum seekers in Belgium, it aims to promote the integration of asylum seekers in the labor market.
Fedasil has engaged eight people to help structure the subsequent employment of these foreigners. Collaboration has been established with migrant aid organizations and public employment services (VDAB, Forem and Actiris) in various Belgian regions.
'85% of our residents want to work'
In Belgium, people applying for protection can work four months after their file is submitted. On average, processing an asylum application in the country can take between 15 and 18 months.
"But in reality, this possibility is very little used," Mahdi told the Belgian press. This is due to the social and geographical isolation of migrants hosted in the Fedasil network, but also to the language barrier and the lack of integration into the local community.
Read more: Belgium: What do you need to do to reside legally in the country?
According to the authorities, many of these exiles want to find a job. "I would say that 85% of our residents want to work," Geneviève Istasse, employment and training referent at the Red Cross accommodation center in Barvaux, Wallonia, told L'Echo newspaper.
"Staying at the center, always waiting, it's not easy. Your mind is racing all the time, you don't know what the future holds, it's exhausting," said Koffi, a 42-year-old Togolese trainee, quoted by L'Echo.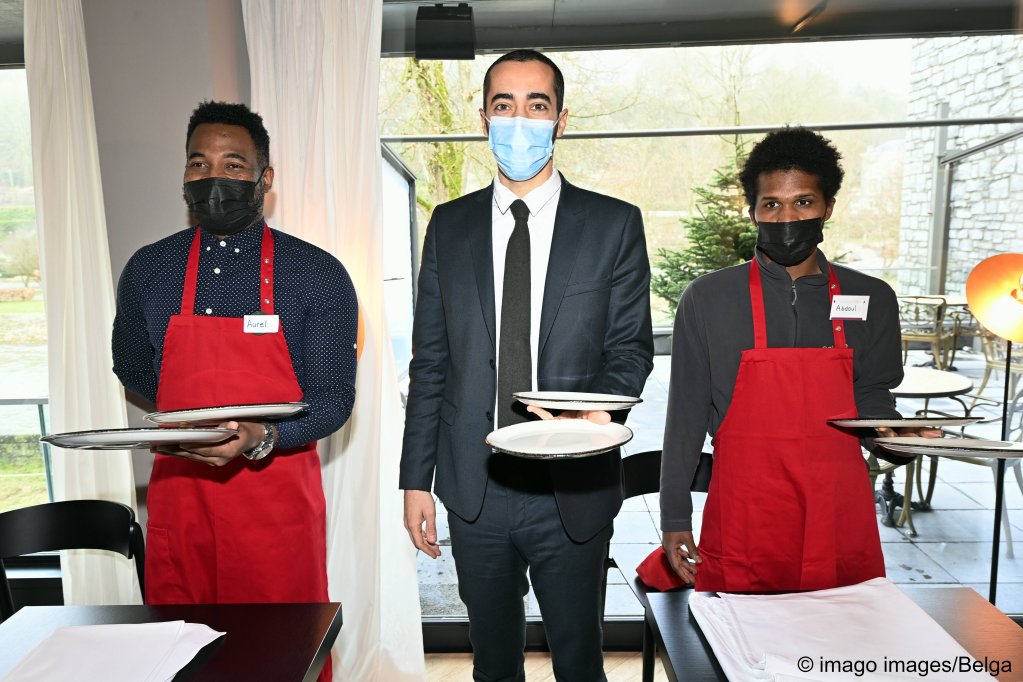 Shortage of manpower
At the end of the training, which also includes French classes, the asylum seekers will receive a recognized diploma and may be offered a fixed-term contract, which may be converted into a permanent contract once their situation is regularized.
Read more: Belgium: Hundreds of asylum seekers on the street
Authorities say this system is a good way to make the most of the migrants' waiting time by integrating them into society through work. And it also has advantages for the wider Belgian society. "Many companies, especially in the construction and catering sectors, desperately need more workers," Benoît Mansy, spokesman for Fedasil, told InfoMigrants. "We receive calls every day" from employers looking for staff, Hélène Poos, director of the Horeca training center in Wallonia, told L'Echo.
Last year, Fedasil had already partnered with these organizations to support asylum seekers in their efforts to find work. With this new plan, it is pushing its involvement in helping foreigners find employment a little further.