Humanitarian groups say thousands of people living in Greek migrant camps have not been getting enough to eat for months. Local aid workers report having seen children crying because they were so hungry.
Thousands of people in Greek migrant camps have been going hungry for months, despite repeated calls on the government to provide them with adequate food and other basic necessities, a humanitarian organization has warned.
There are about 16,560 people living in camps across Greece, according to the UN migration agency, IOM: they include people who are waiting for their asylum claims to be heard, as well as those who have had their claims accepted or denied. The New York-based International Rescue Committee (IRC) says that those who are outside the asylum procedure, around 40% of migrants in the camps, are not provided for under government catering contracts.
This is because, under a policy implemented last October, when responsibility for cash assistance to the migrants passed from the UN refugee agency UNHCR to the Greek government, food is only being provided for those who are yet to receive a final asylum decision – around 10,200 people. 
Among the rest are thousands of vulnerable people, many of them children, who are suffering without adequate food. According to the IRC, teachers in local primary schools have reported that children have arrived at school without having had breakfast and with nothing to keep them going through the day. 
'Hunger crisis'
Aid groups and migrants themselves have repeatedly called for something to be done about the problem. In mid-October migrants protesting at Nea Kavala reception camp in northern Greece held up banners, one of which said: "Do your kids go to school without food?" One man in the camp, from the Democratic Republic of Congo, told InfoMigrants by phone: "I saw a woman begging for two extra bottles of water for her children. She was told 'no' because her asylum case had been rejected."
That same month, 33 organizations addressed an open letter to the European Commission and the Greek authorities in which they claimed that nearly 60% of residents of migrant camps did not have access to sufficient, suitable food as a result of their exclusion from food provision.
The EU's Home Affairs Commissioner, Ylva Johansson, insisted in December that the government was obliged to provide "all persons, irrespective of their status," with food and hygiene products.
However, in a statement on Monday (January 24) Dimitra Kalogeropolou, IRC Greece Director, said that people are now being "pushed over the edge."
"Local organizations on the ground witness children crying because they have not had a decent meal in days," she said. "We are witnessing conditions that could amount to a hunger crisis.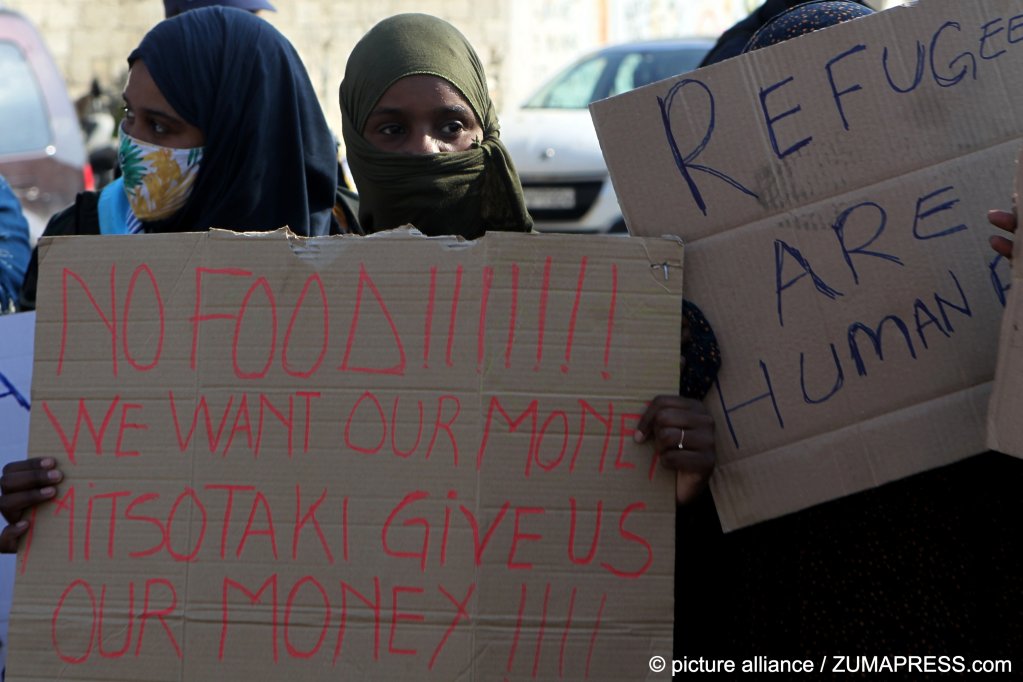 Lack of integration support
In March 2020, the Greek government amended the law so that people would be cut off from material benefits as soon as they were granted international and subsidiary protection status. The move saw thousands of people evicted from state-run housing facilities. Under the same law, people who received a negative asylum decision were also excluded from food provision: rights groups said this was of particular concern for nationals from Syria, Afghanistan, Pakistan, Somalia and Bangladesh – for whom Greece considers Turkey to be a safe third country for return.
The government says those who have been recognized as beneficiaries of protection should apply for other forms of assistance, such as housing support through the HELIOS program. But humanitarian and refugee groups have continually pointed out a severe lack of integration support for refugees to enable them to earn a living and rent accommodation. 
A report published last week by the IRC, the Greek Council for Refugees and Diotima Centre, a non-profit women's organization, said homelessness is affecting "significant numbers" of refugees and asylum seekers, with "hundreds of recognised refugees, even mothers with young children, pregnant, elderly and people with chronic health conditions, (…) forced to live in public squares for extended periods of time."