A German member of parliament has called on the German government to take in migrants directly from the Belarus border. Her calls are echoed by many of those stuck there. Meanwhile, Poland is holding up EU attempts to find a solution.
Luise Amtsberg, the Green Party member of parliament and the Commissioner for Human Rights Policy and Humanitarian Assistance, has called on the German government to consider an emergency transport of migrants who are stuck on the Belarus-EU border and are in need of assistance and international protection.
"I would like to think that Germany can find a way to help people who are stuck in the Belarus border region," said Amtsberg. Talking to the German Broadcast Network (Redaktionsnetzwerk Deutschland - RND) on Tuesday, February 1, Amtsberg explained that she understood the pressure Poland was being put under by the Belarusian regime but she emphasized that the European borders "must be open to those who are seeking asylum."
Also read: 'You do your asylum interview wearing handcuffs'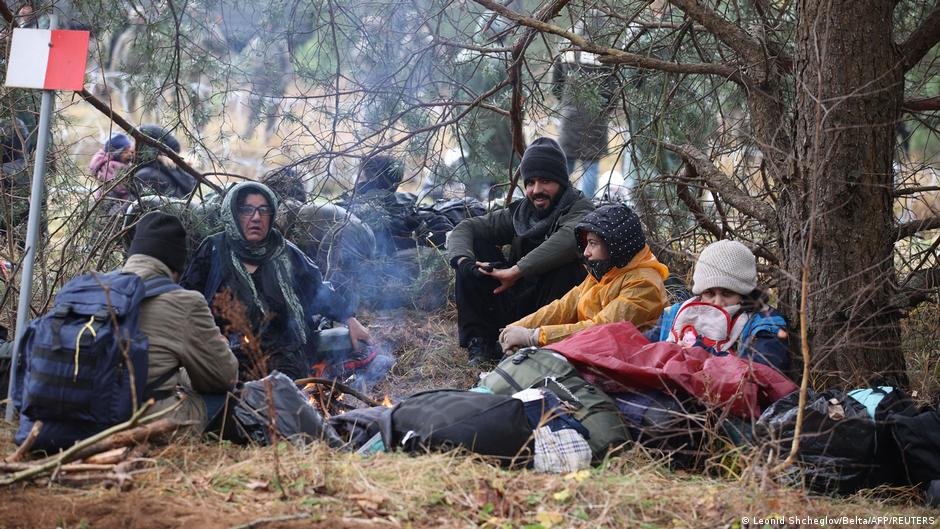 Suspended rights
This is not the first time that Amtsberg has spoken out on the issue. Earlier in January, she told the German news magazine Der Spiegel that it was important that anyone wanting to claim asylum would have their claim properly examined. "This right has been suspended on the Polish-Belarus border," said Amtsberg.
Since last summer, thousands of migrants from Iraq and Afghanistan have flown into Belarus in the hope of making it over the border into the EU. Many of them engage travel agents in their home countries who offer packages, a few nights in the Belarus capital Minsk, and then transport to the border. Reports suggest that each person pays a few thousand euros for such a package.
But since the autumn, it has been harder and harder to actually make the crossing and now thousands are stuck in warehouses or in camps along the Belarusian side of the border in a kind of no-man's land.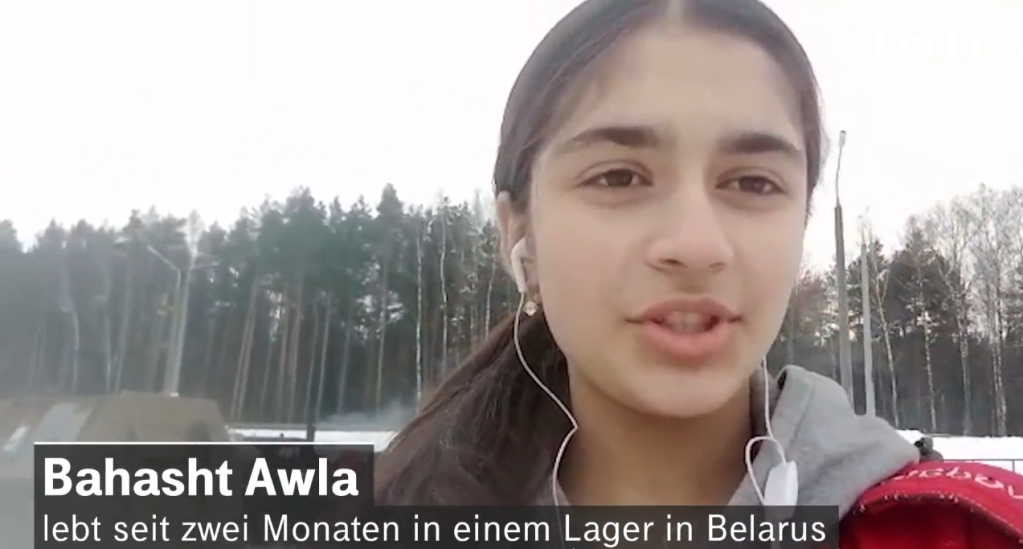 'I hope they will take us to Germany'
One of those currently there is a young Iraqi Kurdish girl who spoke to the news site t-online at the end of January. Bahasht Awla is 13 and according to the t-online report is currently staying in a Belarusian warehouse at the border with her family and thousands of other migrants.
Bahasht speaks fluent German, after previously attending school and living in Germany for two years. She gave reporters a video tour of the warehouse where she is staying. "I hope Germany doesn't leave us here. I hope they will take us all to Germany," Bahasht can be seen saying in the video.
"It feels really sad when you wake up here and look around and then you think about how other teenagers like you are having a good life in Germany with nice clothes, warm food," said Bahasht longingly to camera. Ice and snow can be seen in the background to her camp, and even inside the warehouse, says Bahasht, it is "cold and awful." Sometimes temperatures drop as low as minus 15, she says. Washing, cooking and going to the toilet are all done outside, explains the t-online reporter.
Also read: Leaving everything for better hospitals
Death threats
According to t-online Bahasht and her family left Germany to attend a funeral in Iraqi Kurdistan. However, Bahasht found it difficult to settle back in Kurdistan, and after "arguments" the family say they were forced to flee as they were being threatened with death. The timeline of their return and decision to flee again was not given.
Poland has been criticized for not offering asylum seekers the right to make a claim in their country. Human rights activists and international organizations have accused Poland of illegally pushing migrants who make it over the border back into Belarus.
Poland needs to uphold European law too, added Amtsberg. European and international human rights law dictates that anyone has the right to seek asylum. At the moment however, barbed wire barriers and troops are preventing many of the migrants on the Belarus side from crossing the border in to EU countries like Poland, Latvia and Lithuania. That in turn is preventing people who may qualify for asylum from seeking it.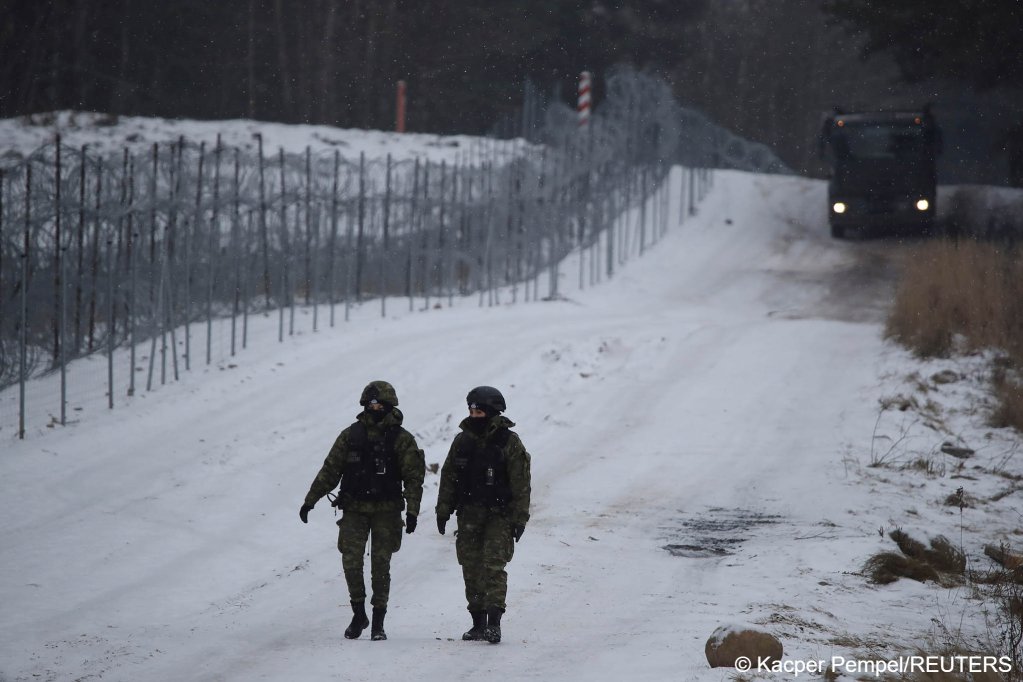 Stumbling blocks in diplomatic talks
According to a report by the German press agency dpa, Poland has also been blocking behind the scenes diplomatic talks which have been ongoing for some months now in order to try and find a solution to the thousands of migrants waiting at the EU's borders.
Dpa spoke to a series of unnamed diplomats taking part in these talks who said that while Poland had worked constructively to find solutions in December, it was now demanding measures that were "unacceptable" to the other countries involved.
According to the RND, these included refusing to cooperate with the UN refugee agency UNHCR. The EU has already said to Poland, Latvia and Lithuania that they have up to 16 weeks to check any asylum claims.
The EU has also been working to make anyone refused asylum subject to a simplified deportation process. According to Amtsberg though, part of the EU's problem is that it is failing to speak with a unified voice in the face of Belarus' pressure.
The EU Commission has been trying to update its migration policy for several years now. Although it has ad hoc sharing mechanisms in place, several countries, including some German politicians, have complained that it always falls on the same countries' shoulders to take in asylum seekers, migrants and refugees who arrive in the EU. They are pushing for a fairer quota system where every EU country is forced to take in migrants, something many of the eastern bloc countries, including Poland, Hungary and the Czech Republic and Slovenia have blocked.