Turkish Interior Minister Süleyman Soylu has lashed out at Greek authorities repeatedly in recent days, accusing the country of the deliberate mistreatment of migrants. Soylu has slammed Greece for committing acts of gross negligence amounting to manslaughter on at least two recent occasions.
Soylu's verbal attack on Greece started after he supported claims being discussed by the Turkish public accusing Greece of throwing three migrants into the Aegean Sea, alleging this resulted in the death of one. It was not clear when exactly this event was supposed to have taken place but appeared to be of a recent nature:
At the end of January on Twitter, Soylu had specified that two of the migrants had been rescued while the other one had died. The alleged incident, which Soylu said amounted to "barbarism" and "murder," took place off the Aegean coast near the tourist resort town of Çeşme.
In his tweet, Soylu also said that "the European Union, that beacon of freedom and human rights, continues to sleep," adding that the "murderous Frontex will have to answer for this." 
Last words: 'I can't swim'
In the tweet, an Arabic-speaking man, whose identity is concealed, is seen recounting the alleged series of events with the help of an interpreter.
The migrant claims that after all his belongings were confiscated by the Greek Coast Guard, he and the other two family members he was traveling with, were given life jackets which were too small for them. 
Despite protesting that some of them didn't even know how to swim, they reportedly were left to fend for themselves in the cold waters of the Aegean Sea, the migrant says. He also specified that the individual who was reported to have drowned was his cousin.
"The Greek Coast Guard gave us lifejackets before they left us in the sea, but they were for children and did not fit us. My cousin told them that he did not know how to swim. But they didn't listen to him. They threw us into the water, where he drowned," the unidentified man said.
Read more: Dozens of migrants picked up by Turkish coast guard
Politicized suffering
Soylu lashed out one more time on Twitter at Greece on Wednesday, alleging that 12 migrants at the Greek-Turkish Ipsala land border near the Evros River had frozen to death after being pushed back and stripped naked by Greek border forces.
The tweet was accompanied by images of blurred out people, who appeared to be dead.
Soylu further politicized the alleged incident by saying that the EU is "void of humane feelings," and adding that "Greek border units are heartless towards victims, but tolerant towards FETO," referring to the infamous Turkish religious movement which Turkish President Recep Tayyip Erdogan accuses of having orchestrated a coup attempt against him in 2016.
Read more: Greek system leaves migrants out in the cold
FETO is the Turkish government's name for the so-called Hizmet Movement, spearheaded by exiled preacher Fethullah Gülen. The organization is banned in Turkey as a terrorist group; hundreds of its adherents have fled Turkey to neighboring Greece and other countries in a bid to avoid arrest in recent years.
Turkey has been under a constant state of emergency for over five years now, ever since the failed coup, giving police, military, judges and courts extraordinary powers to prosecute Gülen's supporters.
Read more: Cyprus streamlines migrant returns with EU, Frontex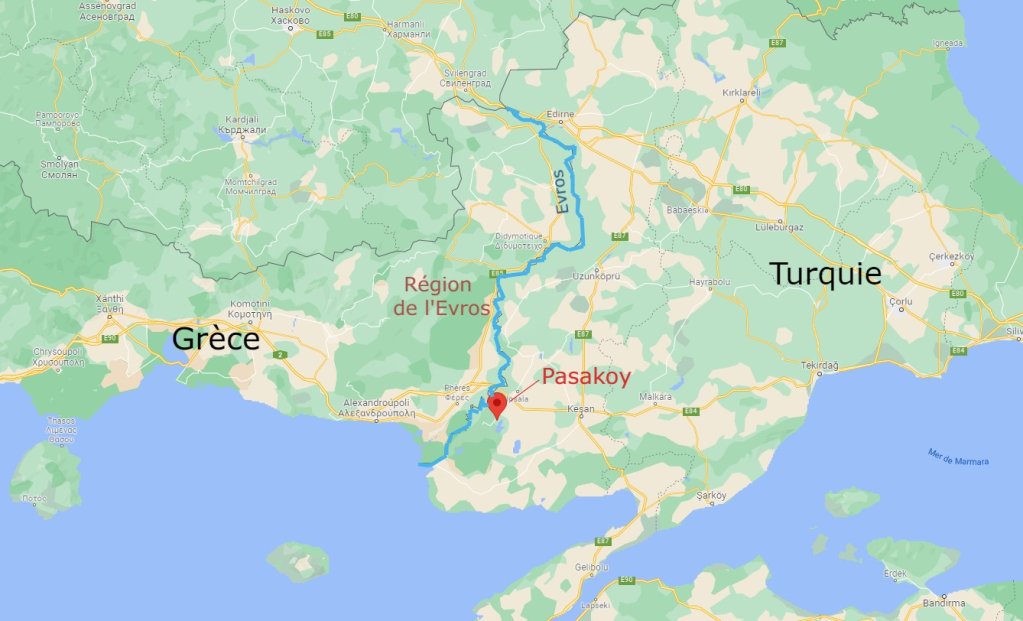 Illegal pushbacks at sea
In the past year, the Turkish government has repeatedly accused Greece of pushing back asylum seekers, which would be in clear violation of international law and human rights.
Several NGOs have also made statements claiming that Greece, with help from the EU, is trying to keep migrants away from entering Greek waters, and even of returning migrants to Turkish waters. However, there have also been counterclaims, saying Turkey moves migrants it intercepts in its own waters to Greek waters.
Read more: UNHCR calls for independent border monitoring in Greece
The EU has also voiced concern over allegations of such pushbacks at sea, but in a series of investigations, Brussels has exonerated its Frontex agency from any complicity in the alleged pushbacks.
Bot the Greek and the Turkish government have repeatedly denied conducting such pushback tactics.
Read more: When are pushbacks at the EU's external borders illegal?