A meeting of EU interior ministers in France on February 3, resulted in the establishment of a new Schengen Council as well as proposals to get member states to either accept migration quotas or pay towards supporting other members that do.
With the rotating presidency of the EU currently being held by France, EU interior ministers met informally in Lille, northern France, earlier this week to discuss the bloc's migration management.
With French President President Emmanuel Macron gearing up for a presidential vote at the end of April this year, migration is a hotly debated issue in his country once more; Macron will be up against candidates, in particular from the right, who want to capitalize on what they say is the country's mismanagement of migration issues.
Also read: EU Interior Ministers balance migrant rights and strong borders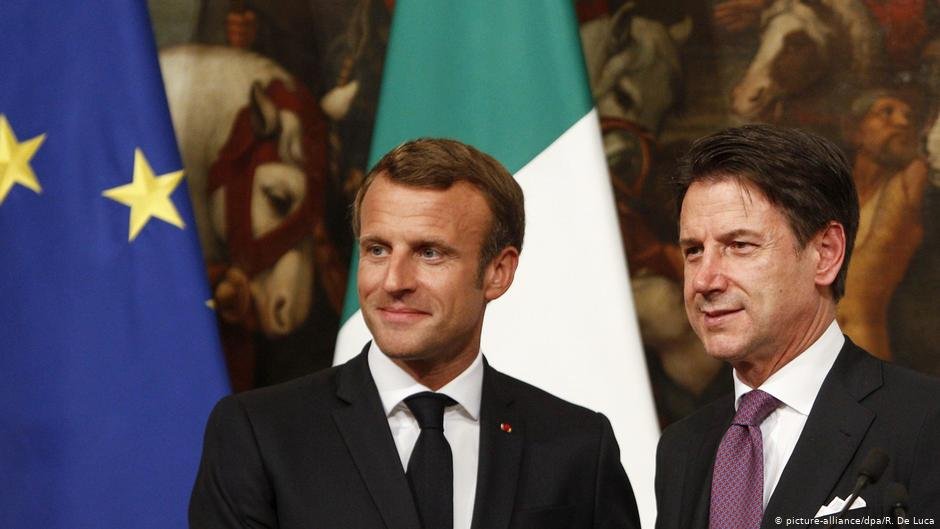 Tough stance on migration
In response, much of Macron's political campaign so far has been to communicate a tough stance on immigration policy, not just domestically but across the EU, too. This tone continued during the latest meeting, where France called for a new council to be set up to politically manage the Schengen area, Europe's border free zone.
According to the Reuters news agency, the first meeting of the new council will take place on March 03. Macron said he hoped "this council can become the face of a strong, protective Europe that is comfortable with controlling its borders, and therefore its destiny," wrote Reuters.
The Schengen area was designed as a border-free zone where goods and people can move freely. However, since the COVID-19 pandemic began, borders have periodically been shut and tighter controls have been in place at many of them.
Eurodac and Schengen
France has also expressed a wish to register every foreign arrival in the EU, using the Eurodac register (the European biometric register, which allows EU countries to register and compare the fingerprints and other biometric data from those on the register) in order to improve vetting procedures in place at these borders, reported the French news agency Agence France Presse (AFP).
The French hope that by strengthening the EU's outer borders, free-movement can once again be restored within the Schengen area. EU Home Affairs Commissioner Ylva Johansson meanwhile tweeted on Thursday that she was in favor of Macron's proposals.


'Step-by-step approach'
At the meeting, France's Interior Minister Gerald Darmanin also called for a new "step-by-step approach" to the management of Europe's migration policy. The so-called EU Pact for Migration and Asylum, which was first put forward in September 2020 as the new commission was inaugurated, has made little progress in reaching any concrete agreements.
France said that during the informal meeting, it had reached unanimous agreement on moving towards a better distribution of migrants arriving in the bloc. Despite several summits being held over the years, the sharing out of migrants is still done on a largely ad-hoc basis. EU member countries typically come forward to offer quotas of migrants they will accept when the arrivals become critical in certain countries such as Italy.
But there has been opposition coming mostly from former eastern-bloc countries like the Czech Republic, Hungary, Poland and Slovakia. This has proved to be a stumbling block to achieving the goal of a proper sharing out of the migrants, who still largely arrive in southern Mediterranean countries like Italy, Spain and Greece.
On her Twitter page, Ylva Johansson welcomed what she descibed as "new momentum" on the issue. One suggestion floated at the meeting was to get EU member states to pay towards supporting the countries who were willing to accept migrant quotas.
This kind of suggestion, however, had been raised before and was blocked by the poorer countries in the EU, which are often the same ones that do not want to accept migrants.
Faster processing times and more returns
During a press conference on Thursday, Minister Darmanin said that they wanted to "process asylum seekers as soon as they can" and "return those who are not accepted as soon as possible."
Darmanin added that the EU needed to be "strong" with their policies, talking both to countries of departure and stepping up a strong returns policy so that smugglers wouldn't be able to exploit differences between different European countries.
He added that they wanted the EU to look at the different policies on asylum across the bloc. He said that although asylum applicants are not meant to move around Europe, they were doing just that and "this needs to be looked at."
Darmanin also said that there should be more human resources given to Frontex and more "mobilization to assist the smallest countries, and the rest of them too." In order to bolster Frontex and EU migration policy, he suggested that there should be a rapid action crisis force to respond to migration issues such as the situation on the Belarus-EU border, which has been ongoing since last summer.
'Real and pragmatic' progress
Ylva Johansson pointed out that in the past there had not been enough registration of migrants arriving in the bloc. According to her, 45,000 migrant arrivals were missing from the Eurodac register, and that needed to be changed going forward.
Johansson said that the governance of Frontex also needed to be strengthened. She said it was the "biggest EU agency they had ever had," and that it would be a huge task to put the promised 10,000 armed Frontex officers at the EU's external borders. She said Frontex should play a more prominent role in policy areas too.
But with the Schengen Council being of an informal nature, Johansson proposed that one way going forward would be to allow ministers to decide on Frontex policy, at least once a year.
'Solidarity will be binding'
The German Interior Minister, Nancy Faeser, who also attended the informal meeting in France, said after the meeting that Germany stood with France in wanting to develop this solidarity principle. She pointed out that Macron had mentioned a list of at least 12 states that would be ready to take in migrants arriving in the bloc and if not ready to take in migrants, then ready to put money forward instead. "That is the so-called 'new solidarity,'" said Faeser.
Also read: Germany repatriates over 100 migrants to Bangladesh
"We want an open and humane Europe," added Faeser. "Germany is working towards establishing legal ways to Europe so that no one is left to drown in the Mediterranean or elsewhere. It is about establishing the rules and making sure that Frontex is working well at the borders."
More details would follow in March said Darmanin, stressing that any relocation mechanism that might yet be drawn up would be of a permanent and binding nature.