For migrant children who arrive in France in the middle of their education, getting back to school can be a challenge. They might have gone through a traumatic voyage with their families, and many don't speak French. The UPE2A program assists children in the process. InfoMigrants visits a school in Trappes, a Parisian suburb.
Wouri, Suhail, Rafiul, Ayesha: These children born in the four corners of the world have neither the same age, nor the same level of education. They don't speak the same language either, but they share the same goal: to do well at school. To help them succeed in this, they are following a special education program adapted to their needs in classes called UPE2A. In Trappes, a Parisian suburb, Wouri and the others can count on Myriam, their teacher.
"What do you understand when I say the word 'temps''? Careful Ayesha, that's the '-an' sound of 'maman'. Not the 'on' in 'bonbon'." It's 8:30 on a rainy February morning and Myriam's students are already reciting their lessons. Opposite her, on small desks arranged in a U-shape, eight children aged from 6 to 11 years old have taken out their homework. Myriam goes from notebook to notebook, checking that the work has been done correctly, while keeping an attentive ear as Ayesha continues to recite. Once the exercise is finished, the little girl from Pakistan, who arrived in France in January 2020, puts away her board. She puts on a pink backpack almost as big as her and, wearing glittery sneakers of the same color, leaves this classroom to go to another one.
Like eleven of her classmates enrolled this year at the Gustave Flaubert school in Trappes, near Paris, Ayesha is in two separate classes. The first one corresponds to her age -- first grade -- and the second one helps her improve her French. This latter one is the UPE2A class, for "educational unit for newcomer non-native speaking students."
Created in 2012, the scheme offers care for students who have recently arrived in France and have difficulties with the French language, whether or not they have attended school in their country of origin. During 2018-2019, nearly 68,000 non-native speaking students newly arrived in France benefited from it, according to figures from the French National Education Department.
Read more: 'Alternative school' in Brittany helps migrants integrate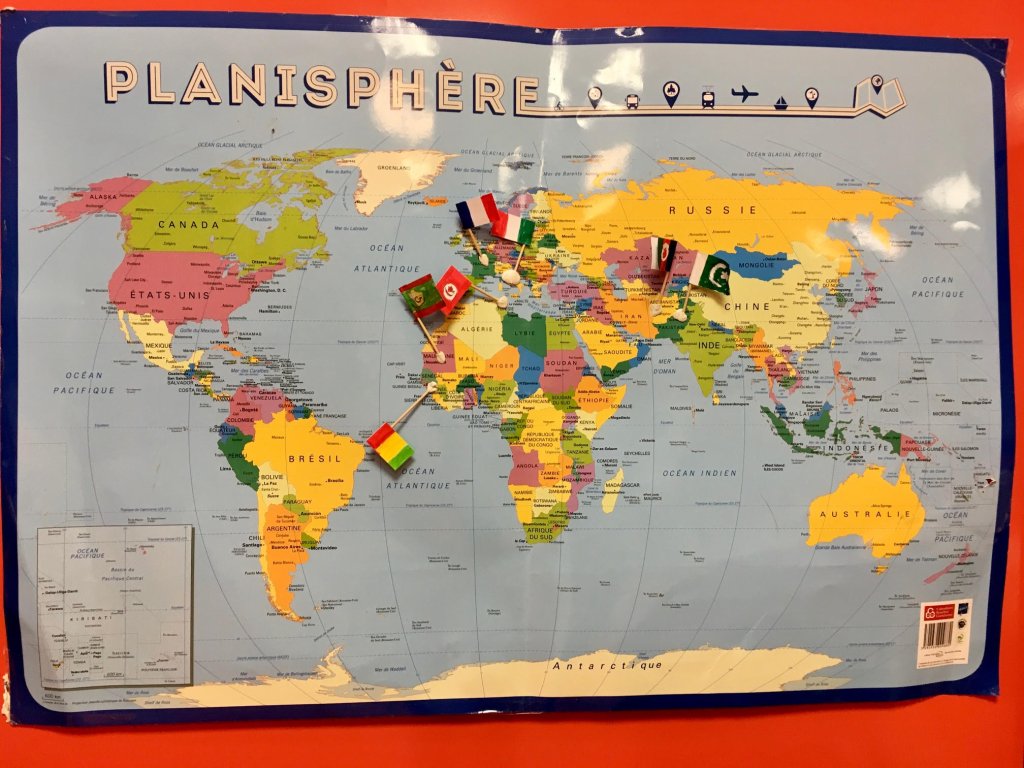 Upon enrollment in the school -- which can be done throughout the year -- the child is tested in French and mathematics, both oral and written, to assess his/her level. When possible, an evaluation may also be presented in the child's native language. At Gustave Flaubert School, an interview is also organized between Myriam, the school principal and the family "with the sole aim of understanding the student's background a little better, and to find out what the family's plans are," the teacher explains.
"It's important for the child and the teaching staff to know if the family is settling in Trappes for good or if they are likely to leave the city. It's hard for everyone when a child, for various reasons often related to the administrative situation of the parents, leaves the school overnight. We prefer to be prepared for that."
A social worker or interpreter can be present upon request. Once the procedure is completed, the child is assigned to one class to meet their educational level and also gets a place in UPE2A. For one or two years, depending on the child's needs, he or she then navigates between the two.
Read more: Paris: At this school, undocumented minors find their way back to education
'I dreamed I was on a stage and someone was throwing apples at me'
In Trappes, Myriam's students take English, sports or visual arts classes with students their own age. And with her, they work on math, grammar and spelling. They also practice expressing themselves in everyday situations. Each morning begins with a short conversation between the students. The goal is to know how to introduce themselves and answer simple questions.
11-year-old Suhail asks "How are you feeling today?" and 10-year-old Wouri replies "I am tired, because I had a nightmare. I was on stage and someone was throwing apples and tomatoes at me." "That's because of the theater trip yesterday!", laughs Myriam, as she reassures her.
Once the initial greetings are over, the group splits into pairs. "I divide my class time between individual and group time. Each student progresses according to his or her level, but can also learn from his or her classmates," explains Myriam, who takes turns correcting Rafiul's and Mohamed-Amine's grammar, and Wouri and Suhail's tablet exercise. "Yes, Rafiul, the chicken is in the singular," she says between two sentences of dictation for little Guedio.
After about twenty minutes, it's time for a "collective review". Wouri puts the tablet away and takes a pen out of her pink zebra print pencil case. Everyone listens attentively as Rafiul and Mohamed-Amine classify the noun phrases according to their gender and number in an exercise projected on the whiteboard. Mohamed-Jbrail raises his finger, higher and higher, so that he ends up standing up slightly from his chair. Guedio watches them, chewing on the cords of his sweatshirt.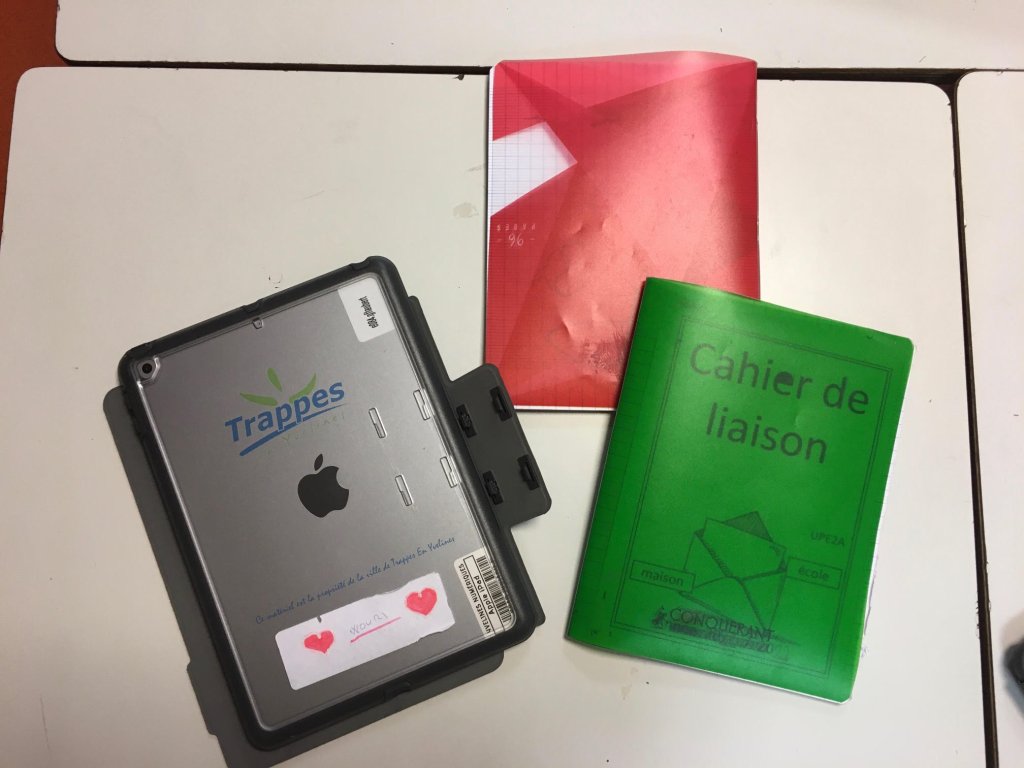 When the 9-year-old boy returns from recess, he finds himself alone with Myriam. All his friends have left for their own classes. Guedio arrived in France with his parents and sister on September 23. He could neither read nor write French. In Mauritania, the country where he was born, the third-grader attended Koranic school. "He has made very quick progress," says Myriam. With his teacher, Guedio is practicing this morning how to write numbers. He first writes the number on his slate, then dutifully copies it onto his notebook. "He has done a lot of personal work to get to this point. I told his mom too that he's amazing."
According to her, "the younger the children arrive, the better". "The little ones in school are more flexible and more adaptable than in middle school, where it is also possible to integrate a UPE2A. Their ability to memorize is also better. Overall, at that age, adaptation is much faster."
Read more: Ireland launches new online learning platform for refugees and migrants
Children succeed 'without erasing their past'
Despite their best intentions, some children also bear the stigma of a troubled migration journey. "I've had students who, having been literally torn from their country, categorically refuse to learn another language," laments Myriam, who has taught in the UPE2A class since 2014. "This year, this is not the case. But with Ayesha, for example, it can be difficult, she speaks very little."
Afghan Suhail has a different problem. "He talks a lot, I often have to tell him to calm down." His friend Rafiul, who arrived in France in December 2019 from Bangladesh, complains that he sometimes "has trouble breathing" and feels "a weight in his heart". "We know he doesn't have a health problem. It's a way for him to externalize his anxieties," says Myriam, who, beyond her role as a teacher, admits to "always keeping an eye on the other side of things".
"These kids especially need to be brought forward. We try to show them that our only objective is their success, without erasing their past. We build on their skills, we help them to uncover new ones and with all that we help them to build their future."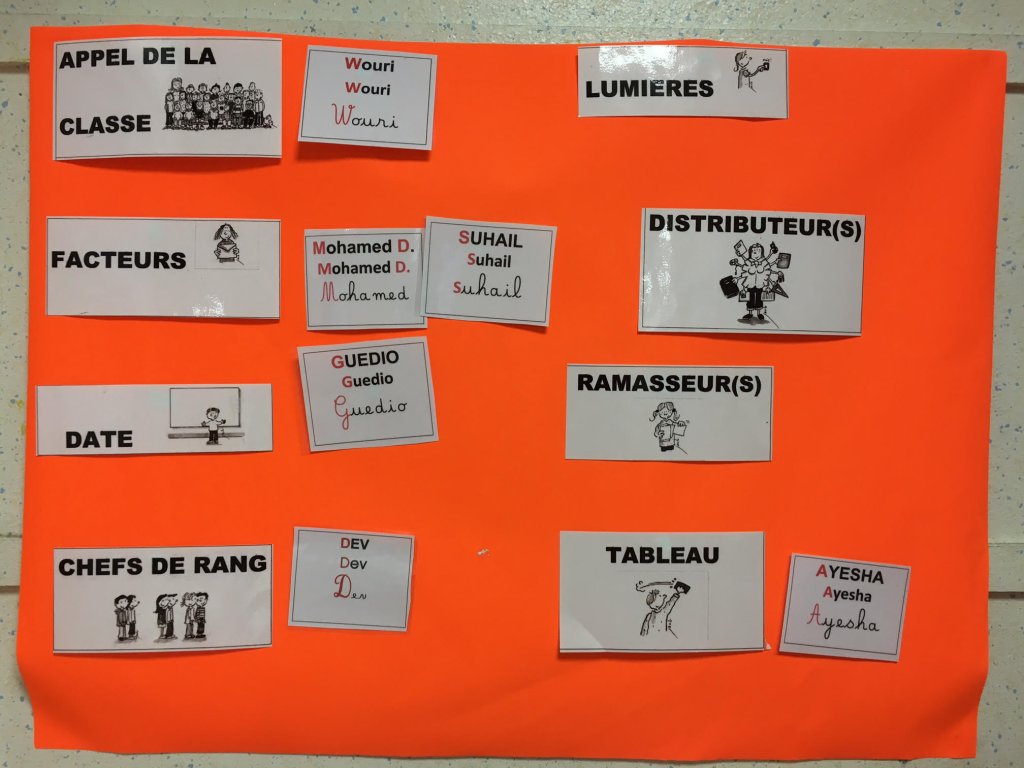 After lunch, all of Myriam's students assemble. First exercise of the afternoon is to describe what was on the canteen menu. "We ate an omelet," says Suhail. "Yes, but at home, I put chilli on it, it's better," retorts Mohamed-Jbrail.
Gastronomy will be the theme of this second part of the day. For the next two hours, the class will work on a recipe. Berlin bread, fish cooked Portuguese style and Chinese soup... On the board are projected dishes from around the world, in their original language. "Fish is good, we eat a lot of it in Bangladesh," says Rafiul. "Ah, sweet potatoes, we often make them too."
"We teach them French customs and habits. So it makes sense that in exchange, they can also share theirs", says Myriam, before being cut off by Suhail. "Miss, do you remember when I made you the ferni [an Afghan cream with cardamom and pistachios]? You loved it!"
To find out where your nearest UPE2A class is, check with your local town hall.