InfoMigrants contacted Eric*, an African migrant who has been locked up inside the Pabradé migrant camp in Lithuania for several months. He said he is under permanent pressure from the Lithuanian military in the camp, who harass the migrants to "go home".
According to our sources, our contact Eric* (not his real name) was arrested on Monday morning, February 7, after a peaceful demonstration in sectors of the closed camp. Lithuanian authorities handcuffed him and took him to an unknown place. "He was beaten, dragged to the ground, he could not walk anymore," witnesses said. InfoMigrants has been unable to contact him. As a reminder, journalists are forbidden to enter Pabradé.
Eric's testimony was taken a few days earlier, on February 2. On that day, he told us about his living conditions in the center. He complained about the cold, as the heaters did not always work in the containers used as rooms for the migrants. He especially wanted to talk about the military omnipresence in the camp and, according to him, their daily harassment.
"I arrived about eight months ago in Lithuania when the Belarusians opened the borders. I went through the military base in Kabeliai, then to another camp whose name I can't remember before I ended up in Pabradé. The camp is divided into different sectors, I am in sector B.
Here, the soldiers come all the time. They wake us up in the morning to count us. This is common. They open the door, they come in, they tell us to get out of our beds and they ask our names.
As if we were criminals ... They come into the rooms sometimes around 6 or 7 in the morning.
Some soldiers come in with their weapons, others have tasers in their hands. Sometimes they also come with dogs. It's really complicated. The dogs have never bitten anyone that I know of, but it is scary to see them in our rooms.
According to the Lithuanian authorities contacted by InfoMigrants, there are five detention centers for migrants in the country. Three of them are under the direction of the State Border Guard Service: the center in Pabradé, Medininkai and Kybartai. The last two are managed by the Ministry of Social Security and Labor: the center in Rukla and the center in Naujamiestis, Vilius.
Several other migrants spoke about the military base in Kabeliai, mentioned by Eric, which, according to them, serves as a transit point, before transferring the exiles to the different centers.
Read more: Lithuania pays 272 migrants to return home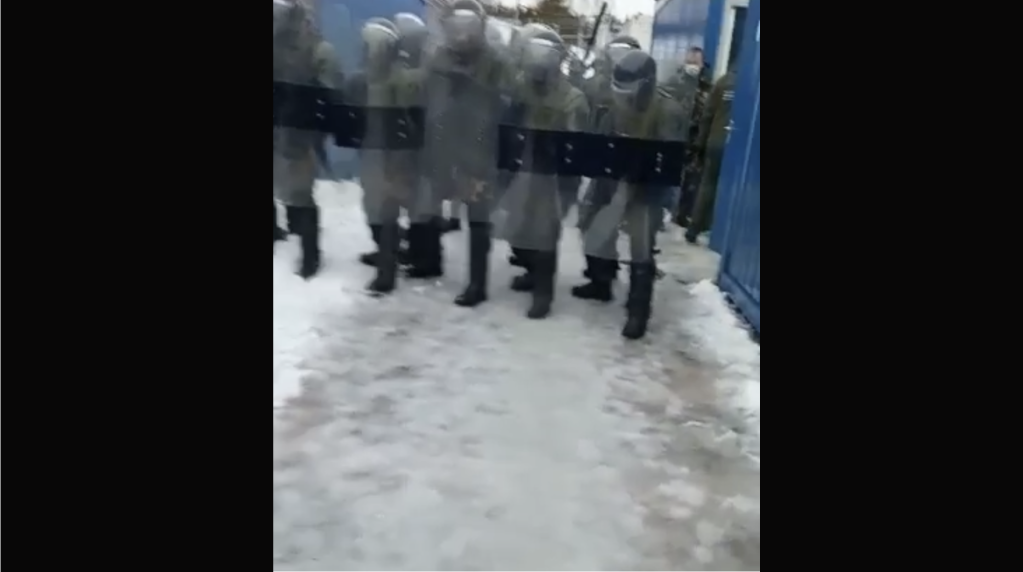 From time to time, the dogs are let loose in the camp courtyard. We don't dare go out when they are there, they frighten us too much. The military does everything to intimidate us, to discourage us. They know that we have nowhere to go. When the dogs are there, we are condemned to stay in our rooms.
I have never heard any shooting inside the camp. I know that the military once used their taser to immobilize a Senegalese man during a fight in a room.
Read more: Migrants in Lithuania: Six months after their arrival, where are they now?
'They call us monkeys'
I learned Russian when I was in Belarus. I am fluent in this language, so I understand when some Lithuanian soldiers speak. They insult us, call us 'aliens' or 'monkeys'.
In Lithuania, part of the population speaks Russian because of its geographical proximity to the former Soviet Union. The closer you get to the Belarusian border -- as in the case of the town of Pabradé -- the higher the chances of meeting Lithuanians who speak Russian.
In Pabradé, we are spoken to only to tell us to go home. I know it's the same in the other camps.
When you are sick, they say, 'You want to see a doctor, go home to Africa to get treatment'. When you are in pain somewhere, they wait a long time to take you to see a doctor. My roommate was in bad shape, he spent three days in his bed in Pabradé before they took him to the hospital. And they handcuffed him to get there.
A few weeks ago, I had a toothache. The military told me: 'Sign this paper, otherwise we won't call the doctors'. All the migrants know this 'paper'. We don't know what is written on it, it is in Lithuanian and they forbid us to take a picture of it. But we suspect that it is a discharge which authorizes our deportion. We never sign it.
We always ask for an interpreter, a translator. But they always answer us: 'No, sign it'. And that's all.
Since last summer, thousands of migrants, mainly from the Middle East, especially Iraq, and Africa, have crossed the European Union's eastern border from Belarus into Lithuania and Poland. The West accuses Belarus of having provoked this crisis by luring migrants to the European border by issuing visas and promising easy passage.
In July 2021, the Lithuanian parliament passed a bill allowing for the detention of asylum seekers entering the country for six months. In December 2021, Lithuania extended this detention time to 12 months. In addition, the law stipulates that migrants can be deported while their appeal is being considered.