A group of around 100 migrants, mostly from Iraq, are holding a hunger protest over conditions in the Polish reception center where they are being held. The strike is the second of its kind at the center in Wędrzyn.
Migrants and asylum seekers being held in a reception center in Wędrzyn, Poland, staged a short hunger protest this week. The group of around 100 are protesting conditions in the center, reported the English language news website Notes from Poland.
The last hunger strike in the center was held in December, after a group of about 100 men rioted and demanded to be released from their "prison-like conditions," explained Notes from Poland. The center is situated on a military base and is classed as a "guarded holding center" for those who crossed the border from Belarus.
'Unacceptable' conditions
The center in Wędrzyn was inspected by Poland's Deputy Commissioner for Human Rights Hanna Machińska in 2021, and also by the Council of Europe's Commissioner for Human Rights Dunja Mijatović and her team in November 2021. Their findings were both published at the end of January. Both bodies noted conditions there and in other holding centers were "unacceptable" and "do not fulfil the fundamental guarantees preventing inhuman and degrading treatment."
According to Hanna Machińska, more than 1,500 migrants are in holding centers near the Polish border with Belarus. She told the European parliament's Civil Liberties Committee earlier this week that, during the inspection of holding centers, she had met a 13-year-old girl who had wanted to commit suicide, reported the EU Observer.
Also read: On the fence --traveling along Poland's border with Belarus
"Children and families with children, women...victims of torture, shouldn't be sent to such places," concluded Machińska.
'Wedrzyn ...is the worst place'
One facility reportedly housed 600 asylum seekers, 24 to a room. There was only two cubic meters of space per person, said Machińska. She added that "Wędrzyn should disappear from the Polish map. It is the worst place."
Limited access to medical assistance was another failing of the center, Machińska outlined. The Deputy Commissioner said it was important to raise awareness of conditions in these centers and to get Poland to lift its ban on journalists and human rights groups entering the border zone where many of these centers are situated.
The EU Observer reported that one Polish Liberal MEP, Róza Thun und Hohenstein had also been refused access to a holding center. She said she had applied for access three times but was refused.
According to the UN Migration Agency Missing Migrants project, 21 people died on the EU-Belarus borders since the beginning of 2021. For seven of the people, the causes of death were "mixed or unknown." For six of those who died, it was due to sickness or a lack of access to adequate healthcare. Five people died because of "harsh environmental conditions / lack of adequate shelter, food and water," Two died because of "violence" and one person drowned. Three of those who died were children, said the IOM, three were female and 17 were male.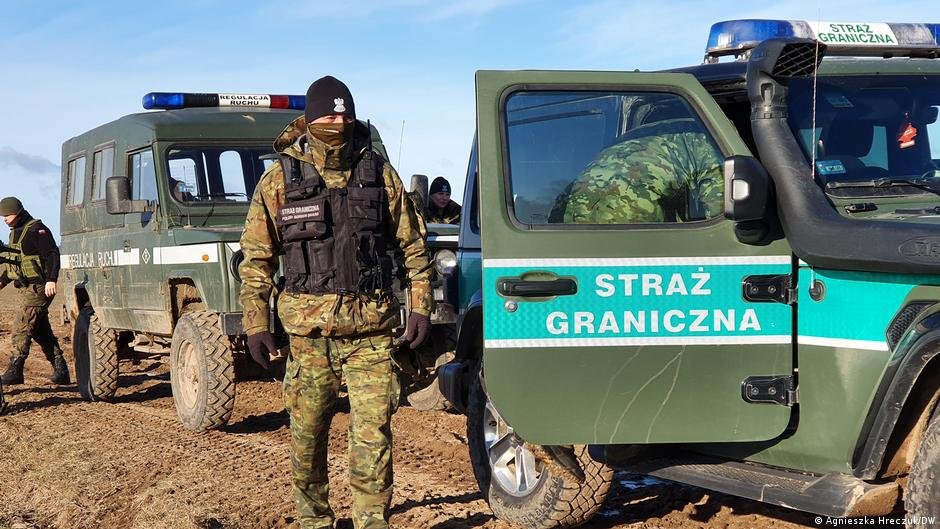 Negotiations between Border Guard and detainees
The Polish Border Guard told Polish state broadcaster TVP, that the group staging the hunger protest in Wędrzyn refused to leave their rooms for breakfast on Wednesday, but "following talks with officers" did begin to "take their meals" later in the day.
The spokesperson said that the group was asking to be released from the center and to be in more regular contact with their legal representatives. She said they hung signs reading "freedom" on the doors to their rooms.
Because of coronavirus restrictions, reported Notes from Poland, the Border Guard admitted that lawyers and representatives from aid organizations have been restricted from visiting the center but the detainees were in contact with them by telephone and email.
Machińska in fact made two visits to the center. On her second, in January this year, she found that little had changed since her last visit in October 2021. In her report on the center in January, Machińska underlines that the use of razor wire on some of the walls gives the center an "oppressive character" and poses a danger.
'Lack of transparency'
The Council of Europe report also condemns the "lack of transparency and public scrutiny" on behalf of the Polish authorities surrounding the center. The Polish authorities have also been criticized by the human rights commissioners for creating a climate of "harassment and intimidation targeting organizations and people, including local residents, providing [humanitarian and legal assistance] to migrants near the border."
Some people said that they were intimidated by members of the Polish Border Guard even outside the exclusion zones. Machińska said she "witnessed the verbal harassment of volunteer activists by members of the Border Guard."
The report concluded that in Poland there "exists a clear practice of pushing migrants and asylum seekers back to Belarus, regardless of their individual situation and in particular regardless whether they may be entitled to protection."
Also read: Wędrzyn: 'We don't want another Guantanamo in the woods of Poland'